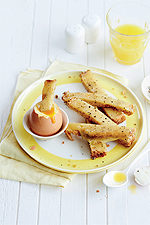 Olympic diver, foodie and parent, Tom Daley, will continue his role as the figurehead for British Lion eggs as he builds towards representing Great Britain at the Olympic Games this year. Daley, an advocate for healthy living, will front a digital ad campaign in partnership with health and food media outlets including BBC Good Food and Men's Health, as well as creating and sharing Lion egg recipes with his seven million+ social media followers.
British Lion eggs is also tapping into the huge popularity of podcasts, sponsoring various food and health focused series, which will generate an estimate of 400k weekly impressions and reach an audience of which 70 per cent are aged 18-34. A partnership with inspirational digital food platform Tastemade will help to encourage consumers to experiment with new ways to enjoy this versatile food.
Respected nutritionists and dietitians will continue to work with British Lion eggs to leverage their food safety and nutritional benefits, targeting health professionals and consumers, across health professional and consumer media.
To communicate and educate new audiences about the FSA advice that only British Lion eggs should be consumed runny by vulnerable groups, a new partnership is being launched with Charlotte Stirling-Reed, a Registered Nutritionist and high-profile influencer with 204k followers on Instagram, as well as an advertising campaign with top parenting sites, including netmums.com. The long-standing partnership with Annabel Karmel, the best-selling author on baby food and nutrition, will also continue.
The campaign will also have a strong foodservice focus, with food safety professional Dr Lisa Ackerley continuing to work with British Lion eggs to highlight their benefits to EHOs and hospitality through social content, training and liaison with key industry influencers.
www.egginfo.co.uk