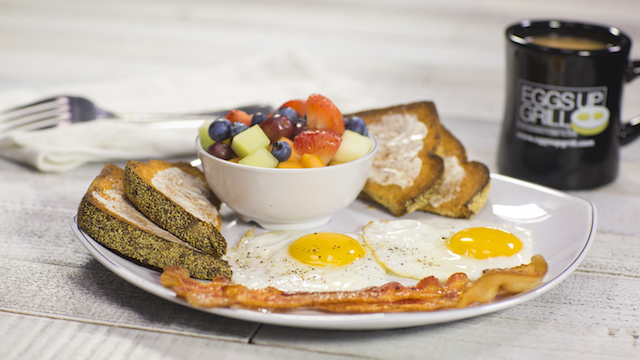 Eggs Up Grill franchisees establish deep roots within their communities, building a solid reputation on friendly service and exceptional quality food.
Breakfast remains the fastest-growing segment of the food industry because of its straightforward and approachable menu, as well as its cross-generational appeal that drives social engagement. Eggs Up Grill is known in the Southeast not only for its exceptional breakfast and lunch menu, but also for its inviting atmosphere where the locals are family and everyone leaves with a smile.
"One of the keys to our success aside from great quality food are that our franchise owners are people who want to be part of the community and build relationships with locals," CEO Ricky Richardson says. "They know people by name, warmly welcome them into the restaurant and support the community through fundraisers or hosting events. That's really important for someone who wants to be their own boss. We have a proven, successful brand and reputation that precedes us in South Carolina, North Carolina and Georgia. We bring a passion for service and community connection."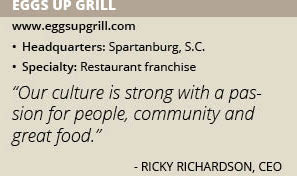 Coming from a family of restaurateurs, founder Chris Skodras spent many hours in his family's restaurant since he was six years old being mentored by his grandfather and father. As a child, he swept the parking lot and washed dishes and by the age of 15, he was the short order grill cook. The family tradition of making good food was officially passed on to a third generation.
After years of working around the clock in restaurants in Rhode Island, Skodras and his wife, Pat, wanted to build a thriving dining business that didn't take up their entire day. They opened Eggs Up Grill in 1996 in Pawley's Island, S.C. where the couple fell in love with the climate, people and the Lowcountry lifestyle. It offered great food and a family-friendly touch that remains a key focus of every location today. Four years later, the company opened a second location and shortly after began franchising.
In March 2018, Skodras sold the company to WJ Partners, a private investment firm with a history of rapidly scaling multi-unit concepts. Richardson, who brings more than 35 years of multi-unit and franchise operations experience, was brought in by WJ Partners to oversee the expansion of the concept throughout the South and beyond.
"When I had the opportunity to see the business, I became emotionally attached to it because the franchise partners are great people, the business model is encouraging and focused on community involvement and neighbors serving neighbors," he says. "The franchise partners want to bring a good brand to their neighborhood and become woven into the community. Our culture is strong with a passion for people, community and great food."
Today, Eggs Up Grill has 28 locations throughout the Carolinas and Georgia with three more locations expected to open by the end of 2018. "We are bullish on growth opportunities for the brand," Richardson notes. "We will open eight restaurants in 2018 and anticipate being in the high teens to low 20s in 2019, accelerating growth throughout the Southeast."
'Eggcellent' Opportunity
Eggs Up Grill franchisees need to have a passion to own their own business as part of a brand with a proven business model. "It's exciting for us the level of interest," Richardson says. "Our franchisees are people who want to be part of their community, have a passion for guest service and a desire to be connected. That comes through the quality of team members who love to serve, who have a passion for quality and collectively want to be involved in the community."
When a potential franchisee shows interest in Eggs Up Grill, Richardson says it's important they understand the DNA of the brand. "Some brands are more reliant on national or regional advertising where we focus on who the local operator is," he explains. "Our success is built on commitment to quality and the values we have. One of our strongest values is the community connection and wanting to help drive success of their business and the community. The quality of the food, service, team members and personnel, and our standards around cleanliness and consistency of execution help franchisees understand what makes Eggs Up Grill different and successful, and what the role is for them."
Part of being a successful business owner is identifying the right piece of real estate, which the company assists every franchisee in securing. Eggs Up Grill offers a full range of development resources, including picking the right contractor for the right price, design and vendors to support them.
Franchisees are offered both single restaurant and multi-restaurant partnerships. "Typically, a single restaurant franchise partner would settle into the community where they want to be involved. The location could be adjacent to where they live and in a vibrant business area," Richardson says. "They choose two or three options and we help negotiate the best deal for a piece of property we think would work. Multi-units are the same and the franchisees sign a commitment to develop a certain number of restaurants over a period of time."
Eggs Up Grill's extensive training program helps franchisees understand not only how to operate, but also provides them with resources on how to be a successful business owner. "We offer comprehensive support from site selection and training to a local marketing toolkit and business consulting," Richardson says. "We have a team that operates at the highest level to connect people to training and execution, as well as ongoing field marketing assistance. We're there from start to finish in terms of development to ensure they are successful."
Investing in the Future
Eggs Up Grill regularly invests in the tools its franchisee partners need to be successful, including a new POS system most recently. "This new system will give us more insight into data that helps drive successful restaurants," Richardson says. "It will help us understand what's successful and eliminate waste, improve operations and grow revenue through catering and to-go programs."
Like many other restaurants, Eggs Up Grill is looking to generate revenue outside its four walls, which includes catering and take-out sales. "We're executing a more formal program to drive those sales," Richardson adds. "Our initial focus will be on the catering side of the business. Our to-go business is growing, but the near-term focus is on catering which enables us to grow sales outside our four walls while not disrupting great experiences inside the restaurant."
In late first-quarter 2019, Eggs Up Grill will debut its first company restaurant that will double as a training center and innovation kitchen. "This is one of the things I'm excited about because up until now we have been 100 percent franchised," Richardson says. "In our test kitchen, we will be able to continue to integrate new menu items and make a more substantial commitment to innovation. It also provides the capabilities to enhance training of franchise partners and team members."
Moving forward, Eggs Up Grill will continue to make investments to help its franchisees succeed. "We can only be as successful as our franchise partners are," Richardson says. "I am very committed to and passionate about taking a collaborative approach to this business and establishing working teams made up of the brand representatives and franchise partners that will focus on key areas and decision-making. The teams were heavily involved in selecting the new POS system and in the new prototype restaurant we expect will come online in March. It's all about passion and a commitment to collaboration because in the end, their success is our success."