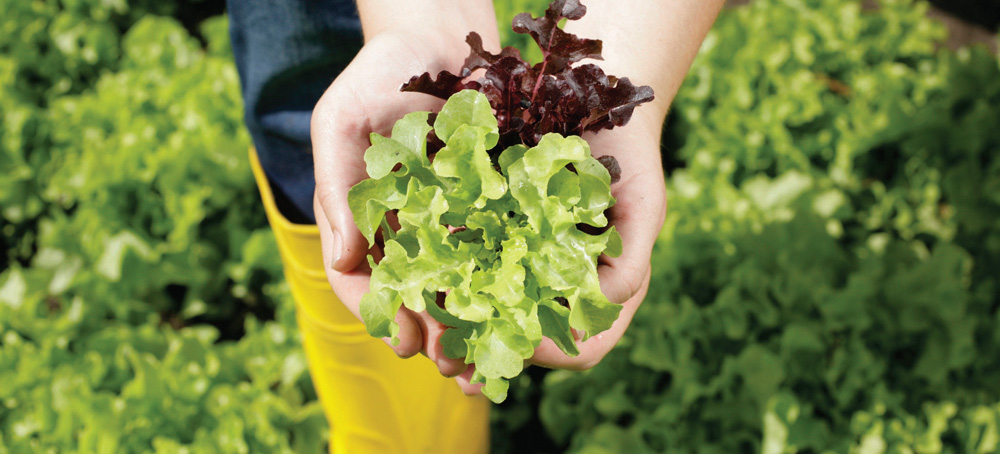 A fresh approach
Eisberg Group's consistently high standard of quality has helped generate long-term customer satisfaction and trust in its fresh cut salads, vegetables and fruits
It was in 1983, within the confines of the Leuenberger family's agriculture business in the municipality of Däniken, Switzerland, that first production of kitchen-ready salads for local restaurants and catering businesses occurred within the country. Responsible for this development was the Swiss company, Eisberg Group. Such was the response to its bold step into what was still a
blossoming market at the time, that within four years the company had made its first delivery to McDonald's in Switzerland.
By the end of the 1980s the company had opened its first production plant in Däniken from which it continues to deliver to catering and retail customers countrywide. Production plants in Budapest, Hungary and Legnica, Poland followed in 1992, with its youngest plant, to date, opening in Romania in 1995. Fast forward 20 years and in 2015 Eisberg generated around 20,000 tonnes of convenience-fresh salad from its four production plants, while its 400-plus employees helped ensure that perfect products were delivered to customers in 16 different countries on a daily basis.
"The strategy and focus of the business has always been firmly set on the European convenience market and we are excited by the fact that the fresh cut sector continues to grow, particularly when it comes to fresh cut salads, vegetables and fruits," explains Eisberg Group's Chief Executive Officer, Christian Guggisberg. "Working with several large multinational companies, as well as leading convenience businesses, we target European countries where we identify gaps in the fresh cut market, particularly those that present an opportunity for a company such as ours to establish a leading presence in the convenience arena. Examples of such scenarios exist in markets like Germany and especially in Austria, which we have exciting plans for."
Strict guidelines
The wide variety that nature offers in terms of salads and vegetables is reflected in the raw materials sourced by Eisberg. Gently cultivated and harvested by its long-term partners in mostly open fields, the material is then processed by the group under the most hygienic of conditions possible. Eisberg recognises that, in order to have the highest quality of product, it needs to apply a combination of experience, modern production technology, quality-orientated thinking and a clear commitment to sustainability.
"We apply some of the strictest guidelines when it comes to our suppliers and the raw materials they provide," Christian continues. "The year-round communication we have with these suppliers, together with regular inspections, allows us to have complete confidence in where our products are being sourced from. For our part, once we take receipt of the raw materials we ensure that
regular washing with only clean water, free from additives, is carried out every two hours and that a complete cold chain of below 8°C is maintained from crop to the delivery of its convenience-fresh salads."
Big advantages
A separate line of business for Eisberg is its presence within the food service and wholesale gastronomy market. Having already forged relationships with some of the leading food service suppliers in Switzerland, the group has since strengthened its position in both this and its traditional convenience market through the merger between its Swiss brand and fresh-cut specialists Gastro Star. Merging with retroactive effect as of 1st January 2017 into the Swiss entity named Gastro Star, the competencies of both have been combined in order to offer added value to the customers in retail and food service.
"Gastro Star has a reputation for being one of Switzerland's most innovative companies in its respective field, and boasts a large assortment of excellent processes and a wide range of products," Christian states. "What we did was identify an opportunity to bring together such an innovative company with a highly efficient and competitive one like the Eisberg Group in order to bring about big advantages for the new company."
New plant opening
As the growth of the fresh cut market continues to pick up pace in Europe, so too does the appearance of new players looking to capitalise on the opportunities on offer. This is creating an atmosphere of increased competition and a situation where retailers are taking a closer look at factors such as costs, in addition to matters relating to quality. One of Eisberg's methods of capitalising on the situation will be the opening of a new production plant in Austria. "Our decision to construct a new plant in Austria is the result of our need to increase our existing capacity and meet a growing demand for locally sourced products in the country," Christian says. "Austrian consumers want products that they can trace to their source and we believe there is a big opportunity for us there in working with local retailers and food service companies. Construction on the plant will begin in the Fall of 2017 and we hope to have it open by October 2018."
As well as increasing group-wide capacity, Eisberg also knows that bringing more added value products to market will also support its growth plans. "One of the things we will be targeting in the years to come will be the fresh fruit business, which we anticipate strong movement from over the next five-to-ten years," Christian concludes. "Much like in the fresh cut salads and vegetables markets, we believe we can help create and influence trends in this sector, and that by doing so we can achieve our vision of taking our place among the most important European players in our field."