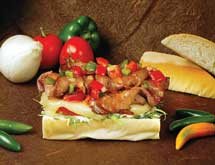 Although there is an abundance of sandwich shops populating the island of Puerto Rico, there is only one that's clearly Puerto Rican: El Meson Sandwiches. The Mayaguez, Puerto Rico-based company puts the Caribbean mark on its toasted deli subs with its trademark sweet and sour sauce, which President Felipe Perez describes as a bold, distinctly Latino flavor. "That makes it a totally different sandwich," he asserts.
El Meson Sandwiches typically features about 35 sandwiches on its menu, Perez says. Some of them are topped with its special sauce. El Meson Sandwiches' specialties include the All Pro sandwich, which features pastrami, Virginia ham, Swiss cheese, cabbage, tomatoes and sautéed onions, served on French bread with El Meson Sandwiches' special sauce.
"It's a great sandwich – very tasty," Perez says. "Every year, we bring in new products and take away products, so our menu is always changing."
El Meson Sandwiches also stands apart from other sandwich restaurants in Puerto Rico with its significant breakfast menu featuring international staples such as pancakes, breakfast sandwiches and fried eggs.
"All of our food is made to order," Perez adds. "We use no microwave – only fresh products. We also have a very nice espresso menu."
Healthy and Green
El Meson Sandwiches changes up its menu through seasonal promotions, and recently, it ramped up its menu to feature more vegetarian, sugar-free and light options to accommodate a variety of dietary habits. This includes sandwich wraps, fresh salads, healthy soups and sugar-free desserts.
Known as "Mesolite," Perez describes it as a individually customized menu that has been redefined for people seeking healthier food options without sacrificing the taste or the quality of the food.
El Meson Sandwiches seeks to educate its customers, particularly young children, about nutrition and leading active lifestyles. In addition, the company offers nutritional information, such as calorie intake, for specific menu items on its website.
Aside from accommodating its customers' dietary needs with healthier menu items, El Meson Sandwiches has been focused on creating a "healthy lifestyle" for Puerto Rico itself. Specifically, El Meson Sandwiches strives to reduce its environmental footprint by recycling in its facilities and planting trees throughout the communities in which it operates. In addition, the company takes pride in sponsoring local events such as cleaning up area beaches.
Customer Care
El Meson Sandwiches is always in tune to its customers' needs and constantly looks for ways to cater to specific demographics. For instance, "We are working this year specifically with customers that are over 60 years old," Perez explains. "We believe that's the segment of the population that will be growing, so we want to keep in touch with them every day."
The company caters to the elderly population in Puerto Rico by hosting in-store promotions such as inviting senior customers to bring their grandchildren to the restaurant and receive special discounts. "It's been a lot of fun," Perez admits. "Nowadays, when you're 60 years old, you're still a young person who wants to have fun. You are on Facebook and you check your emails, so we really want to get to know [this segment of the population] better."
El Meson Sandwiches caters to the younger generations by offering > >unique, kid-friendly menu items such as a steak pizza sandwich, a ham and cheese sandwich or a turkey and cheese sandwich. It also developed an interactive website for kids that includes music, games and other educational features.
The best way to care for customers is to safely prepare and serve their food. "Training is one of the best ways to create awareness towards the safe handling of food in our shops, and El Meson Sandwiches has fulfilled this commitment prominently," the company says.
El Meson Sandwiches is certified  with the National Registry of Food Safety Professionals. "By complying with both state and federal regulations, we reiterate our commitment to providing the best and safest products to our customers," the company says. Expansion Underway
Another unique attribute that distinguishes El Meson Sandwiches from others is it offers "a more upscale operation than our competition, with wood, marble countertops and carpet in the dining area," Perez says of the company's freestanding stores.
El Meson Sandwiches follows a trend common in the United States, which entails populating venues with heavy foot traffic, such as food courts in shopping malls, as well as airports.
Inhabiting centralized or high-traffic locations is a strategy that has enabled El Meson Sandwiches to grow ever since Perez's father, Felipe Perez Sr. – known among loved ones as "Don Felipe" – opened the first El Meson Sandwiches on July 4, 1972. He chose the holiday because he thought it would be a slow day, but to his surprise, it was packed and has continued this way over the years and across the island.
"At this point, we have 33 restaurants, but we are opening four more this year," Perez says. "It's going to be a very active, very aggressive year."
Panama Debut
One of the four restaurants opening this year is El Meson Sandwiches' first franchised store and also its first location off the island – inside Panama's Tocumen International Air­port.
"We decided to go for Panama because the Panama airport is a hub for South America, Central America, the Carib­bean and Miami," Perez says. "Many travelers that come from South or Central America stop through Panama on the way to the states."
El Meson Sandwiches is using its Panama franchisee as a test market. "We definitely would like to expand into the Latin American markets, and we think the Panama airport is a good testing ground for that," he explains. "It all depends on the stores. A lot of effort is put into opening a new store with the same quality and good service that we have in Puerto Rico."
El Meson Sandwiches will be training the Panama-based employees at the company's San Juan Luis Munoz Marin International Airport location to give them an understanding of what it is like to serve customers in a bustling airport.
"We will do what we do with every one of our stores, which is to have our 'Dream Team' – usually a manager and eight employees – spend 30 days training two managers and a couple of employees from Panama," Perez says.
"Then, for the store opening, we will be sending our Dream Team over to the Panama restaurant for 30 days to supervise and train on site because not all of their employees can come over to Puerto Rico for 30 days," he continues. "We are sending them beforehand all of our operations manuals and everything they need to train their> >employees in Panama, and this way, they'll come over with some practical knowledge."
Employee Input
Perez credits much of El Meson Sandwiches' success to "the importance we give to training and to employee relationships," he says.
He often hosts roundtable discussions with employees to get their input. "I meet with an employee for breakfast in different locations where we have the privacy to speak out," he says.
"They can tell me what they think, and what we can do to provide a better working atmosphere and a better service to our customers."
It's important to him that employees have an opportunity to advance in their careers, he adds. "One thing we are proud of is that 80 percent of our managers started out as regular employees," Perez says. "We have a very high [employee] retention, and that's been one of our main goals."
Another goal is to treat the clients much like it treats its employees – like family. "I know that we have that culture of treating our clients like family," he attests. "Our employees follow it perfectly because they feel at home – they feel a part of the business. Although we have a great product and price, we are known for having great employees."
Future Growth
Despite the worldwide recession, El Meson Sandwiches has had positive earnings. "We have been very lucky," Perez says. "We have worked very hard, but thanks to my team, we've been able to have a positive number of sales year after year, so we don't have an excuse not to grow.
Part of our mission is to have El Meson Sandwiches stores available for customers all over the island, and we still have some space to grow. We believe we can double our stores in Puerto Rico, no problem."
El Meson intends to grow outside of Puerto Rico through its master franchisee program. "But it has to have the same criteria as the franchisee that we have for Panama," Perez notes.
"They have to have experience in the food business with the capital to expand. We don't want single operators; we want to grow outside of Puerto Rico through master franchisees."
Expanding into the U.S. mainland, particularly Florida, has been one of Perez's long-term goals for the future. "We have so many Americans coming down to Puerto Rico, and they love our product," he asserts. "We say, 'It's a different taste, but if it was close to your home, would you be our client?'  [They] answer in the affirmative."