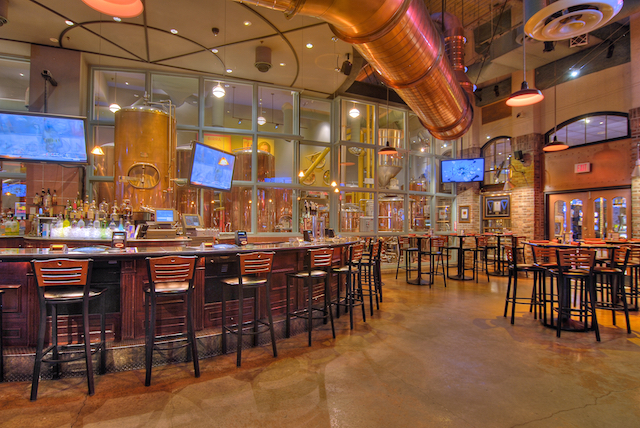 Eldorado Resorts serves high-quality food and maintains a family driven culture throughout all of its restaurant, hotel and casino locations.
Eldorado Resorts has made guests feel like part of the Carano family since 1973. What began as a small hotel and casino with a 10,000-square-foot gaming floor in Reno, Nev., has grown to seven hotel and casino properties in five states, along with 30 restaurants and bars across the United States. While it is a hotel and casino at its core, the highlight of Eldorado Resorts is its food offerings.
"My dad started at such a young age back in the '70s," recalls Gregg Carano, senior vice president of food and beverage and son of founder Don Carano. "We couldn't afford to have Frank Sinatra on our stage, so food became our Frank Sinatra."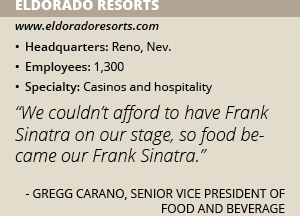 Carano has been in the food service industry for 43 years, working at a hot dog stand, in restaurants and at the original Eldorado Resorts when he was just 13 years old. "In school, they made us run laps around the hot dog stand, and I said I'd rather sell hot dogs than run laps," Carano says, laughing.
Food service really runs in the family as Carano, his wife and son have all graduated from the Culinary Institute of America and are all involved in the Eldorado Resorts business. "Opening day, I remember I was working the gift shop," Carano says. "I've done every job in the hotel, casino and restaurant business. I still do them all. To this day, I still bus and wait tables, seat people and cook. I don't have a desk or an office. My office is always on the floor with front-line employees and with our guests."
Food Focused
As an Italian-American family, Carano says he and his family are obsessed with food, especially Italian food. This obsession translates to the kitchens of all restaurant locations, ensuring the company serves nothing but the freshest, highest-quality products. "We don't cut corners," he says. "We buy the best beef you can buy. We have the best veal in our restaurants. All of our products are fresh. We make everything from scratch, including everything in all of our buffets."
Eldorado Resorts' buffets were voted one of the top five buffets in the country – by Carano himself. Carano says he's an expert because he's made an effort to visit every buffet in the country to see how his stacks up. "Sure, you can find better buffets that cost $40, but ours is only $15," he explains. "For the price, ours is one of the top five in the country because of our freshness and our committment to tasting foods. My dad taught me that someone needs to taste the food and make sure all the chefs and cooks are preparing everything properly. People ask me what I'm doing for a living, and I say I taste food for a living. I'm our company's No. 1 critic of quality and flavors of food."
Carano is also "constantly on the phone" with his suppliers, vendors and distributors to see what products he can purchase to give Eldorado Resorts the edge in quality. His current project is to find the right beef to make the best burger in the country to complement his top buffet offerings. He says these high-quality foods are what brings customers to Eldorado Resorts and keeps them.
"We don't need to find customers when our team serves them great food in a family environment; the guests are going to find us," Carano says. "Our employees go above and beyond – and that keeps our guests coming back over and over again. Our chefs are continually changing our products and menu items, making the food better and better so our guests can always see what's new and exciting."
Family Business
Eldorado Resorts was family owned and operated for its first 23 years. Now, it's a public company but still operates with the family feel in mind. "When you come to our properties, you see our culture is still a family owned and operated one because there are so many Caranos at the properties," Carano says. "Our employees have always felt like they've been part of our family, and they are. We try to create this family environment through service and food."
Many Eldorado Resorts employees have been with the company for 20 to 30 years, which Carano attributes to his dad being a great boss since the company's inception. "That's a plus because you don't see that in this day and age where people stay and work for the same employer for so long," he adds. "The thing I'm most of proud of the Eldorado team for is that they come, work so many hours and pour their heart and soul into making our company grow. We drive guests to our property by having some of the best employees in the hospitality industry."
Eldorado Resorts also strives to make guests feel like part of the family. Whether Carano is working in one of the many restaurants or taking over valet parking for a while – which he likes to do on a regular basis – he greets every one of his guests with, "Welcome home."
"You wouldn't believe how many times I've been told by our guests: 'Gregg, every time I come to one of your properties, I feel like I'm home,'" Carano says. "Because of the family feeling we have and because of our employees, our guests always feel like they're coming home."