Elior North America uses data to better understand and satisfy consumers.
Managing growth is one of the most difficult aspects of expansion. Companies that can't keep pace with the added demand can jeopardize the entire business while those that scale successfully can quickly find themselves among the market leaders.
One of those success stories is Elior North America. In the 10 years since its founding, Elior North America has grown by a factor of 15, becoming the nation's fifth largest culinary management company. Despite that rapid expansion, the company continues to adapt its services and capabilities to meet its guests and clients evolving tastes.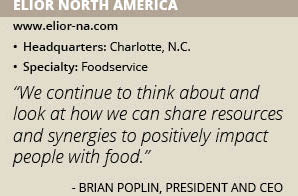 Elior North America is investing in TurboChef ovens and other kitchen equipment to make it easier to meet its customers' specific needs. But the biggest breakthrough is coming from the data it collects. Looking at point-of-sale information and social media posts allows Elior North America to connect directly with its customers each time they enter a restaurant or coffee shop. Over time, the company gains a better understanding of its customers' habits and can adjust its menus accordingly.
"We've become more thoughtful around tracking the business to consumer connection," President and CEO Brian Poplin says.
Consumer data makes a direct impact on how Elior North America operates its businesses. The company's coffee shop menus were focused on the lunch crowd, but after analyzing sales information, it identified two significant peaks actually occurred at 10 a.m. and 2 p.m. Since those times were between meals, customers were also more likely to opt for healthy options that made sense as a mid-morning or afternoon break snack.
In response, Elior North America added more breakfast items and salads where customers could choose their own proteins and dressings. Further, knowing what kinds of items customers were most likely to purchase enabled it to prepare more food items at a central commissary, where they could be finished on-site in front of the customer. "That access to data has really allowed us to individualize our menus," Poplin says.
The result is higher customer satisfaction and greater retention at the venues Elior North America ultimately serves. The company long ago realized the client is the person who makes the decision to hire, but the consumer is the one that can keeps the relationship intact, so it works hard to make guests happy.
Global Foundation
Elior Group started in 1991 in France and has since expanded to 16 countries. Globally, the company's 127,000 employees serve 5.5 million people each day.
The North American division was founded in 2008 as TrustHouse Services Group with the acquisition of three foodservice businesses. At the time, the economy was struggling and TrustHouse needed a firm strategy as it entered the market. The company targeted acquisitions in the education and healthcare markets, stable sectors that have proven to be recession resistant because people still need to go to school or might get sick even when the economy is poor.
Concentrating on those two areas helped TrustHouse establish its business and grow revenues from $100 million to $450 million within five years. Its success attracted Elior, which was looking to expand into North America, leading it to partner with the company in 2013 and rebrand it Elior North America. While the other original TrustHouse partners exited, founder Mike Bailey stayed on board and continues to serve as the chairman of Elior North America.
Since then, Bailey has focused on building the Elior North America team and growing the business. The organization has continued to purchase culinary management companies throughout the country, but perhaps its most important acquisition came in 2015 when Bailey recruited Poplin to the company. As a service-driven people company, Poplin's background in various service organizations made him the ideal person to take over as president and CEO.
"When Mike asked me to come on board it was really to be a partner with him, working toward taking the company to another level of growth," Poplin says.
The combination of Poplin's background and Bailey's 50 years of experience in the foodservice business gave Elior North America the perspective and know-how it needed to continue its rapid growth. Since 2015, the company has completed 13 more acquisitions and tripled its organic growth into the teens.
The connections between Elior North America and its parent company in France have helped it achieve that growth. "When we rebranded the business from TrustHouse to Elior in 2016, one of the things we wanted to take advantage of was the global presence of Elior to give us a platform to expand on the culinary side but also as a globally-connected business," Poplin says.
Poplin sits on Elior Group's executive committee and Bailey is also engaged with the team in Europe to ensure Elior North America gets the support it needs through global partnerships and programs. "We continue to think about and look at how we can share resources and synergies to expand as a global firm," Poplin says.
Food Focused
Even as it looks to grow globally, Elior North America is organized to support its local customers. The company has several sub-brands that serve specific geographic markets and segments. Abigail Kirsch and STARR Catering Group provide high-end catering and foodservice to premium events while also managing dining programs at Carnegie Hall and the Philadelphia Museum of Art. On the other end of the spectrum, Summit Food Service is the third-largest player in the correctional foodservice market. Between those two extremes, Elior has a number of brands that serve the education, business dining and healthcare markets.
Elior North America strives to take what it learns in each of those foodservice segments and apply its knowledge to other parts of the business. "The blending of ideas and innovation is critical," Poplin notes.
The connective tissue between those various sub-companies is that each is built entirely around its foodservice, unlike competitors that typically offer catering and meals alongside uniforms, supplies and other loosely related services. "When you compare and contrast us with other players in the marketplace we're the only one that is focused on food," Poplin says. "Our focus on food really positions us to be a different option in the culinary management space."
Concentrating on its food allows Elior North America to provide high-quality dishes and more customized meals. The company has its own executive chefs and culinary experts who can develop menus that match regional flavors or introduce new product concepts. Recently, the company introduced Parliament Espresso and Coffee bar in New York, Washington, D.C., Miami and Charlotte, N.C.
Good chefs know that good food begins with sourcing. Keeping on top of the latest culinary trends or developing innovative dishes requires reliable supply partners that can deliver those ingredients. "We've built a robust supply chain process that really helps us vet the best ingredients possible, whether they are local or more distributed in nature," Poplin says. Elior North America tends to mix its ingredient sourcing among long-term partners and newer suppliers. That gives it steady access to both core menu items and more creative ingredients that have less volume, such as artisan breads and cheeses or ethnic foods.
Having stable access to good sourcing partners allows Elior North America to not only develop exciting meals but new programs that will enhance the guest experience and the industry as a whole. The company is working on sustainable seafood programs and has piloted allergen-free locations.
At Oregon State University, Elior North America built a separate allergen and gluten-free pantry to prevent cross-contamination from potentially dangerous ingredients such as peanuts to keep its guests who have allergies and food sensitivities safe. Segmented food prep leads to a safer experience for diners and more satisfied clients. "We created a location where those students can have their food prepared in a different environment," Poplin says.
Community Impact
Culinary innovation leads to exemplary services, both ideals that form the cornerstone of Elior North America's values. But those values are not reserved only for the company's clients. Elior North America leverages its size and footprint to make a positive impact on its communities. "We have a very strong focus on social responsibility and making sure that our menus and organization operate in a socially conscious way," Poplin states.
As a culinary management company, hunger is a natural issue for Elior North America to tackle. In October 2017, the company partnered with the Taste of the NFL Kick Hunger Challenge, an initiative that enlists chefs and NFL players to raise money in support of food banks across the country. Between October and February, Elior North America employees and customers worked together to donate more than 2.3 million meals to people in need.
More than 1,000 volunteers spent 2,034 hours at local food banks, hosting food drives and raising funds during the 2017-18 campaign. "It's a great way for us to tie in what we're doing on the food side, and to impact the communities that we serve," Poplin explains.
The impact Elior North America makes on communities will only grow as the company expands. In the past two years alone, it has completed 11 acquisitions, further strengthening its presence in some markets and giving it a foothold in others. Elior North America now has nearly 1,500 customers and is the fifth-largest foodservice provider in North America.
A Point of Pride
Each acquisition Elior North America makes is part of a larger strategy and it must fit the company's established culture and quality standards. "We take the extra steps to know the people that operate these businesses and for them to know us, so when an opportunity arises we can react swiftly," Chairman Mike Bailey says.
When making an acquisition, Elior North America isn't simply interested in the company's name or its market. It wants the most important asset: the people. Elior North America tends to retain the management teams during and after the transition. "We do want people to come over and help us create that stability," Bailey explains. "At the end of the day, these companies that join us have been created by people who understand the industry."
Many of the people that joined Elior North America through acquisitions remain with the company six or seven years after the original purchase. It's a point of pride for Bailey. "I think that's a testament to the organization's ability to buy companies and integrate them in a thoughtful manner over a period of time," he says.