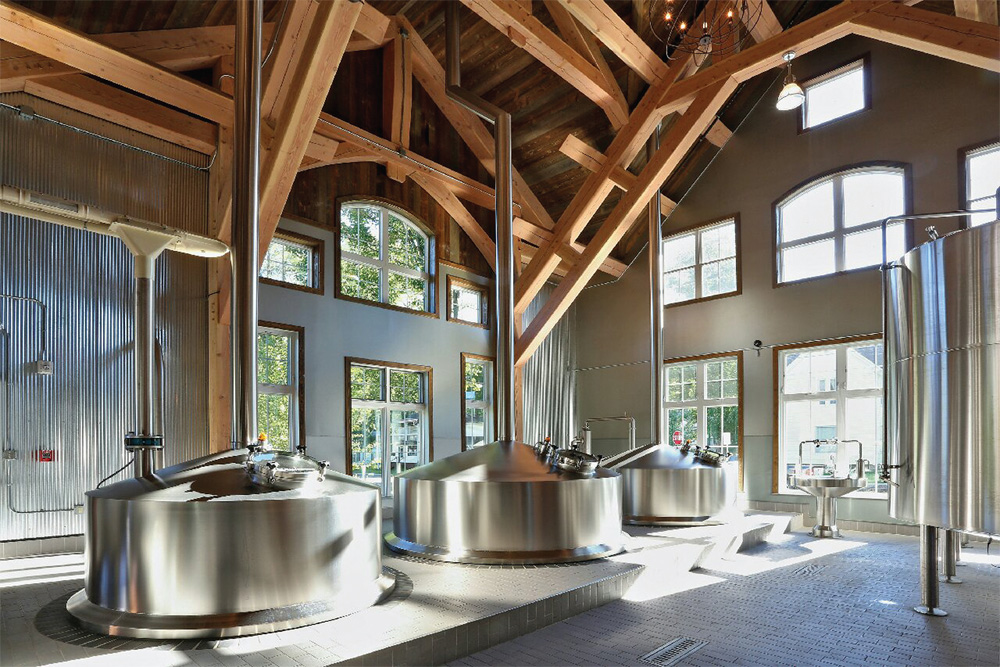 Brewed to entertain
Carrying its inextinguishable love for beer for the past quarter of a century, Ellicottville Brewing Co. is now one of the most reputable craft breweries in the state of New York, never ceasing to amaze its customers with original flavours
Sampling craft beer that comes in seemingly unimaginable flavours has gradually embedded itself as a cultural practice for many a social occasion in recent years. All over the world, beer
aficionados have developed almost cult affection for creatively-brewed beers in their lookout for new sensations their favourite beverage could thrill them with. Thousands of local breweries have sprung to life in the US since the beginning of the 21st century and their number today is estimated to approach 8000, a stark contrast to the just under 1300 in 1995 – the year Ellicottville Brewing Co. (EBC) was founded.
Headquartered in the village of Ellicottville, not far from Buffalo, in the heart of the New York ski country known as 'The Aspen of the East', EBC opened its first pub and started creating its own beer, spending the first ten years of its existence understanding the intricacies of the restaurant business. In 2005, a second pub – EBC West – opened in the college town of Fredonia, whereas in 2013, the company undertook a significant project that tripled the size of its existing pub and brewery in Ellicottville. "We installed a new brewery system manufactured by Esau & Hueber that expanded our capacity to 15,000bbls with the addition of a 30bbl brewhouse, in what really is a very beautiful timber-framed facility," remarks founder and owner, Peter Kreinheder.
As the business was growing rapidly, it soon became clear to Peter that EBC would need a much larger facility for its operations. "In 2015, we acquired an 85,000-square foot building in Little Valley, just eight miles from Ellicottville, which we started using for shipping and receiving, and packaging. We have also just completed the installation of another Esau & Hueber system, thus turning the plant into our core production facility," he points out, adding that the Ellicottville site will instead focus on the production of new lagers and sours.
Interesting flavours
The Blueberry Wheat ale has been EBC's trademark beverage since 2006, accounting for 60 per cent of the brewery's production. "It is a very quaffable beer and I usually refer to it as an entry-level craft for our consumer base. You might automatically think that it is more of a female beer and it was indeed packaged this way back in 2009-2010, but what we found out, is that more than 50 per cent of its drinkers are male.
"Every season, we have a new range of beers coming out. Just this week, we launched the Ski Bum, as we have begun introducing our winter selection. Our maple syrup beer is another exciting product, because it is very locally-centric. A friend of ours is aging maple syrup in my brother-in-law's distillery and we have put our porter into the maple syrup barrel to create this flavour. We have also crafted a dark coffee beer, which is something between a stout and a porter – we do not brew with the coffee per se, but just put it through a hot break, so we can pick up its aromas," Peter highlights some of the most prominent flavours in EBC's present assortment.
Earlier in the autumn, the brewery also promoted its Pumpkinville Latte ale, partnering with a local company. "It really tastes like a pumpkin pie with coffee in it," Peter laughs. "We did not make
a lot of it, only about 200 barrels, and it sold out in a month, which means it was really well-received by the consumers.
"I think, what distinguishes us is the consistency of quality we can achieve. One can come up with a flavour once, but the question is whether they can repeat it, and in this respect, we are the most consistent brewery in the region," Peter discusses some of the business' core strengths. "Together with that, we also operate the most advanced equipment across our production facility, placing serious emphasis on quality control. In addition, our scalability has also been instrumental to our success. To give you an example, two weeks ago, we established a partnership with one of the key retail chains in the area, and for us to be able to hit all of their 48 stores, we had to demonstrate our capacity to produce and can some 500 barrels and then deliver them in a very short space of time," he explains.
Progressive growth
Taking a look into current market conditions, Peter foresees an increased role for craft lagers and a diminishing one for domestics in the American beer scene. "Unlike the millennials of today, I did not grow up with the quality of beer that we have today when I was their age. Nowadays, it is different and you can rarely see a young person holding a domestic beer in their hand, at least in the North East," he remarks. "I do not see great future for the domestics, unless there is a big quality control problem with craft brewery, but we went through that in the 2000s, when a lot of breweries closed, because they overlooked the importance of quality control. It seems to me that the large brewers will focus on their export activities in the future, as craft is not only gaining ground, but is also fragmenting the space on a local basis. For example, we can no longer send beer to, say, Indiana, and expect to get any traction, because Indiana has got its own 20 breweries in every block.
"The good news for us is that the vast majority of the breweries in the US produce less than 1000 barrels a year. We are on 25,000 and we are comfortable in the niche we have positioned ourselves within. I have always been a fan of growing the business progressively and maintaining its sustainability over the course of many years," Peter discloses his views on EBC's future. "One thing I know for sure, is that if you do not have a strong pub programme, you cannot survive in such a competitive environment. We now operate three pubs in the Southern Tier and our ambition is to continue developing these and strengthen our proposition. In the meantime, we will remain fully focused on crafting new lagers and sours. There is a bunch of new hops and malts being created, giving us a whole new palette of ingredients to play with," he concludes.