Ellis Island Hotel, Casino & Brewery continues to enhance its property in Las Vegas to attract both tourists and locals with its new amenities.
Ellis Island Hotel, Casino & Brewery is upgrading its amenities to become a tourist destination while staying true to its roots as a local's joint. "We are in transition time right now," Director of Marketing Christina Ellis says. "Next year is our 50th anniversary and we have come such a long way. It's a very significant milestone."
The company was started in 1968 when Ellis' grandfather, Frank Ellis, founded the Village Pub, a local's joint that offered brews, chili and ham sandwiches. In 1985, Frank Ellis sold Village Pub to his son, Gary Ellis, who then renamed it to Ellis Island.
Three years later, Ellis added a casino and in 1998, he opened the brewery. Ellis Island's brewery is now No. 1 in the state of Nevada, pouring more than one million glasses of good, clean beer per year.
Ellis Island is known for its karaoke in the old Village Pub. The karaoke lounge features a state-of-the-art sound system, more than 10,000 songs to choose from and friendly hosts.
"We are famous for karaoke and have been named the best in Las Vegas almost every year since we started it," Ellis says. "It starts every night at 9 pm. It's located in the original part of the building when it was Village Pub. That little part of the property is where it all began."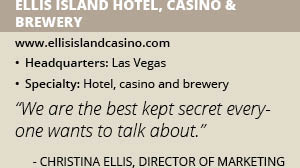 Although it started small, Ellis Island has become one of Las Vegas' most recognized hotel and casino properties because of its unique amenities, service and amazing food deals. The company remains family owned and operated, which is part of what makes it special.
"Tourists and out-of-market guests are seeing us on Yelp, Trip Advisor and Facebook, and we are drawing more of the tourists versus the local crowd," Christina Ellis says. "We are striving to be a more sought-after destination while staying true to who we are, which is a local's place first and foremost."
Food and Brews
When it comes to value, Ellis Island say it sets the standard. "We are keeping the old Las Vegas process alive with really good-quality food and great beer that we brew in-house," Christina Ellis says. "You can get a 20-ounce beer for $2.50, a full steak dinner for $7.99 and a rack of ribs for $13.99."
Ellis Island brewery prides itself on serving "good, clean and drinkable beer." The company usually features 10 beers including four seasonal brews alongside its usual six. "We are the No. 1 distributing brewery in Las Vegas and No. 1 in the Mountain West region," Ellis says. "We have a string of small taverns in Las Vegas called Village Pub to pay homage to our original location."
Village Pub & Café is Ellis Island's main restaurant that serves breakfast, lunch, dinner and late-night menus. The restaurant is famous for its top sirloin steak special. "Just for a point of reference, we serve around 300 sirloins a day," Ellis adds. "That's a ton of steak! We have a very busy broiler. You get a 10-ounce filet-cut sirloin, garlic green beans, choice of starch and a soup or salad to start. You get all for $7.99, which is an incredible deal."
The chicken-fried steak, N.Y. steak and eggs, and Italian favorites are also big hits in the restaurant. Ellis Island is known for its steak and maintains good supplier relationships to ensure it will maintain that reputation. "We work with a core group of suppliers who ensure the right ounces and quality," Ellis notes. "We have been here for nearly 50 years and our supplier relationships have served us well."
Ellis Island and its Village Pub locations together employ 550 people who were born for the hospitality industry. "First impressions are very telling and a really big part of our hiring process," Ellis says. "Did they have a big smile when they met our executives? We are a business first and foremost, so we do look for hardworking and reliable people."
The company also focuses on and shows its appreciation for the people who work in the casino industry. "We offer aggressive promotions to people who work in the casino industry, the taxi, Uber and Lyft drivers," Ellis explains. "We have specials geared toward this group because they are the people tourists interact with and ask where to go and what to do. It helps us grow and shows the town is excited about us. We are the best kept secret everyone wants to talk about."
Attractive Upgrades
In 2013, Ellis Island acquired a Super 8 Motel that was adjacent to the property to add its own hotel. After years of gutting and remodeling the motel, Ellis Island's boutique hotel is nearly 100 percent complete and will feature 289 guest rooms and 12 suites.
"Each suite will have its own theme, such as champagne, Elvis and the mob," Ellis says. "We are trying to partner with liquor brands to do branded suites, as well. It makes people want to come back and check out different ones."
Ellis Island is also in the middle of constructing The Front Yard, a new outdoor venue that Ellis says will change the footprint of the property. Once completed early next year, The Front Yard will be a two-story event space equipped to handle live music, weddings or be a place to relax and have dinner outside while enjoying the view of the strip. "We want people to sit, eat and drink and have fun out there," Ellis says.
"I am anticipating The Front Yard to shift our demographic 10 years younger to the 35- to 45-year-old," she continues. "We are really excited about this new venue and hoping to open early next year or have a New Year's Eve party grand opening. The Front Yard is something totally new for us and I'm sure there will be a huge learning curve, but ultimately the sky is the limit."
Moving forward, Ellis Island plans to continue to grow and adapt as the industry evolves. "We will see what the industry is looking for down the road and where we can find ourselves in that spot," Ellis says. "In five years, I see The Front Yard being the sought after, cool place to hang out for locals and tourists. In the casino industry, you never know what people will come up with."