Empire Fruit Growers' high-tech inspection process gives it an edge over its competitors.
When inspecting fruit, many packaging houses still rely on the eyes of their employees. They visually inspect each piece of fruit, looking for imperfections. Although their eyes could spot external decay, bruising, surface discoloration and broken skins, they cannot see internal defects.
Empire Fruit Growers (EFG), a Wolcott, N.Y.-based farmers co-op that packages and markets fresh apples, has invested in automated inspection technology that X-rays each apple to detect internal defects like browning and breakdown.
"What puts us ahead of our competitors is the use of the internal X-ray and the use of LED lighting," General Manager Rich Leous says. "We feel this is the best technology out there for the internal sorting of the apples."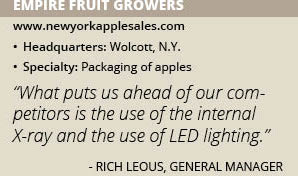 Market Leaders
The EFG co-op is co-owned by Wafler Farms Inc., Teeple Farms Inc., Doyle Farms Inc., VanFleet Orchards LLC and Tree Crisp Orchards. Its state-of-the-art internal and external sorting system is the result of its partnership with Traver, Calif.-based MAF Industries, which manufactures custom-designed systems for packing houses. This particular system, called IDD4, is a new internal sorting technology that is being implemented by market leaders.
"We have helped introduce the IDD4 internal defect sorting equipment that is used to better assure that only the best-quality apples are being shipped from our location," Leous says. "We have worked closely with [MAF's] technical departments to help perfect the newest technologies."
The internal defect sorter is a part of a six-lane packing line at the company's 70,000-square-foot packing facility in Wolcott, where EFG moved in 2011.
"Those six lanes have two cameras on each line and they take 20 photos of each apple," Leous says. "Then it generates the data to a software program that tells the rest of the process line where to put that piece of fruit. For example, an apple that has a defect in it may be sent to a company that makes apple cider."
In 2013, EFG also added a 24-head Compac bagging line. The packing line runs between 3,600 to 4,000 bushels of apples in an eight-hour shift.
East Coast Apples
Central New York apples are famous for their flavors that are enhanced by the Lake Ontario watershed. But many retailers do not want to carry more than five or eight different varieties of apples in their stores.
"The apple industry is a challenging industry in the sense there are so many different varieties," Leous says. "The West Coast continues to push the varieties of apples that will be marketed on the East Coast."
He says that quality East Coast varieties such as Empire, Macoun, JonaGold, Cortland and Macintosh have seen a decline on retail shelves. To combat this decline, EFG has paired up with a group called Crunch Time Apple Growers to introduce and promote apples from the Northeast. Two of the newest varieties include Snapdragon and Ruby Frost.
"These two varieties have very good customer appeal and will hopefully help the New York State growers gain a strategic marketing advantage," Leous says.
In addition, EFG is investing in the production of an Evercrisp apple that is gaining a lot of energy in the market place, he adds.
Future Vision
The EFG Co-Op was incorporated in 1988 in New York. Its goal was "to pack and market fresh apples at the greatest rate of return to the owners as possible," Leous says.
EFG has teamed up with New York Apple Sales, a sales and marketing group that exists to promote apple growers in New York. The group strives to deliver fresher apples, greater choice, superior quality and outstanding service to its customers throughout the United States and around the world.
Outside of the United States, EFG ships apples to multiple locations around the world including Singapore, Vietnam, Israel, India, Malaysia and the Caribbean.
"The vision of Empire Fruit Growers is to continue to drive operating costs down, produce the best-quality product to our consumer and to always practice a behavior revolving around continuous improvement," Leous says. "We believe that if we do not continue to get better, more efficient and profitable, we cannot succeed. The trick in being a successful organization is having the support from the ownership down to guy putting the finished product onto a truck for delivery."
In addition, "the employees of Empire Fruit Growers and their ability to work in a team-based environment is what will help us drive costs down and keep our customers happy," he adds.