The sky's the limit
Leveraging a global reach and agile approach to logistics, En Route International's food and service solutions continue to help the travel industry deliver a customer experience of the highest quality
It was the early 2000s and entrepreneur Alison Lessmann was travelling with a well known global airline. Midway through the journey, as the in-flight meal arrived, she was disappointed to be presented with bread that, in her opinion, was subpar for such a major airline. After raising the issue with the airline when she arrived home, it informed her that it was cutting ties with its current bakery and going out to tender. With this knowledge in mind, Alison set to work launching her own business. Less than four months later, the fledgling company – En Route International – had won the airline's baked goods contract.
Since its founding in 2002, En Route has grown into a £50 million organization. Predominantly serving major airlines, the business maintains a key focus around the product categories of bread and bakery items, cheese, meals, snack boxes and handheld snacks like pasties and calzone.
"En Route has concentrated on airlines and catering for 20 years now and our portfolio has grown significantly," explains Global Managing Director Nick Wiley. "Thanks to a complex set of networks, we have the ability to deliver high quality products to around 100 locations worldwide, as we help to solve the problems and challenges faced by airlines and caterers."
Through close analysis of consumer trends, En Route has always been able to develop product, service and operational solutions that are most deeply relevant to its clients. For instance, the increasing desire for locally sourced products has led to the firm using its global presence to source items and ingredients regionally, or closer to the point of consumption, whilst still delivering a consistent product experience for the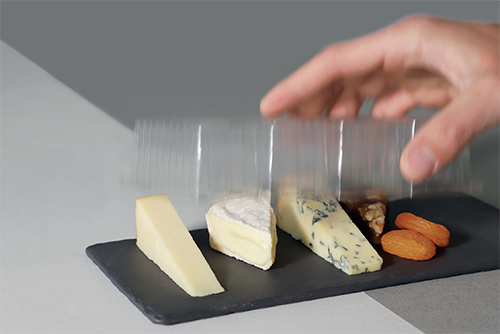 consumer.
Today, En Route operates from logistics hubs and offices throughout Australia, the USA, the UK, Europe, the Middle East and China, leaning on these sites to help it serve a prestigious customer base that includes the likes of British Airlines, Qatar Airways, Qantas, American Airlines, Jetstar, JetBlue, Air France and Emirates. Strategically sector-focused, the company is not distracted by attempts to appeal to a wide range of different industries, and consequently, possesses unrivalled knowledge and aptitude in the provision of solutions for airlines and airline caterers.
"We regularly talk to manufacturers that see the travel market as a supply opportunity, but they simply don't understand how airlines and airline caterers operate. The truth is that airline catering is as much about food as it is about very complicated operations or processes and logistics," Nick argues.
"At En Route, our success is born out of an ability to be creative, agile and global. We take a creative approach to product type, packaging, delivery, and formulation – bearing in mind that items will be eaten at 30,000 ft and the taste buds are slightly different at that altitude. Our agility lies in our speed to develop and execute solutions.
"Finally," Nick adds, "with so many of our customers being international airlines and catering businesses, the global consistency of our execution has to be perfect. There is no point having a solution deliverable in one location when actually a company operates out of 35 locations, especially when consumer expectations of an airline are almost always brand-related – passengers expect to get a similar experience with a company like British Airways whenever and wherever they board a British Airways flight."
Product quality
Among its current projects, En Route is delivering high quality bread products across all travel classes for several airlines. Typically packaged in material that can be reheated safely onboard, each proposition is unique to the client, their brief, and their overall expectation in terms of product quality, consistency and natural variation.
"When it comes to bread, we source from a broad range of different bread suppliers – each with a particular competence for particular product types – and combine those in a bag or box for a specific cabin on a specific airline," Nick reveals. "For example, first class might require four rolls in a bag for each individual passenger, business class might need eight rolls in a bag that go into a basket for presentation purposes, and economy rolls might be flow-wrapped. Whatever the need, we are capable of executing those requests across various airlines and caterers, and have done so consistently for years now.
"In some cases," Nick continues, "we are supplying our caterers' bread requirements. So, for instance, where there might be supply chain issues, as there have been over the past two years due to COVID-19 and Brexit, we can fulfil a caterer's requirement for product if they have a particular brief they need to carry out for an airline."
Variety of cheeses
After bread, cheese is perhaps the second-most popular En Route product category.
More so than with bread, packaging plays a vital role in ensuring that the company's cheese products reach customers in the best possible condition. A chilled, single service offering that can hold a variety of cheeses and accompaniments such as crackers, chutneys, pickles, and dried fruit garnish, the product reduces operational complexity and requires limited crew intervention. "This proposition was developed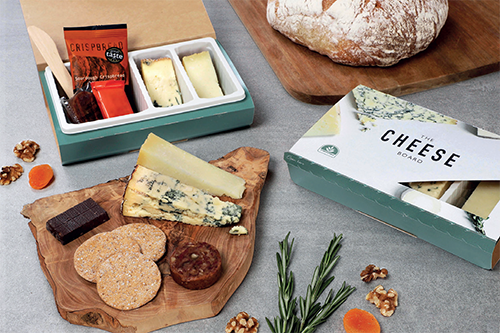 alongside the presentation format – a slate that it is served on in the plane," Nick reports. "We are also able to guarantee the quality and standard of presentation because we supply our cheese pre-cut in a rip and flip packaging solution, which requires crew to tear off the lid, put the slate on top of the packet, and invert it. This allows the cheese and garnish to be presented in a consistent fashion with no handling by the crew. It is a very slick, easy, low labor time, low wastage, full-integrated solution, which involves no cling-filming or plating up from the caterer.
Logical next step
In line with its efforts to develop alternative packaging methods that are not only functional but help to reduce waste, En Route recently launched its' new 'The Cheese Board' format, suitable for premium economy or pre-order offerings. A chilled, single-service, cardboard box offering that can hold a variety of cheeses and accompaniments such as crackers, chutneys, pickles, and dried fruit garnish, the product reduces operational complexity and requires no crew intervention.
"Behind all this, there is a bigger cheese program, which sees us work with suppliers to find really interesting products that one normally wouldn't see on an airplane. At the moment we have a cheese that contains nettle, which is pretty unique," he notes. "Partnering and then working with smaller, artisan providers, we take hard cheese, soft cheese and blue cheese, and present it to customers with some narrative about ingredients, provenance and origins. It gives a more enjoyable, well-rounded meal experience, which is viewed as a really important part of the journey for many of our airline clients."
Despite En Route's dominance in the aviation arena, the company has always had an aspiration to diversify into new markets, and so, encouraged by lessons learnt from the COVID-19 pandemic, the business recently trialed products with a leading British retailer and launched direct-to-consumer sales as well as supplying the NHS.
"One of the things a lot of businesses picked up during the pandemic was the importance of not putting all your eggs into one basket," Nick says. "The logic behind working with caterers more regularly is that we are already engaging with them as part of our day job, so it makes sense to start looking at them as potential customers for their requirements in other categories, away from the airlines.
"Beyond that, there is an expectation that rail transportation, cruise liners and ferries might be a logical next step for us within the travel market, but of course, we don't want to be too closely exposed to one single sector because that would not benefit our resilience, so growth outside of aviation needs to be a careful, well-thought-out process."
As the airlines that make up its core target market continue to rebound from the shock of the pandemic, En Route is beginning to see business trending upwards – a positive first step towards a bright future for the firm. While there may still be a sense of scale to recover for the company, as well as team repopulation activities to carry out, Nick is optimistic that the organization can continue building and journey forward in line with his aims for significant growth.
"I think, over the course of the next three years, we are going to be realistic as we try and regain a proportion of our pre-COVID-19 business, before really trying to drive growth by focusing on the things that have always made us a success," Nick declares. "The most critical part of that will be customer-centricity – listening to customers, delivering on the promises we make, and solving their challenges.
"The market is, understandably, going through a lot right now, but we want to be part of turning it around and making it as good as it can be. It might end up looking different in terms of how people approach travel or how certain airlines operate, but you can always rely on the aviation sector to try new things and find new ways to be successful. As a creative business ourselves, we hope to do the same."
www.en-route.com