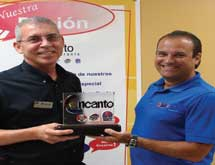 Annual banquets and award ceremonies are staples of most companies, but for Encanto Restaurants Inc., employee recognition is a daily occurrence. "What differentiates us is a culture of recognition," CEO José Ribas says of the Puerto Rico-based quick-service restaurant franchisee. "It's not uncommon to walk into our restaurant support center and see one employee publicly recognize another for a specific act, and tell them in front of their peers about why what they did is deserving of recognition."
Recognition extends to each of the company's 175 restaurants, each of which has a recognition area filled with pictures of employees with customers, supervisors and fellow staff members. "That's something I haven't seen anywhere else," Ribas says. "We celebrate the daily successes of our people, and that makes a difference with employees and how they treat customers."
"If an employee feels they're doing well and being recognized for it, they will treat the customer well. And to recognize, you don't always need a fancy plaque or an expensive award," Ribas adds. "Our culture recognizes everyday success. When someone in the team sees another going the extra mile, no matter the department, responsibility or activity, they can interrupt even the most important meeting and recognize the person in front of their peers."
A Major Contributor
As an operator of several of the world's most popular quick-service brands, Encanto sees 60,000 customers come through its doors daily. The company is a franchisee of Kentucky Fried Chicken, Taco Bell, Pizza Hut, A&W and Long John Silver's – all brands owned by Yum! Brands Inc.
Encanto Restaurants was founded in 1997 as Tricon Restaurants International and changed its name to Encanto Restaurants in 2004 after transitioning from a corporate-owned entity to a franchised operation. The company, one of the top 10 private sector employers in Puerto Rico with 5,000 employees, is the sole Yum! franchisee on the island.
"Worldwide, we are one of the few franchisees that has exclusive rights to all of Yum's! brands," Ribas says.
The majority of Encanto's restaurants are single-branded, with 32 of its locations offering select menus from two or more of the brands. Future locations are expected to carry only one of the four main brand names.
"What we have found is each of the brands has different customer bases with different needs," Ribas says. "Our Taco Bell customer is different from our KFC, for instance … the Taco Bell customer tends to be younger and willing to try different things, while our KFC customers tend to be older and more traditional."
Encanto's brands are the leaders in each of their market segments, and collectively enjoy a roughly 20 percent market share of Puerto Rico's $1 billion quick-service restaurant business.
"Most of the products we serve you can't get at our competition," Ribas says. "We provide unique tastes, forms and textures in products that range from pizzas and pastas to chicken, sandwiches, tacos and burritos. If you combine that with our many points of distribution and great service, you have a healthy model for robust sales."
Encanto, currently under an aggressive expansion plan, in 2010 built six new locations, remodeled 40 restaurants and increased its management staffing, contributing more than 1,000 jobs to the island economy. Encanto expects to have all of its stores remodeled by the end of 2013.
"We contribute to the economy both directly through hiring and staffing, and indirectly through providing jobs for the people who build and remodel our restaurants," adds Humberto Rovira, executive vice president and CFO.
As part of the remodeling plans, Encanto invested in back-of-the house systems to improve data collection, inventory management and customer service. New Micros point-of-sale registers and software were recently installed in its Pizza Hut chain. "Installing new hardware and software throughout our Pizza Hut stores took us about eighteen months," says Fernando Oliver, vice president of finance and information technology. "We worked closely with the MICROS Fidelio Caribbean Inc. Team, who provided excellent technical support and assisted us every step of the way."
As a company, Encanto has been recognized numerous times by Yum! Brands for its performance and world-class team, including awards for advertising, marketing, operations, R&D and development. Most recently, the company received the honor of being named KFC Franchisee of the Year, Ribas says, recognizing the strength of the operations, the execution of their store renovation program and effectiveness of their marketing efforts.
Maintaining Performance
Encanto's economic contributions are particularly critical in Puerto Rico, which is still struggling to reclaim its footing during an on-going and difficult five-year recession. The company has seen commodity and energy costs in particular skyrocket during the recession.
The company paid $15 million in electricity costs alone last year; energy costs in Puerto Rico average more than 25 cents per kilowatt-hour, versus the 12 to 15 cents per kilowatt-hour paid on average in the United States. "These increases all impact our cost of goods, but we can't pass those along to our customers, so at the end of the day, we are absorbing a great part of the increases which have eroded our bottom line," he adds.
While increasing costs have had an impact on Encanto's profitability, its sales have increased in recent years. "Many consumers are trading down to more affordable meals – instead of eating at casual or fine-dining restaurants – and our brands provide that," Ribas says. "We've been able to grow top-line sales and market share as a result."
Local Flavors
The Encanto franchise brands are all household names in the United States, but their operations and menus in Puerto Rico differ in many ways from their stateside counterparts.
The Pizza Hut brand, in particular, has a more expansive menu and serves a different customer base, Ribas says.
"We have a healthy dine-in customer base, whereas in the United States, consumers utilize Pizza Hut mainly for take-out or delivery," he explains. "In Puerto Rico, Pizza Hut is still a sit-down casual restaurant. To contrast with U.S. Pizza Huts, Valentine's Day is one of the brands highest-selling days in Puerto Rico."
Lunch crowds in Pizza Hut are not uncommon either. Encanto's Pizza Huts cater to this demand with a lunch special starting at $5.99 featuring soup or salad and a main dish of either a 9-inch pizza or pasta and breadsticks. "We have a very big lunch business in our Pizza Hut restaurants attracting office worker crowds on the weekdays," Ribas says. Encanto's Pizza Huts also have a delivery segment, but operate and manage delivery units as separate entities from sit-down restaurants.
Some menu items also differ. Pizza Hut's top-selling pasta dish is the Gilbertini®, a recipe developed by Encanto and later adopted by other Yum! markets. Gilbertini® is served with a sauce that is prepared every day in the restaurants and made of fresh, natural ingredients such as milk, butter and a secret blend of cheeses and spices. "The result is a unique, indulgent pasta with a little bit of a sweet flavor that the local customers love," Ribas says.
Encanto also recently developed a lasagna pizza featuring marinara sauce in place of traditional tomato sauce as well as cheddar, mozzarella and Parmesan cheeses all held in place by tortilla strips. "That's definitely an example of something we do here that you can't get in the States and is very popular," he adds.
Encanto's Pizza Huts further the casual-dining atmosphere with a wine list. "We hired a wine expert who paired red and white wines with our pizza and pasta dishes, and we serve frozen drinks in addition to beer, soft drinks and our house sangria," he adds.
Restaurants also differ physically from their U.S. counterparts, with Encanto's Pizza Hut locations featuring more modern architecture and different fixtures, lighting schemes and layouts.
Other differences can be seen in the sales and popularity of certain menu items. In the United States, KFC's grilled chicken met with slow sales after a major launch, while in Puerto Rico it remains a top seller. "Grilled chicken has been very successful here, in part because the consumer prepares chicken that way at home," Ribas says. "It's a local staple in Puerto Rico, and nobody else is offering grilled chicken like KFC's version."
Encanto's KFC locations use larger birds and a different cooking method Ribas says makes the chicken juicier. The ovens used to cook and grill the chickens rely on a great deal of steam, allowing the chickens to retain their moisture.
Taco Bell offerings in Puerto Rico include platter meals with main courses including enchiladas and side items that are not available stateside. "This is similar to what you could get from a fancy Mexican restaurant," Ribas says. "While it may cost you $20 to $25 to eat a similar meal at a sit-down restaurant for lunch, you can get that here for $7 and better … this is a great offering for our customers who like an abundant sit-down meal."
Healthy Choices
Encanto addresses customers' needs through offering healthy options at its restaurants. Encanto's restaurants embraced the Yum! Brands corporate policy of switching to trans fat-free cooking oils in 2007, and offer low-calorie and lower-fat items. "If anyone's looking for a healthy option, we have that available at all of our brands," Ribas says.
Menu options include the Drive-Thru Diet® menu at Taco Bell, offering Fresco-style menu items with reduced calories and less than 9 grams of fat. Items on the menu feature grilled chicken with fresh salsa in place of cheese and sauce.
Encanto also follows Yum! Brands' policy of corporate social responsibility when it comes to sourcing its products. "We are committed to providing our customers with safe, delicious meals and operating restaurants that meet the highest food safety standards," Yum! Brands says. "This commitment is at the heart of our operations and our supply chain management, and is evident in every aspect of our business, from raw material procurement – including livestock and produce – to our restaurant food preparation and delivery.
"We seek to incorporate social and environmental principles in our sourcing and manufacturing practices within the context of the varying government, consumer, regulatory and infrastructure dynamics that exist around the world."
Product Development
Encanto's strong dine-in business and the growth of its delivery units are leading the company to continue to develop its menus and launch new items. The company develops many items exclusive to its restaurants in addition to rolling out items developed by Yum! Brands.
"We have an unlimited source of ideas for product development. We can follow the U.S. lead, develop products on our own or adapt a product that's been successfully introduced in one of Yum's! more than 100 international markets," Ribas says.
Encanto works closely with Yum! Brands, vendors and with its internal menu development department to create, test and market new items. "Given the vast resources available to develop new products, we are constantly putting new products through the pipeline," he adds.
The company's product screening process includes gathering feedback from customers on prospective menu items developed in its test kitchen. Later this year, Encanto plans to market a new pasta item at Pizza Hut that Ribas says will be the first of its kind worldwide.
Gathering Feedback
Encanto's reinforces the quality of its food and service regularly. As a commonwealth of the United States, Puerto Rico operates under the regulations set by the Food and Drug Administration and U.S. Department of Agriculture.
Mystery shoppers also regularly visit each of Encanto's restaurants, reporting on the food, staff, restaurant cleanliness and overall experience. "We have many key data points coming back from our mystery shoppers on how they're experiencing our restaurants," Ribas says.
Encanto also gathers feedback from customers in the form of surveys. "We're constantly surveying customers on their experience not just with our brands, but our competition, as well," he adds.
Quality assurance personnel also visit each restaurant twice a quarter for unannounced inspections. Q&A Manager Judith Cruz stresses the importance of food safety at Encanto. "Ensuring the quality of our products is everyone's priority," she says. "In addition to following local and federal guidelines for food safety, Encanto supervisors are certified by the National Registry for Food Safety Professionals."
Partners in Success
Encanto's suppliers and business partners play a critical role in ensuring the quality of its food. "Our suppliers contribute to our success by guaranteeing the quality of all products and services that we receive," Cruz adds. "Besides being submitted to two annual audits in food safety and quality systems, they uphold our standards throughout the distribution chain and partner with us in developing new ideas and products."
An example of the important role suppliers play in Encanto's operations came in 2010, when Kentucky Grilled Chicken was launched. Encanto worked closely with Yum!, Rational AG Ovens, U.S.-based chicken producer Pilgrim's Pride and poultry processor To-Ricos in Puerto Rico to identify the best bird weight, cut and cooking method for the product, he says.
"We learned from KFC's U.S. research that consumers perceived the grilled product was at times dry and the pieces were too small," Ribas says. "By working closely with Yum! and our suppliers, Encanto was able to develop a product that better met consumer preferences in Puerto Rico.
"We sourced a bigger bird through Pilgrim's, distributed it through To-Ricos and utilized Rational's cooking platform that used more steam in the cooking process to ensure a juicier product," he adds. "The Kentucky Grilled Chicken launch in Puerto Rico set sales records and continues to be an important part of the menu today."
Like its American counterparts, Encanto purchases the majority of its food supply from Louisville, Ky.-based United Foodservice Purchasing Co-Op (UFPC) LLC. UFPC supplies all corporate and many franchise-owned Yum! brand restaurants.
Encanto procures other supplies such as bread, vegetables, pizza boxes and dough from a number of Puerto Rican companies.
Managing leading brands in a highly competitive market and a continuous new product pipeline is a challenge for Jocelyn Matos, director of supply chain management, and her staff. "Our supply chain team manages over 1,000 SKUs with 80 percent of these imported," she says. "Logistics have to be one of our core competencies for Encanto to be successful."
Another critical success factor is having a good distributor. "Our distributor, Plaza Food Systems, is a great partner," Matos adds. Plaza receives nearly 30 containers per week for Encanto. Most arrive in San Juan through major U.S. ports like Jacksonville, Fla., and Houston. Recently, however, the number of items arriving from Europe and Asia has been increasing.
"Every container has its own story and so many things can go wrong on the ground or in the water – like weather or local strikes at the port – to create delays. Our team carefully forecasts product demand and shelf-life to guarantee timely delivery of our products to the restaurants," Matos says. "It becomes especially difficult to forecast during hurricane season where you don't want to run the risk of running out of product if ports close while still being cognizant of product shelf life. It's a delicate balancing act."
Strong Support
Central to Encanto's success is a well-trained staff. The company's San Juan-based Restaurant Support Center provides training and programs aimed at giving employees the skills they need.
"There are 120 people here, and everybody is either supporting restaurants directly or is involved with someone who is," Ribas says.
The company believes the managers of the individual restaurants are the most important people in the company. "We work to support our general managers through training and leadership seminars," he adds.
These include sessions covering specific management skills like banking, opening and closing shifts, scheduling, inventory and business forecasting. "We provide leadership seminars, finance workshops and help our managers make better decisions when running a restaurant," Ribas says. "We're giving our employees management-level classes, and there are few companies that do that."
Experienced Leadership
Leading Encanto's efforts is an executive staff with years of experience in food service. CEO Ribas joined Encanto Restaurants two-and-a-half years ago. He has 20 years of experience in the restaurant and packaged food industries in marketing, operations and strategic planning.
Ribas started his career in brand management at ConAgra's Hunt-Wesson division – known for brands like Hunt's, Wesson Oil, Orville Redenbacher Popcorn and Peter Pan peanut butter – learning marketing, advertising, product development and distribution "from the ground up," he says.
He had the opportunity to later apply much of that knowledge while overseeing international marketing for Wendy's. "At Wendy's, I had the privilege of knowing (founder) Dave Thomas and learning restaurant operations from him and some of the world's best operators," he adds.
Prior to joining Encanto, Ribas last oversaw both company and franchised operations at Wendy's Florida Division, representing more than $640 million in annual sales.
CFO and Executive Vice President Humberto Rovira oversees finance, real estate development, supply chain and human resources for Encanto. In addition, he oversees the Pizza Hut delivery business, representing roughly $15 million in annual sales. In addition to his role in Encanto, Rovira serves as president of Asociación de Restaurantes de Puerto Rico (ASORE), of which Encanto is a member.
Reporting directly to Rovira is Vice President of Finance Fernando Oliver, who oversees finance, accounting, information technology and a $70 million supply chain. Oliver previously worked in similar capacities for the Burger King Corp. and Procter & Gamble in the United States.
Vice President of QSR Operations Isis Betancourt oversees restaurant operations for the 95 KFC and Taco Bell restaurants. Vice Presidents of Operations Mike Rivera and Eddie Sánchez manage Pizza Hut dine-in and delivery businesses, respectively. Encanto's operations leaders have more than 50 years of experience between them.
Enio Navarro, real estate and development director, oversees a staff responsible for new restaurant development, remodels and restaurant maintenance. Before coming on board with Encanto, Navarro developed hundreds of Exxon gas stations, McDonald's, Burger King and Church's restaurants combined in Latin America.
Vice President of Human Resources Raymond Ruiz oversees recruiting, training and compensation programs for all restaurants as well as the Restaurant Support Center.
Encanto's marketing, advertising and public relations efforts are overseen by Senior Vice President of Marketing Hector Jiménez. The company explains that Jiménez, who has more than 20 years of combined experience in consumer packaged goods and restaurant marketing at companies like Unilever and Yum!, manages a department that is responsible for promoting the KFC, Pizza Hut, Taco Bell and Long John Silver's brands.
"Encanto is the second-largest advertiser on the island after Procter & Gamble," Ribas says. "Hector and his team have won numerous advertising and marketing awards from Yum!,and our agency, Arco Publicidad, has won several advertising awards for work on Encanto brands.
Jimenez explains that Encanto has become an advertising powerhouse, airing more than 50 new commercials per year, producing 150 newspaper and billboard ads and 400 point-of-purchase merchandising materials.
"The restaurant industry is so competitive in Puerto Rico that leading brands are on television 52 weeks of the year and Encanto is no exception," he says. "We launch an average of 24 new promotions each year which means that our job never ends.
"Like any retail operation, planning and execution cycles are continuous. For example, while we are launching a new product, promotional drive or public relations effort, there is another ready to roll out, several in development and many others in concept boards," Jimenez adds. "If you extrapolate that work across all the brands we manage, you will understand why our team is always busy."
Busy may not be enough to describe the task Encanto faces every day to remain on top. They are succeeding in one of the most competitive quick-service restaurant (QSR) markets in the world. While Puerto Rico is only 100 miles long by 35 miles wide – roughly the size of Connecticut – there is one QSR for every 3,000 people.
To put that number in perspective, China, with a population of 1.3 billion, would need more than 440,000 QSRs to reach a similar per capita distribution.
Community Efforts
In addition to being one of Puerto Rico's largest employers and a major contributor to the island economy, Encanto benefits its homeland through a number of charitable efforts.
"As a successful company, I believe that we have a moral obligation to give something back to the communities where we conduct business," Ribas says. The company has raised more than $50,000 for Yum! Brands' World Hunger Relief program through an annual campaign and collection canisters in its KFC restaurants. Half of the proceeds raised are used locally to support soup kitchens and homeless shelters.
The World Hunger Relief program is the world's largest private sector hunger relief effort.
"Since starting the movement in 2007 and continuing through our recent 2010 campaign, we have raised nearly $85 million for the United Nations World Food Program (WFP) and other hunger relief agencies, providing nearly 350 million meals," Yum! Brands says. "WFP is the world's largest humanitarian agency fighting hunger worldwide, feeding more than 90 million people in more than 70 underdeveloped nations."
Encanto is also one of the top 10 United Way contributors in Puerto Rico, raising more than $1.5 million in employee and company contributions.
Employees regularly volunteer their time to assist a number of causes. "Many of our employees also donate their personal time to help build and repair shelters, feed the homeless and get involved in the lives of those that are less privileged," Ribas says.
In 2010, Encanto's KFC restaurants also began supporting the Susan G. Komen Foundation for breast cancer awareness and research, raising $15,000 for the organization's annual Race for the Cure fundraising event. Taco Bell locations actively support the efforts of the Boys & Girls Clubs of Puerto Rico.
Pizza Hut restaurants are active in the Book It! Program, which offers incentives such as pizza parties to elementary school students to attain reading goals set by their teachers.
"We are one of three markets in the world, along with the United States and Canada, offering the program," Ribas says. "We have 378 schools participating every year, and have had more than 500,000 students benefiting so far from the program.
"We have robust brands, an innovative product pipeline, a work schedule that's never the same two days in a row, great business partners and, most importantly, an excellent team who have helped create a very rewarding and unique culture," he adds. "That makes my job very gratifying."