Espresso Americano is poised to become a global coffee brand with the right franchisees behind it.
Espresso Americano already had a long history in the coffee business before it opened its first coffee shop in Tegucigalpa, Honduras, in 1994. The family run business has operated a coffee farm in Honduras since the 1930s, giving the company an extensive knowledge of the entire process of making coffee, from seed to cup. It's that background and history that gives Espresso Americano the edge against other coffee franchises, and North America Director David Kubena says the company's knowledge will serve it well as it works to make greater inroads into the North American market. "We have an amazing journey," he says.
Today, the company's 1,500-acre farm continues to supply its own beans, giving Espresso Americano an unparalleled degree of quality control. The company has more than 180 company-owned locations in 25 cities throughout its native Honduras, and Kubena says the concept is one that will translate successfully in other markets around the world, provided the company partners with the right franchisees.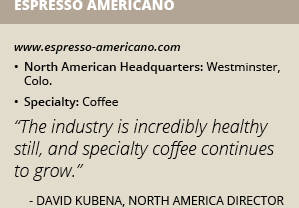 Unlike many other coffee franchise concepts, Kubena says Espresso Americano offers franchisees a unique combination of coffee expertise and strong corporate support. With the right people leading the way, he says, Espresso Americano expects to continue growing in North America and beyond.
Coffee Achievers
At the center of Espresso Americano's success has been its coffee, which is produced according to the most stringent quality standards of any coffee producer in the industry. According to the company, its farm is at an elevation of approximately 1,400 meters, the ideal height for the best-quality coffee beans. Kubena says the company has extensive knowledge of the entire process from the farm to the store and its vertical integration make it possible for Espresso Americano to offer customers the best possible cup of coffee.
The coffee expertise Espresso Americano brings to its customers is evident in the extensive menu found at each of its locations. Espresso Americano locations feature a wide variety of hot and cold coffee-based beverages, including its patented frozen coffee concoction, the Coffee Granita. For customers who want to bring the Espresso Americano experience home with them, they can purchase bags of the company's house blend coffee beans to grind themselves.
Kubena says the combination of the company's relatively small size and the dedication of its people to high-quality coffee makes Espresso Americano's locations stand out from their competition. "It's still a small company, and one of the advantages of a smaller company is that it is more effective in offering specialized products, and we can serve at the local market level," he notes.
Focused Franchising
With the Espresso Americano already proven to be a big hit in its original market, Kubena says the focus now is on breaking into the lucrative North American market, and the company is taking a strategic approach to accomplishing that goal. "Our franchise program is fairly focused," Kubena says. "We're looking at four or five key markets and we're franchise-ready in all 50 states and Canada."
When vetting potential single- and multi-unit franchisees, Kubena says Espresso Americano is looking for experienced operators who share the company's commitment to coffee. "We think that the skill sets we're looking for include a certain passion for coffee," he says. "We're also looking for people who understand customer service and have strong sales backgrounds. We want people who want to give back to their communities, as well."
For its part, Espresso Americano offers its franchisees a degree of support unmatched by many other coffee franchises. Kubena says the experience and dedication of its senior staff provide franchisees with a wealth of expertise in everything from product development to site selection. The company also offers a comprehensive training program and Kubena says it has a solid design concept for its U.S. locations. "We have a really strong support group, people who have either been in the retail or coffee space for a long time," Kubena adds.
Finding Partners
Espresso Americano has a five-year plan for expansion, and Kubena says it is possible for the company to have more than 60 locations in the United States within that timeframe. Despite the high level of competition, Kubena says there is still a lot of room for growth in the specialty coffee segment in the United States. "The industry is incredibly healthy still, and specialty coffee continues to grow," he says.
Through careful planning and realistic expectations, Kubena says Espresso Americano could be poised to become a global brand in the near future. "Our challenge is to find the franchisees who can carry on our mission and goals and partner with us," he says.