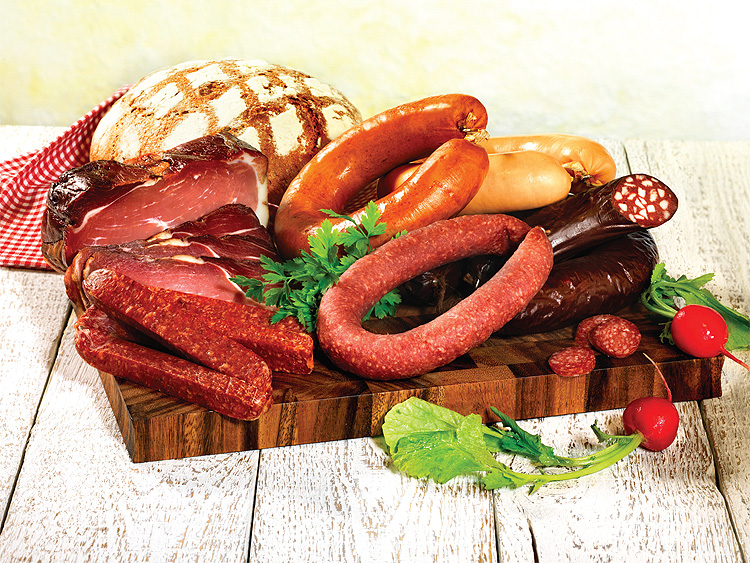 Eugen Gruninger Großmetzgerei GmbH & Co
Traditional fare
As it celebrates its 100th anniversary, Eugen Gruninger Großmetzgerei GmbH & Co. KG demonstrates the qualities that made it a major name in speciality meat products
Now in its third and fourth generation of operations, Eugen Gruninger Großmetzgerei GmbH & Co. KG has grown substantially since its beginnings as a small butcher shop in 1911. Following the Second World War this was expanded into a wider butchers network, peaking at around 65 outlets in the 1960s and 1970s. At this time, as the business came under its third generation management, Eugen Gruninger began to move into supermarket and trade distribution. Having become a very well known brand in the south west of Germany, in the 1980s Eugen Gruninger looked to take this success to the wider German market, as well as international locations such as France and Austria.


Based in Freiburg, Germany, Eugen Gruninger is a true Black Forest company offering a range of around 300 products including speciality meats like Black Forest salami snacks and Black Forest ham, as well as broiled sausages, sliced cold cuts, pork sausages and boiled ham. Although the number of outlets owned by the business has gradually been reduced through supermarket competition to fewer than ten today, Eugen Gruninger still handles around 12 million kg of meat each year through food retailers such as Metro Group, Netto, Rewe and Aldi, subsidiaries, and its new factory outlet. With 80 per cent of production being delivered locally, Germany remains the company's largest market, although it also exports 15 per cent to France, and five per cent to Italy and Austria.
Long tradition
With 2011 marking Eugen Gruninger's 100th anniversary, CEO Christian Gruninger highlights how the business is celebrating this long tradition: "A few weeks ago we held a party for all of our employees and their families to thank them for their contribution to the business over the years. We also intend to have some special offers before Christmas in our stores, as well as working with our retail partners on other promotions."
Unusually, for the last 11 years Eugen Gruninger has undertaken promotion and sales through the German shopping channel – HSE24. Although this is aimed at a special target market, it is clear that this medium has exposed the Eugen Gruninger name to a much wider scope of customers. The company also markets its products through a partnership with its local soccer team, both in promoting and supporting the Freiburg Soccer School, and advertisements in the stadium.
Fire set back
In 2008 Eugen Gruninger experienced an unfortunate set back when its meat processing plant was destroyed in a large fire, and as a consequence production had to be rebuilt. Michael Gruninger, managing partner, outlines some of the challenges of this period, and how the business has subsequently benefited from this: "Construction of the new processing plant took approximately two years and during this time we had the challenge of trying to maintain supply of our products to customers. As a result, we put our employees into other production facilities in order to ensure delivery.
"The new facility was successfully completed in June 2010, and it took a further six months for all the new machinery and software to be completely up and running. Today we have one of the most modern processing plants in the south of Germany, including a smoke house and packaging facility, and are benefiting from the new productivity that we can achieve. In line with our 100 year tradition, Eugen Gruninger is still very much a business focused on hand made special products and a brand name associated with the best ingredients."
This quality is achieved through a combination of new technology within the production plant, but also the retaining of personnel that are used to the company's working methods and standards. Furthermore, Eugen Gruninger is certified to International Food Standard (IFS) Version 5, QS at level 1, and pursuing British Retail Consortium (BRC) level A.
"Within this industry many of the recipes have been more or less the same for the last 150 years, so much of our product innovation is based around packaging. In Germany there is great importance placed on reducing packaging and ecological issues, so we work closely together with our suppliers and partners to develop the best materials and packaging. However, we are also focusing on trying to avoid using additives like flavour enhancers and maintain as natural a product as possible. As customers are used to these enhancers in products, we are working to find ways of replacing these with other flavours, whilst reducing things like salt," explains Christian.
Extended future
Despite challenges such as the rise in raw materials costs and competition in the market, Eugen Gruninger's speciality focus on Black Forest products and high quality has stood it in good stead. With the business having already demonstrated its long heritage, Christian now turns his attention to its extended future: "Our strategy is to expand into other countries, particularly the UK where we believe consumption habits are much close to those in Germany and therefore there is a market for our products. We are also looking to increase our presence in France and Germany, as there is still a lot of potential in these markets. The eating habits and food industry in Italy is somewhat different and therefore there is a smaller market here for our offering. Looking further into the future, we may also looking to bring the Eugen Gruninger name to Eastern Europe in countries such as Poland, but this is not likely to be before 2013."