The superfood experience
In 2016, Jeff Fenster, a serial entrepreneur, was looking for a new challenge and sought a project that would combine his passion for health and fitness with an unrelenting drive to succeed. Identifying an opportunity in a key market trend and leveraging his ability to apply transformative business practices to any industry, Fenster set his sights on the quick-serve restaurant (QSR) niche. Though he had never worked in the food industry, he was confident his management, organization and leadership skills would serve him well.
He launched everbowl® to fundamentally change the way people eat and the way restaurants interact with their communities.
At its core, everbowl's proposition is simple: give people the nutrition they need to fuel their active lifestyles with superfood bowls and smoothies that are not only healthy but also delicious. By bringing consciously wholesome meals and snacks to every community that wants to take charge of their bodies' performance, everbowl empowers everyone to become their "best selves," Fenster explains.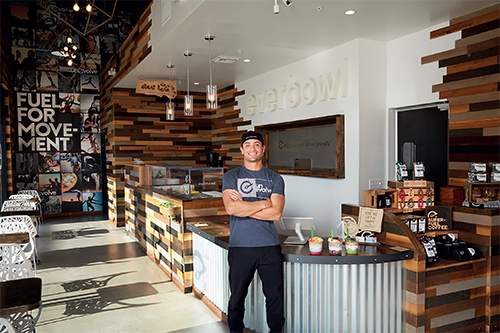 Everbowl starts with flavorful, nutrient-rich ingredients that provide numerous health benefits such as maintaining good heart health, boosting immunity, regulating metabolism, boosting energy levels and reducing the effects of aging. Everbowl has created several favorite menu items based on these superfoods – acai, pitaya (dragon fruit), matcha and other "stuff that's been around forever®," as the company's tagline says.
The açai base, created from a purple drupe fruit native to the eastern Amazon Basin, is one of many flavor packed superfood offerings on the everbowl menu. Others include 'Pitaya' (known in English as 'dragon fruit'), which delivers a tropical flavor reminiscent of mango or pineapple. The luxurious 'Cacao Wow', meanwhile, combines the taste of chocolate with a rich source of antioxidants. Customers can choose tried-and-true Local Favorite bowls or smoothies from everbowl's set menu. Popular selections include the classic everbowl acai bowl topped with banana, strawberry and blueberry, and the Blue Lagoon, featuring pitaya, blue majic and coco love bases topped with fresh strawberry, pineapple and shaved coconut. Or, they can let their imaginations take over by concocting their own customizable Whatever Bowl® with the superfood bases of their choice and unlimited toppings.
Market expansion
A unique concept, everbowl's growth is nevertheless indicative of a broader trend. The global superfoods market reached a value of $152.71bn in 2021, and is predicted to increase yet further, hitting an estimated $214.95bn by 2027. A growing health consciousness among consumers and increased awareness of the benefits superfoods deliver are the primary factors driving the change.
Even for everbowl, with its relatively short history, the changes taking place within the sector are palpable. "When we started out, only about 30 percent of people could tell you with certainty what an açai bowl was," Jeff recalls. "About 50 percent had heard of the concept but weren't sure exactly. The remaining 20 percent thought I was speaking a foreign language."
There's little doubt that such figures have improved in the years since, but regardless, everbowl continues to dedicate significant resources towards broadening its market. In April, the company took the next step in its ongoing product development strategy, launching a new range of superfood smoothies. Packed with high-quality ingredients, the smoothies are available in four varieties, including 'Matcha Magic', a twist on Asian green tea, coupled with bananas and almond milk and 'NanaBerry Bliss', which resembles a classic strawberry and banana. Another product line extension, everbowl's açai-infused 'Superfuel' coffee, rewrites the rules on the traditional morning pick-me-up.
Like its superfood bowls, everbowl's latest product offerings speak to the company's broader belief in clean, back-to-basics living. It's a vision encapsulated in a single word: unevolve®. "As modern technology has advanced, we've increasingly found ourselves introducing products that lack vital nutrients," Fenster notes. "In a world where working, playing and eating can be done without leaving your seat, we run the risk of becoming too sedentary."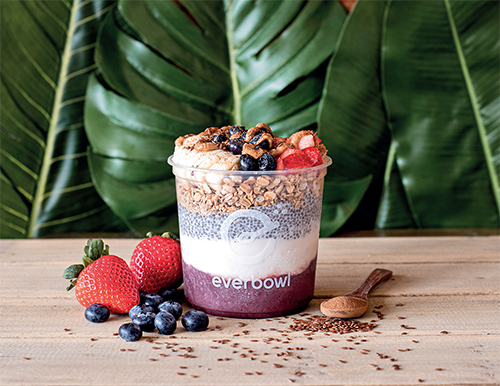 With that in mind, everbowl has aligned itself with a number of activities promoting exercise and active lifestyles, from youth sports to jogathons and distance running. Through competitions and fruit-bowl giveaways, the company hopes to emphasize the importance of superfood as 'fuel for movement'.
"Our idea is to get people to move their bodies and become more active," Fenster explains. "We need to transform how we perceive healthy eating, making it not a thing that's exotic or pretentious, but something fun and exciting. We want to help people be the best versions of themselves."
Reaching the customer
In its attempt to revitalize the American palate, everbowl is tackling a familiar set of problems. As Jeff puts it, the vast majority of so-called health food products on the market "lack flavor, don't fill you up, cost too much or are simply not available." It's a trend that everbowl is hoping to buck. Açai, pitaya and blue majic are delicious, high-quality ingredients, yet everbowl's products remain reasonably priced. Buying through the company's website or app, a standard small classic everbowl costs about the same as a Big Mac meal, at $7.99. Hungrier customers can size-up their portions, but even the large option, weighing in at an impressive 24 ounces, is priced at just $12.99. There's value in regular visits, too: purchases are rewarded with loyalty points, which can be exchanged for discounts and exclusive offers.
Armed with a flavorful, filling and affordable product, the current focus for everbowl is on accessibility. COVID-19 has shifted consumer behavior away from brick-and-mortar stores and towards online retail platforms. It's a phenomenon that has provided everbowl with direct access to its key clientele.
"More than ever, we're able to bring information directly to the consumer," Jeff remarks. "Everyone has a smart phone in their hands, through which they can learn what they should eat, and they can look at what's available around them. For us, it means that we can put health and wellness in front of the consumer, precisely when they want it."
But everbowl isn't content with a share of the digital shelf. As normality stakes a comeback in the post-pandemic world, stores across the US are seeing renewed foot traffic. To meet that demand, the company has been hard at work, rolling out an aggressive franchise expansion plan. At the time of our interview, Jeff had just inaugurated the opening a new franchise in Nevada – everbowl's 54th store opening nationwide, the most recent addition to a footprint that spans 11 states from coast-to-coast.
As part of this expansion, everbowl is also experimenting with innovative ways to reach out to customers. In March, the company launched its first-ever food truck in Texas. Its semi-permanent home in a suburban Houston food truck park includes picnic tables and wooden deck seating, along with a playground, beer and wine bar and live entertainment.
In its ongoing quest to empower positive food decisions, everbowl is already planning ventures into more states, with an additional 250+ franchises due to open within the next four years, with up to a fifth of those due to arrive before the end of 2022.
"Beyond that, we've set our sights on reaching 100 stores," Jeff concludes. "At the same time, we'll continue to introduce new markets to our product range, we'll keep looking for new ways to connect with our customers, and we'll continue our drive to introduce people to the unevolve lifestyle."
www.everbowl.com