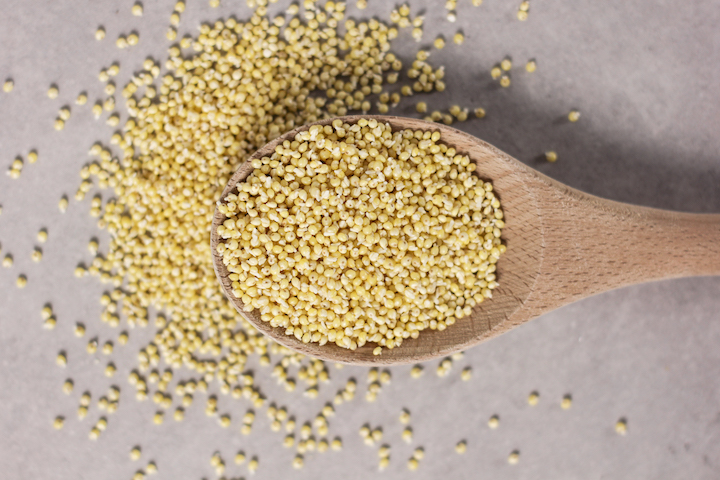 Everspring Farms remains one of the fastest-growing companies in Canada with its popular sprouted grains and seeds.
Dale and Marianne Donaldson were operating a farm in rural Ontario when they were introduced to a health concept by a veterinarian who advised them to use sprouted grains as a supplement to their livestock feeding program for improved health and nutrition. Over the years they started to get requests for sprouted grains for human use and in 1985 the couple founded Everspring Farms.
Bigger and Better
In 2002, Everspring Farms moved to a 6,000-square-foot facility in Seaforth, Ontario. In 2014 the company bought a neighboring food facility whose owners had relocated to the United States: a 75,000-square-foot facility for allergen-free items and a 10,000-square-foot plant for gluten products. "The timing was perfect for expansion as we were being approached by larger food production companies throughout North America requesting sprouted grain ingredients for a wide range of products including chips, baked goods, bars and cookies," Donaldson says.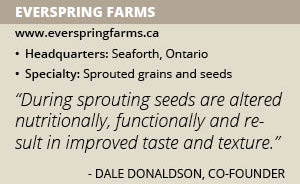 As demand grew, Everspring needed larger equipment. As no one made such equipment for this emerging market, this became a challenge. "Necessity is the mother of invention," Donaldson says. "As we had more customer requests, we had to say no or figure out how to fill orders in a way that accomplishes increased output while prioritizing quality and food safety considerations."
Today, the company manufactures most of its own equipment with in-house personnel who provide engineering and metal fabrication. That allows Everspring to process the approximately 35 items of sprouted seeds and grains it sells. They include oat, barley, wheat, rye, spelt, buckwheat, teff, quinoa, amaranth and peas. Everspring Farms' largest market is Canada but the company also sells in the United States, Australia and Europe. Both facilities are BRC food safety certified and also organic and kosher certified.
Sprouting Attributes
Sprouting is a term the food industry uses to describe the germination of a seed or grain and the transformative nutrition changes that favorably influence the seed for food use. "During sprouting seeds are altered nutritionally, functionally, and result in improved taste and texture," says Donaldson.
The sprouting of seeds and grains is actually a centuries-old practice, Donaldson says, with a number of benefits. "One of the main drivers is nutrition," he says. "People believe that sprouted grains are easier to digest. The sprouting process in a lot of ways pre-digests the seed before it enters the consumers body, therefore we can glean more nutrition from it."
Increasingly, consumers want ingredients that are simple and clean, Donaldson says. "Another advantage is that the sprouted grain flours are more favorable for baking and sprouted whole grains and pulses can reduce cooking time," he says.
"Normally whole grain flours have a reduced shelf life due to oxidation of oils from the germ," Donaldson says. "However, the sprouting process transforms the lipids and allows whole grain flours to have a much longer shelf life making the flour a practical user-friendly choice."
Growing to Meet Demand
For the last six years, Everspring Farms has been one of the 500 fastest-growing companies in Canada according to publication Canadian Business, with revenue increasing by 245 percent from 2012 to 2017. Donaldson doesn't take a lot of credit for that. "The growth hasn't been forced," he says. "We have been responding to an increase in demand and interest."
Although there is competition, the fact that Everspring Farms has up to 35 different products "gives us reach in the marketplace," Donaldson says.
Everspring Farms is now into its second generation with daughter Michelle Reilly serving as director of marketing and Diane Wolters as director of product development along with their husbands. "That family commitment is one of the reasons we've been able to do what we do as well as we do," Donaldson says.
In early 2018, Reilly and Wolters founded Second Spring Foods, the retail side of the business. Second Spring sells quantities from one to four kilograms through its website and Canadian retail stores. "It's going good," Reilly says. "People have been seeking us out and inquiring about a variety of grains and seeds, which is why we have an extensive line of 18 sprouted retail products, with six of them being sprouted whole grain baking mixes."
Retail customers range from younger generations to baby boomers. "It does seem to cut a wide swathe," Donaldson says.
The future looks good for Everspring Farms and Second Spring Foods. "Having a background in agriculture and farming, we view sprouting as a way to improve the nutritional integrity of grains and seeds that comes from the farm," Donaldson says.