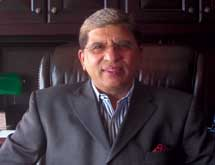 If there is anyone ready to take the Great American Recession head-on, it is Aslam Khan. The man emigrated from Pakistan to the United States with next to nothing to his name and has ascended to the helm of his own restaurant franchisee powerhouse, Falcon Holdings LLC.
In his mind, there is no reason not to become successful in this land of opportunity. He landed in the United States in 1987, and took his first job as a "team member" for a Church's Chicken franchise. He cleaned floors, served customers and washed dishes until he was tapped for assistant manager training.
After completing training, Khan was assigned to a restaurant as assistant manager, but that didn't last long. Once in this position, Khan soon was analyzing cost-benefit reports, monitoring profit margins and visiting corporate headquarters. Corporate admired his hustle, and he soon took over as manager of the restaurant.
From there, Khan climbed to area manager, where he oversaw operations of multiple locations before making a reputation for himself as a marketing guru. A door-to-door coupon promotion followed by a direct mailing campaign launched Khan to the position of marketing director, where he oversaw strategy planning and development of marketing plans for corporate-wide promotions.
Kentucky Fried Chicken came calling in the mid-1990s, and Khan accepted an offer to serve as regional vice president in California. After a year-and-a-half in the role, Khan and a partner purchased a number of bankrupt Church's Chicken units and became vice president of operations and COO in 1997 of Best American Hospitality.
Khan eventually turned this company from a sinkhole into a success inside of a year's time Khan turned the company from losing profits to a very profitable company.
Church's realized what it had in Khan and posed another challenge to him: to resuscitate 100 Church's units throughout the Midwest, which were losing in a big way, to be very profitable.
Khan was up to the task, but he needed financial support to do what needed to be done to turn the restaurants around. He went out and found equity partners to assist in the financial requirement needed.
"I was required by my equity partners to obtain a life insurance policy and told them, 'If I live, I make the money; if I die, you make it,'" Khan says.
The gamble worked – by 2005, Khan owned Falcon Holdings outright after paying his equity partners fourfold on their money.
Today, through Falcon Holdings LLC, and other related companies Khan owns and operates about 160 Church's Chicken franchises throughout Illinois, Michigan, Indiana, Virginia, Ohio, Texas, Georgia, Alabama and Florida.
People Count
Throughout his meteoric rise through the fast-food industry, Khan has set a prime example for employees who want to succeed through hard work and dedication. In turn, Khan believes the people working for Falcon Holdings' franchises are the secret to his success today, and he makes sure they know it.
"Our core values are our people, and we really take care of our people," he says. "I don't think I'm in the chicken business – I'm in the people business.
"We take care of the people, they take care of the chicken," Khan adds. "The morale of our employees is much better, and we have long-term and loyal employees."
Khan appreciates the opportunity he received from David Davudpour who he worked with for the first 48 Church's units so he could make them profitable once again, and he empowers his people in the same way. "Someone had to give me a chance or I'd still be a $3.25 employee," he says. "People believed in me and trusted me, and I trusted them."
In fact, Khan has a penchant for hiring veterans returning from the wars. "I'm very patriotic for people that serve our country and make it possible for people like me and others like me to have the opportunity to be who we are," he says. "They sacrifice their lives, and I want to honor them for it."
Regional Diversity
With so many units in diverse marketplaces, it is a necessity to be able to trust the employees at the local level to make decision that best fit the demographics they serve. To accomplish this, Falcon Holdings analyzes each unit and its respective problems and determines solutions in four ways: mission, inform, influence and engage. "Every problem and city is unique," Khan says. "We give them what they need to know in business, influence them to know what we are talking about and engage them in the business completely."
Khan cites the disparity in issues between the units in the Chicago area and those in Atlanta. For example, in Chicago, employees were far from engaged in making those Church's units as profitable as possible. However, in Atlanta, the employees did not have the proper training to engage in the business.
"You have to define the problem, create a mission, and if you believe in it from your core, anyone doing anything that doesn't fit in our mission – don't waste our time," Khan says. "You have to make sure they are engaged. Make sure they know what they are trying to accomplish, break it down for them and show them how they can fix it."
Once franchisees understand how their Church's Chicken restaurants should properly operate, Khan says the corporate level gets out of their way. Also, Falcon Holdings ensures it is available to help in any way possible when the time comes. "The power belongs to those who empower others," Khan says. "They make local decisions on their own, so even if we have input, we give them credit and grow them."
Land of Opportunity
Khan is eternally grateful for the opportunity to immigrate to the United States from a Third World country and become the successful businessman he is today. However, he is concerned with the U.S. government's role in the economic recovery.
Khan believes the government is focusing on the wrong businesses to boost. He insists the small businesses in the United States are the key to job creation, and bailouts to major corporations are not long-term solutions.
"My father used to say, 'If you want to clean up the neighborhood, start at your own home,'" Khan says. "The government is not looking after small businesses' interests. Banks are learning now, to deal with some of this stuff, they need to put some trust in the mechanism so people can do business.
"The government's best solution to the recession is small businesses," Khan adds. "They have a lot of hurdles right now, and somebody has to pay attention. We can't solve problems starting at the country level and working down. We have to start bottom-up."
Khan is doing his part to stimulate the economy. He has created more than 100 jobs with his own money through the launch of his partnerships. However, with financing still trickling in when compared to years past, Khan can't continue to front franchisees like this forever.
But Khan sees the social responsibility that is attached to job creation and the return of a stabilized economy that accompanies it. As he sees it, when people are desperate and out of work, crime goes up, liability litigation cases are filed more frequently and everyone does whatever they can to make a little money to survive.
"There are the haves and the have-nots," Khan says. "We really need to review everyone one of them. We cannot live in the Taj Mahal in a glass house if our neighbor is hurting. If we don't take care of it, we could end up with that gap between the haves and the have-nots, and then we're no different than a Third World country."
Despite the dire situation today, Khan remains positive about the future of Falcon Holdings. He intends to launch more Church's Chicken locations whenever the opportunity presents itself. He also intends to share his story in a book called, "Yes, It Can Be Done," with the hopes that it will inspire others.
"I hope to inspire young immigrants and entrepreneurs that glory will be achieved," he says. "The only currency you pay with is pain, and if you're willing to take the pain, you can have what you want. I believe it is about acquiring knowledge, understanding knowledge and having the skill to accomplish what you want to accomplish."