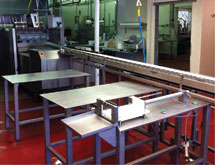 Family Fresh Pack & Family Fresh Foods
With its focus on packaging specialty cheeses destined for the deli sections of supermarkets, Wisconsin's Family Fresh Pack (FFP) has seen its business grow steadily for almost two decades. The company's success has allowed it to branch out with a sister company called Family Fresh Foods, founded six months after the first one, that sells cheese, olives and tapenades.
Family Fresh Pack serves clients that do not have the equipment to package their cheese. "We have about 23 different [client] companies in a variety of range sizes, from small to large," says Steve McKeon, owner and founder of Family Fresh Pack. "One of our largest customers is Emmi Roth."
McKeon says his company adds tremendous value to its customers' products. "A lot of people take packaging lightly," he says. "But packaging is an amazing thing. You can do so much to create and present a better-tasting, fresher product, and it is all in the packaging. There is much more to this field than people realize."
McKeon founded the company in 1995 with partners Paul McShane and Fermo Jaeckle. He credits the success of the company in the following 17 years to a combination of location, technology and the right employees.
Plenty of Work
Wisconsin is one of the largest cheese-producing states, so the company's location is strategic. "Our business works well because we are in an area where people require this type of work," McKeon says. "At this point, this is still the largest area for specialty cheese in Wisconsin, so we have plenty of work."
The people of Family Fresh are very close to McKeon's heart. "My staff is the same staff, the same executive committee that I've had since the beginning," he says. "We have homegrown people."
General Manager Todd Kriebs joined Family Fresh Packaging in the mid-1990s while still in high school. "When he graduated from college, he came back and said, 'I want to work for you,' so he did, and he worked his way up to general manager," McKeon explains. "He is young, but he is very astute and he is smart. He is currently working on his MBA."
In addition to Todd, Kelly Longseth, Kim Schiro and Rob Bradley round out the executive group. Longseth handles sales and customer service for FFP as well as managing the Family Fresh Foods business. Kim Schiro has been with McKeon before FFP opened in 1995 and is the financial executive. Rob Bradley manages quality control and the innovative product development area.
One of the many benefits of having a trustworthy team is that it allows McKeon to look into new machinery, new technologies and other ways to grow the business, knowing the day-to-day operations are in good hands.
Longer Shelf Life
Technology is also an important element in the success of Family Fresh Pack. The company uses modified atmosphere packaging (MAP), a technology that promotes a longer shelf life and fresher-tasting products.
MAP modifies the internal atmosphere of a package, usually lowering the amount of oxygen to slow the growth of organisms that would promote product oxidation and decay. "This type of packaging handles the product gently, it doesn't crush it or press it and it gives it extended shelf life," he says. "MAP allows the product to stay in a package fresh as long as 90 to 120 days, so when you take it out, it tastes as fresh as the day it was packaged."
Kelly's Kitchen
The company's advanced technology combined with an interest in the food industry gave way to the birth of Family Fresh Foods. A completely separate company, it is run by McKeon's youngest daughter, Kelly Longseth.
"We started Family Fresh Foods six months after we opened the packaging business," McKeon explains. "The packaging business leaves us with a lot of unused product, cheese that doesn't get cut or that is left over. We thought we could turn it around and do something with it, so we came up with cheese spreads, cheese balls and eventually cheese-stuffed olives."
However, the food side of the business did not take off until Longseth graduated from college and took over its management four years ago, introducing new products. These included stuffed olives, olive tapenades and stuffed peppedews, a sweet and spicy South African fruit that looks like a mix between a pepper and a tomato. "Kelly took the business and grew it from practically nothing to a $4 million-a-year business," McKeon says. "A lot of the stuff we sell is very unique, so it might take people some time to get accustomed to the new flavors, but we expect to double the business within the next three to five years."
Room to Grow
To accommodate the growth of both companies, Family Fresh is opening a new facility in Monticello, Wis. The 80,000-square-foot facility will have new, state-of-the-art equipment and washable walls, epoxy floors and a stainless steel drain.
"Moving all the service-oriented cutting, wrapping and processing conversion cheeses into the larger facility will give us a lot of space in the Monticello south facility," McKeon explains. The older, 20,000-square-foot South Monticello facility will be dedicated to products that might have allergens in them, such as nuts, which will help prevent cross-contamination. "Right now, we separate the nuts in a different room, but we are going to have them in a completely different facility."
The company's original space in Belleville will be dedicated to the Kelly's Kitchen line. "In 2014, we are going to convert that production operation into a research and development pilot plant and consumer kitchen," McKeon explains. "It will allow us to have a place to develop new concepts and food items and it will enable Kelly's Kitchen to grow more."