Famous Brands International uses vending machines and retail partnerships to bring its Mrs. Fields cookies and TCBY yogurt to a larger audience.
When Debbi Fields founded Mrs. Fields cookies four decades ago, she developed a proprietary chocolate chip that is still used in its cookies today. That commitment to clean, quality treats remains the driving force behind Mrs. Fields and its sister company, The Country's Best Yogurt (TCBY). "There's been a lot of competition in the market but we've sustained because of the quality of our product," says Dustin Lyman, CEO of Famous Brands International, the company behind Mrs. Fields and TCBY.
"The Mrs. Field's cookie is the gold standard for quality cookies," Lyman adds. "We still use the quality ingredients Debbi Fields founded the company on in 1977."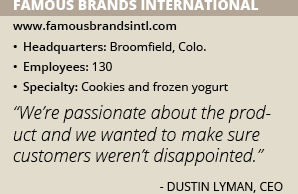 Mrs. Fields stores still make its cookies on-premise every day without the use of coloring, preservatives or sugar substitutes. The cookies are not low-calorie, but they are made with "clean" ingredients such as founder Debbi Fields' proprietary chocolate chips.
The company is also compliant with all local food labeling regulations and store employees are trained to talk about what goes into each batch of cookies. "We are making that more clear to our customers – which is easy for us because it's something we take pride in anyway," Lyman says.
New Leadership
Lyman knows quite a bit about putting together a team. After all, the Chicago Bears selected Lyman in the third round of the 2000 NFL Draft. "The team dynamics that are part of a winning football team are the same sort of dynamics that work well within a company," Lyman says. "You have to trust the people you are working with and rely on them, and everyone has to work well together."
When Lyman's NFL career ended in 2005, he enrolled at the University of Chicago and earned an MBA. The degree was a launching pad into the world of corporate finance. Lyman moved back to his home state of Colorado to take a job at Dish Network. He then moved to Vail Resorts, a company that operates several premier North America skiing destinations.
Lyman spent three years at Vail Resorts before he was recruited to Famous Brands in 2013 to become the director of finance. At the time, Z Capital Partners, the private equity management firm behind Famous Bands, was putting a new executive team in place. Since then, Lyman has risen through the company's ranks, becoming Famous Brand's new CEO in late August.
Today, Famous Brands has 130 year-round employees – and as many as 400 during the holiday season – at the corporate level. Mrs. Fields and TCBY have a combined 750 stores in 33 countries and the company does more than $240 million in system sales annually.
The majority of stores are franchise locations run by independent business entrepreneurs. Famous Brands includes franchisees in its marketing planning process and is developing a new loyalty program aimed at incentivizing dessert lovers to keep coming back. "We want to work closely with them to increase their profitability because it increases our profitability," Lyman says.
The Famous Brands family grew in 2014 when the company acquired Utah-based Maxfield Candy Co. The regional candy company now manufacturers specialty products and confections for the Maxfield and Mrs. Field's brands.
Expanding Presence
Some of the company's treats will soon expand beyond the confines of its retail outlets. Famous Brands is preparing to launch boxes and bags of chocolate-covered cookie dough bites that can be sold at grocery stores, movie theaters or stadiums. The products are still in development but Lyman says it could begin popping up in stores by spring 2017.
The nature of its retail presence is also changing. Mrs. Fields has historically had success as a shopping mall-oriented store, but mall foot traffic continues to slip as more customers do their shopping online. The reality of today's market is forcing Famous Brands to reconsider its approach.
The company recently began a partnership with Walmart to put Mrs. Fields and TCBY stands in the mega retailer's stores across the country. The first Walmart partnership shop opened in Fort Collins, Colo., earlier this year and more are expected in 2017.
Delicious Innovation
Famous Brands continues to offer customers new products every season. Mrs. Fields introduced bundt cakes, filled cookies and filled scones available online just in time for the holidays.
As it develops new products for customers to enjoy, Famous Brands is also finding more ways to deliver those items to them. In 2015, the company created a self-serve vending machine for frozen yogurt that acts as a mini-TCBY store. Customers swipe their credit cards and choose between two flavors or a swirl. Each machine can serve 150 cups of yogurt before needing to be refilled.
"We innovated the self-serve yogurt concept about a decade ago," Lyman says. "Now we've taken the next step in innovation, and you can get the same great TCBY yogurt from a store or from a vending machine kiosk."
Only five of the machines were in operation as of September, but they've proven to be a hit with customers while allowing Famous Brands to refine the technology. After the first machine kiosks rolled out, the company worked with its vendors to upgrade the internal software for a better user experience and to make them easier for the operator to clean.
"We are seeing a lot of interest," Lyman says. "It's really encouraging because we went through a stage where we wanted to make sure we got the technology right. We're passionate about the product and we wanted to make sure customers weren't disappointed."
The standalone yogurt machines will target college campuses, corporate cafeterias and attractions such as museums and aquariums. "We're now in a position where we feel like this machine is going to be all over the place," Lyman says.
"We're proud of ourselves because we were the originator of the frozen yogurt trend 40 years ago and we're finding new ways to make it more accessible to customers," he adds.