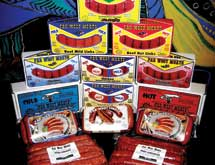 Since 1962, Far West Meats has proven that it can be successful in the Southern California market – more than 90 percent of its sales come from that region – so the firm is making an effort to expand east toward Texas, Cincinnati and Indianapolis. "We hope that our story is so good, that we'll get buyers in Texas [and these other areas]," President Tom Serrato explains. "We hope people will see the potential and get behind it."
Based in Highland, Calif., the company offers a range of meat products featuring beef, pork, poultry and sausage. Its claim to fame is its smoked sausages, he says. "We're known by our links and our two-and-a-half pound box," he says. "We're the Southern California leader for boxed smoked sausage."
It also offers a full line of smoked turkey products – from wings to drumsticks, he adds. "They are under our brand and we sell to the stores under our Far West Meats label," he adds.
Along with the California market, the company also sells to Portland, Ore.; Seattle; Nevada; Arizona; and Utah. A majority of its sales come from grocery stores like Food 4 Less, Kroger and Ralphs, as well as independent stores.
Serrato says the company plans on entering new regions by holding demonstrations and promotions with its products, as well as highlighting its low prices. "The best time is in the summer [due to barbeque season]," he adds. "We just try to give the customer [lower prices], and the product is darn good tasting.
"We want to build the Far West brand, and do it one supermarket at a time," he adds. "We do about $15 million in sales, and 95 percent of that is just in California. The rest of the country is our future."
Selling Point
The economic downturn caused Far West Brands to make some changes with its packaging, Serrato says. "For 20 years, we had three-pound boxes," he says. "We spent $50,000 to $60,000 to retool our machines and make new boxes, and lower [the size to] two-and-a-half pounds [in February 2009].
"This change allowed the retailers to lower the price by a dollar," he notes. "That caused [customers] to continue to buy our product and save money."
It also changed its packaging material from corrugated boxes to chip boxes. "There was a big push to go more green, so we went to chip boxes," he explains. "It wastes less trees and is a lower-weight box."
Serrato says the recent trend of healthy eating encouraged the company to tout its own products. "We highlighted the fact that we have no MSG, it's gluten-free and there is no trans fat," he says. "We highlight that on the box. We hid it before, but now, that is a selling point."
Fighting Obesity
Three years ago, Far West Meats started retooling its hot dog formula so it could meet the new dietary requirements of California's school districts, Serrato says. The new recipe makes hot dogs with less sodium and fat, but with the same great taste, he notes.
"If [larger companies] have a formula they have been successful with, and somebody in the state wants to change the formula to meet the new requirement, some don't want to do that," he says. "Whereas here, we're small enough to make that change."
The company has been selling its products to state facilities like prisons, hospitals, rehabs centers and schools for the past 25 years. Three years ago, a business nutritionist informed the company "that change was imminent, and the state was moving in a direction of lower carbs, fat, salt, and we should start" making those changes to its products, he explains.
The company currently sells products to more than 40 school districts in California, and Serrato expects that number to increase as more schools hear about the company's focus on nutritional value.
"We want to be on the forefront of the healthy alternative with respect to smoked sausages, hot dogs, hot links, bratwursts and Italian sausage," he says. "There is a real necessity to that."
Active Participant
Focusing on the community is an important aspect of Far West Meats, Serrato says. The company has provided free food for many community events. The National Meat Association has recognized the company as "good citizens," and Serrato is a member of its board of directors.