Faribault Foods invests in its people and new technology to stay ahead of the curve in the canned foods industry.
Faribault Foods, founded in 1888 as Faribault Canning and Preserving Company, produces a wide range of thermally processed shelf-stable canned foods and foods in pouches or flexible packaging. The company mainly produces canned bean products such as variety beans, baked beans and refried beans, but it also manufactures soups, sauces, pasta and chili.
"What we do really well is the consistency we provide to consumers, how we control our processes and how our employees understand our processes, allowing repeatability and high quality," Executive Vice President of Manufacturing Shane Gesbeck says. "When people hear our name, they think of quality. We have some of the most premium brands on the marketplace."
Faribault Foods has been certified organic since 2002 and produces more than 200 organic items in its state-of-the-art production facilities. It is the second-largest purchaser of U.S.-grown organic beans, second only to Chipotle restaurants, and is proud of its expertise in sourcing organic ingredients both domestically and worldwide. "The market is leaning more and more towards organic," Gesbeck explains. "Additionally, we are converting our products to non-intent-BPA cans. , and are producing those cans ourselves in our facility."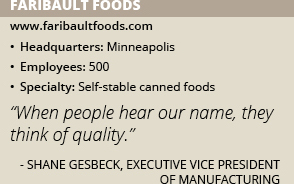 The company services a variety of customers. Faribault Foods owns its own brands, sells private-label and store brands and co-packs for a number of large companies. "We are very cognizant of meeting our customers' expectations," Director of Marketing Jill Kupfer says. "Not just delivering quality products but delivering them on time every time."
Faribault Foods meets customer expectations through experienced corporate quality groups that work closely with the manufacturing groups to set specifications and verify that the company is hitting its quality targets. "If we're having a difficulty, everyone works together to ensure we bring everything back in line," Gesbeck says. "We try not to work in silos; we just do the basics very well."
"We have great quality processes and procedures," Kupfer says. "We continue to deliver on that through ongoing monitoring of our products versus our competition to ensure we continue we meet and exceed customer expectations."
New Facility
To increase the quality of its products and service its customers better, Faribault Foods is currently investing more than $100 million to build a new manufacturing facility. This will allow the company to bring the right level of technology to the location, combined with highly skilled and trained operators to deliver that consistent product and drive efficiencies.
Executive Vice President of Innovation of Technology Jim Nelson, who is the project manager for the new facility, believes it positions Faribault Foods for huge growth potential in the coming years. "The technologies we're putting in are state-of-the-art in canning," he says. "It allows for expansion of our current portfolio and into other shelf-stable products in the future. Logistically, it combines our Faribault location facilities into one campus. That will offer significant synergies with personnel and communication. That's a big thing."
The completed facility will be almost one million square feet situated on 57 acres and combines the four Faribault, Minn., locations into one, unified campus, including the can-making plant, the manufacturing plant, the warehousing facility and the main office. "By bringing the Faribault sites into one location, it starts to drive that family feel," Gesbeck explains. "We're a family owned business but it is hard to cultivate that atmosphere when we're spread out across multiple sites in the same town. Getting into that new facility, will really starts to change the culture; everyone starts to understand that we're manufacturers and we should be really proud of what we do.."
The new facility will also allow Faribault Foods to remain innovative in its products and packaging. Typically, the company introduces several new items each year, mainly in the vein of new flavors and varieties of its branded products. "We want to ensure we're bringing to market what consumers are looking for," Kupfer says.
On the manufacturing side, the company works with manufacturing research and development to develop best practices for bringing new products. "We look at our current capabilities to see what we need to add to make it more efficient," Gesbeck explains. "Every time we bring new ideas in, we talk about how can we add it, which filters into the design of the new facility."
Investment in People
The family culture is an important component to how Faribault Foods operates. The company wants everyone at every level to feel involved and take a piece of ownership in what they do. "We see that pride in the condition of the facility and the quality of the products we make every day," Gesbeck says. "One thing we also stress is, when we hire someone, our long-term goal is that person will retire from the company. Loyalty is one of our core values and it's not only loyalty to the company but loyalty to that person. We will continue to find ways to challenge them and help them grow to the level they want to grow to."
Many employees have 20-plus years tenure, and some have been with the company 40-50 years. Gesbeck has been at the company for 10 years and plans to work at Faribault Foods until he retires, while Nelson has been around since 1971. "You can't have people here that long unless they really enjoy what they do," Nelson notes.
"The company really truly believes in investing in new technology like the new facility, ensuring we put out the best-quality products and, most importantly, investing in our people," Kupfer adds.