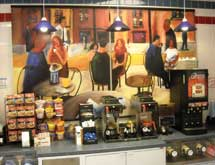 Fast Phil's convenience stores in North Carolina were just your average convenience stores until Walter Herring came on the scene 10 years ago. Herring's previous experience as a general manager for an independent supermarket and three convenience stores, as well as an account manager for a major grocery wholesale distributor working with supermarkets and convenience stores, helped him learn the business from the other side.
Having lost their general manager, the owners of Fast Phil's, which was one of his accounts, had a meeting with him and asked him how the company could be improved. Based on his experience, Herring gave the owners a three-point plan. Soon after leaving the meeting, the owners called and offered him the opportunity to become general manager and put his experience to work for them and implement his three-point plan.
"I gave them what I felt were the three keys to making Fast Phil's more successful. They were marketing, personnel and maintenance," he explains. After giving them the details of each key, "They stepped back and turned me loose and I hit the floor running. I'm a very analytical person. I believe in the old saying 'plan your work and work your plan.'"
With the help of a great team of dedicated supervisors, managers and their staff, Herring turned Fast Phil's into a destination stop for its regular customers. The stores sell everything you'd expect from a convenience store, including a limited grocery section. "We started our marketing plan by selling milk, bread and eggs at prices as low as or lower than supermarket prices. We sought out unique sizes of products that average convenience stores don't offer," Herring says. "For example, we found a 48-ounce bottle of Sunny D, a product we felt would sell well if valued at 99 cents. This was priced at supermarket prices. We have added cereal at very competitive pricing and continue to search for value-priced items that will entice the customer to make us their mini-market value-priced destination stop. Our slogan is, 'Whoever said you can't have low prices and convenience never shopped at Fast Phil's.'"
Fast Phil's now offers daily specials and has created its own "dollar value section." The theme last year was "Ask our associates what $1 or less will buy you at Fast Phil's."
The stores have flyers at each checkout for associates to give to customers showing what $1 will get you in each category in the store as well as monthly specials. Fast Phil's now carries products, such as trash bags, paper towels and toilet paper and put them in the dollar section. "We tell our customers, 'Why make an extra trip to Dollar General when you can get what you need here?' I am very involved with the merchandising of the stores," Herring says. According to Herring, the everyday specials have helped make Fast Phil's a destination stop.
"Rather than have a sale that lasts a week or two, we just offer a variety of products for a good price every day," Herring explains.
"We also have 'every day two-for' deals on many items such as Moonpies, Gatorade, 20-ounce soft drinks, sweet and salty treats, candy, energy drinks, water and much more, so the customer knows no matter which Fast Phil's they pass by they can always get every day great deals.
"We have some kind of special candy shipper every month as well as certain candy sizes for 25 cents. In these tough economic times if a mom has three kids, I don't want her to go broke buying candy."
Up with People
The second key to Fast Phil's success is the personnel. "Our employees know their customers," he says. "They ask them about their family and kids and when they see them enter the store, they're already getting their merchandise together at the counter. Our associates know while we may not have the largest stores around, we can have the cleanest, best stocked and give the best customer service. I have seen the same customers in different stores in one day."
Herring says he has the right people because he is very involved with the hiring process. Most people want to do what is expected of them so it is very important to make sure they know what those expectations are.