Fat Family Restaurant Group prepares to celebrate the 80th anniversary of its first restaurant.
Most CEOs don't start at the bottom. Jerry Fat did. He began his career in the restaurant business as a dishwasher. Along with his five other siblings, Jerry learned the ins-and-outs of business at an early age by working at Frank Fat's.
The namesake restaurant, founded by his father in 1939, is one of the oldest restaurants in Sacramento to be owned exclusively by one family. Serving traditional Chinese/American cuisine, the restaurant was his father's pride and joy – and he expected his children's support.
"We didn't get any breaks because we were the owner's kids," Fat says. "We bused tables. We did the dishes. I was a little envious of my friends because they were outside swimming and playing in little league and I had to work."
But it paid off. Jerry, the youngest son of the late Cantonese immigrant Frank S. Fat, has been involved in the family business since 13 years of age. After high school, he earned a bachelor's degree in computer science from the University of California Berkeley and a master's degree in hotel and restaurant administration from Cornell University.
After graduation, he returned to Sacramento and began building up the family business along with his siblings and other family members. Today, the family operates four full-service restaurants in the Sacramento area. Aside from Frank Fat's, it runs Fat City Bar & Cafe and two Fat's Asia Bistro, one located in Roseville and the other in Folsom, Calif. All fall under the Fat Family Restaurant Group umbrella.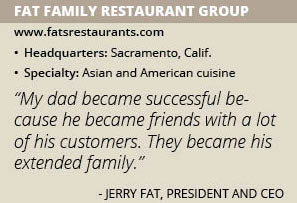 Movers And Shakers
Frank Fat's is more than a restaurant. It's a culinary institution and a pillar in the Sacramento community. Since its early beginnings, it was the sort of place that attracted people from all walks of life.
They flocked to it because they loved the cuisine and to rub elbows with notable politicians and celebrities. The humble establishment became one of Sacramento's favorite community hangouts and brought together its movers and shakers.
"We're a block and half from the state capital," Jerry says. "It's definitely a political hangout. We've had every governor eat here since 1939. But we treat everyone the same – from governor to state worker." Although the restaurant's close proximity to Sacramento's State Capital building attracted politicians, it was more than that. It was the food. The restaurant quickly developed a reputation for its tradition of legendary modern Chinese cuisine and became known for its unparalleled service.
Frank Fats had genuine interest in feeding people quality food — and he knew how to make them feel special. "My dad became successful because he became friends with a lot of his customers," Jerry says. "They became his extended family."
Frank Fat, who he dropped his given name, Dong Sai-Fat, in the mid 1930s, had a lot of friends. His influence soon guided the opening of Fat City Bar & Café in Old Sacramento in 1976. That was followed by Fat's Asia Bistro & Dim Sum Bars in Roseville in 2000 and Folsom in 2004. The family also operates Fat's Catering which started in 1980.
Today, every Fat's restaurant strives to maintain the family's tradition of handcrafted, culinary excellence and exemplary service. Each restaurant has its own distinct menu that could be inspired by French, Italian, American and Asian dishes. But all menus integrate classic flavors, fresh ingredients, innovative culinary techniques and modern-day fine dining.
In March of 2013, Frank Fat's received the James Beard Foundation America's Classics Award — an honor bestowed upon locally owned and operated restaurants that are the fabric of their community. The award was further proof that the exceptional culinary experiences and consistently spectacular service had not gone unnoticed.
Today, each menu flourishes with an evolving vision of new dishes, as well as the classics that helped make the Fat Family Restaurant Group the culinary institution that it is today.
Famous Foods
Reinvention is practically as much a part of Fat's heritage as its banana cream pie, the iconic dessert that Frank Fat and his original chef introduced in the 1940s.
"Our banana cream pie is famous," Jerry says. "We make the it fresh every day and serve it at all of our restaurants."
The pie, among other dishes, emerged as the runaway hit among early Frank Fat's acolytes who requested a few Western-style additions to the menu. Prior to Frank Fats opening it as a Chinese restaurant, the building once housed an Italian eatery.
Another popular menu item served at its Asian food inspired restaurants are Honey Walnut Prawns, lightly fried prawns glazed with honey sauce, walnuts and sesame seeds.
"A lot of Asian restaurants do it but people love our recipe," Jerry says. "It's by far our No. 1 seller. Frank Fats has a few signature items that have made it famous over the years and the Honey Walnut Prawns are one of them."
Frank's Style New York Steak, a 16-ounce N.Y. steak smothered in sautéed onions and oyster sauce, is another Frank Fat's specialty. Of course, the bistros are known for their traditional Asian General's Chicken and Mongolian beef. Fat City Bar & Café is known for its pasta dishes and Osso Buco pork shank that's seasoned, seared and braised in roasted vegetable stock and served with mashed potatoes and pan jus gravy. But the café will soon be rolling out some new signature dishes. The restaurant hired a new chef this year who has French Canadian influences.
A combination of ambiance and innovative foods have helped make Fat Family Restaurant Group a success. "It's a family atmosphere that starts with our culture," Jerry says. "We consider ourselves a little more upscale, we spend a lot of time on our décor and we're really service orientated. That's what it's about."
The first of Jerry's restaurants, Frank Fat's, will be celebrating its 80th anniversary next year. "I'd like to see it remain open until its 100 years old," he says.