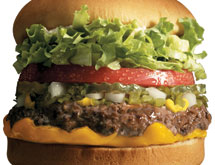 Fatburger North America Inc.
For 60 years, Fatburger North America Inc. has enjoyed success by offering consumers the iconic meal of a juicy American hamburger made with fresh lean beef. But the love for it is not just limited to the United States.
Instead, it is also very popular overseas, Chairman and CEO Andrew A. Wiederhorn says. "Everyone loves American burgers, shakes and fries," he says. "We have had the warmest reception anyone could ask for, internationally."
The Beverly Hills, Calif.-based Fatburger has 150 locations in the United States, Canada, China, Korea, the United Arab Emirates, Kuwait, Bahrain, Iraq and Saudi Arabia that offer its burgers, sandwiches and drinks. Founder Lovie Yancey started the company in 1952.
Originally, Yancey started the company in her home in south-central Los Angeles, where she cooked the burgers in her kitchen. "They became very popular with the entertainment community and legendary black musicians came after gigs [to her house]," Wiederhorn says.
Since the 1960s, Fatburger has earned a cult-like following for its food, Wiederhorn says. "A burger lover can't eat a burger anywhere else," Wiederhorn says.
He notes that Fatburger's customers remain loyal to it, even after they make a visit to another restaurant. "It's one that they'll always come back to," he states.
For instance, the company's products have become favorites in Hollywood, with its fast-casual restaurants serving large and juicy beef burgers and sandwiches that are custom-made to the customer's preference. Throughout its history, Fatburger has specialized in using 100 percent, pure lean beef, while it also serves chicken, turkey and veggie burgers.
Today, the Fatburger restaurant chain operates and plans to open locations in such states as Arizona, California, Colorado, Hawaii, Maryland, New Jersey, New York, Nevada and Washington state, as well as multiple international locations, including Abu Dhabi, Belarus, Bahrain Canada, Dubai, Egypt, Hong Kong, Indonesia, Iraq, Jordan, Korea, Kuwait, Morocco, Oman and Pakistan.
Additionally, the company has won acclaim. It was named the Best Burger in Los Angeles by MyFox LA and in Las Vegas by AOL City Search.
Throughout the years, the company has repeatedly changed owners, which have included Chris Blackwell, founder of Island Records, basketball legend Earvin "Magic" Johnson and a host of other celebrities. Fatburger's current owner, Fog Cutter Capital Group Inc., a holding company, purchased it in 2003.
That year, Fatburger had 40 locations, Wiederhorn says. Now, "We'll end the year with somewhere at 150 locations," he says. "We [also] have development deals in 29 countries with a pipeline of over 225 more stores to open."
While the company enjoyed $82 million in sales last year, its new locations have given it a boost, he asserts. "This year, we'll be right around $115 million, system wide," he reports.
Changing the Menu
Although Fatburger has kept its menu very simple over the years, it has made recent additions, which include a new turkey burger. "We sold a million turkey burgers last year, and 500,000 veggie burgers," Wiederhorn says, noting that it plans to add a new line of sauces, as well.
The sauces, Wiederhorn notes, are from Buffalo's Cafe, another restaurant concept under Fog Cutter's umbrella. With such flavors as buffalo or ranch sauce, the consumer will be able to add different flavors to their burgers.
Additionally, this prevents the customers from going to other eateries for more variety, Wiederhorn says. "We know we have a premium product," he declares. "To offer that to our customers gives them the [reason] to come back more often."
Making Adjustments
Fatburger also has made adjustments to its menu for its consumers located outside of the United States. For instance, its Canadian locations can serve customers gravy with fries, and its meats follow Halal beef standards.
"We have to meet the appropriate slaughter restrictions for suppliers," Wiederhorn says, adding that the company has introduced rice and chicken products for the Asian and Middle East markets.
Biting the Economy
Fatburger has coped well with the downturn in the economy, Wiederhorn says. This has been managed by having many price options for its customers, including burgers sold for $2.99.
"In 2008, we entered a slogan into the market: 'Bite this economy,'" he says. "We've tried to keep price increases to a bare minimum. You see a lot of brands that don't [maintain] their prices."
The chain also has rewarded its customers by restoring 1950s prices, which is part of its 60th anniversary celebration. While one week Fatburger would sell burgers at 1950s prices, the next week it would sell fries at lowered costs.
This birthday celebration continues as Fatburger's customers are returning weekly to buy different items like burgers for $1.75 and fries for $1.25. "The lines out the door at some locations remind original Fatburger fans of the 1950s," Wiederhorn says.
Adapting to Expansion
In addition to his role at Fatburger, Wiederhorn is the chairman and CEO of Fog Cutter Capital Group. His previous experience also includes founding and serving as the CEO of Wilshire Credit Corp.
He notes that key members at Fatburger include its Senior Vice President of International Development Robert Schuster. "He has had to adapt our supply chain and development model to so many different countries," Wiederhorn says. "Going from one country to [multiple is] very challenging."
The Fatburger team also includes Wiederhorn's son, Thayer Wiederhorn, who is the company's vice president of marketing. "He took over that position two years ago," the elder Wiederhorn recalls. "He has had to grow the infrastructure to handle all of the international expansion."
This has included implementing a regional marketing effort to give Fatburger a better sense of what the overseas consumers are looking for. "Los Angeles might be the media capital, but our customers have different cultural choices in the Middle East and Asia," Wiederhorn admits.
He notes that the work has paid off. "[This] allowed us to adapt to all the different profiles that customers require," Wiederhorn says. "I'm very proud of the effort that these guys have accomplished."
In the Pipeline
Fatburger plans for more growth ahead, Wiederhorn says. Along with achieving 150 locations this year, "We have a pipeline of 225 units that have been signed up and developed in [several] different countries," he states.
"Our focus is getting those stores open and trying to keep our brand simple but [able to] respond to the different cultural flavors," he says. "[But] we still want to offer them the traditional Fatburger."