As Fatburger prepares to expand into new markets, the fast-casual chain aims to remain true to its roots.
Since its founding in 1952, Fatburger has grown to approximately 200 locations in 18 countries. The Fatburger menu offers signature burgers that range in size from a small 2.5 oz beef patty to an XXX large with three half-pound beef patties. All burgers come standard with mayonnaise, lettuce, tomato, pickles, relish, onions and mustard.
The Beverly Hills, Calif.-based company calls itself "The Last Great Hamburger stand™,' and prides itself on using only the freshest ingredients, its made-to-order meals, and serving hand-scooped real ice cream. This year, Fatburger will celebrate its 65-year anniversary, a feat that Vice President of Operations James Newell attributes to the company "remaining true" over the course of its history.
"We have always been true to who we are not only in terms of keeping our products fresh, but also the culture Fatburger was founded on," he explains. The fast-causal restaurant chain has a "very personable and interactive style" of ordering and guest service, Newell says, noting Fatburger's employees are there to meet every customer's needs.
"We build every burger specifically for you," Newell explains. "We're not psychic, but we will custom-make your order to whatever you desire and deliver it to you. That includes your ketchup and even our homemade onion rings that we make fresh every day."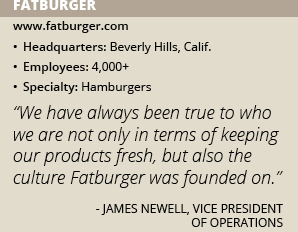 To keep up with demand, Fatburger has upgraded its kitchens to be faster and more efficient for its employees with new equipment and key training. "We also want to ensure that we maintain the food quality standards we were founded on," Newell says. "At Fatburger, we want to continue giving our customers an authentic experience, both with our food and delivering excellent customer service – that will always be our goal."
A Critical Role
With Fatburger's franchisees employing more than 4,000 team members in 18 countries, Fatburger does not own or operate any corporate locations and is an entirely franchised chain. Training is a key factor in its operations, especially when new franchisees opennew locations in new markets.
"Our franchisees have thousands of employees as each franchisee location has anywhere from 15 to 25 employees," Newell says. "We train our franchisees management teams, so that they can in-turn train their staff and perpetuate that momentum for future openings of additional restaurants."
Each new franchisee has to complete an extensive six-week management-training program, which certifies them to operate a Fatburger franchise upon completion. Additionally, the company provides several tools and training aids to help its new franchisees and staff transition smoothly. "For example, we utilize the red book, which is a very large tool for us to maintain standards, documentation and communication between managers and employees," Newell explains.
Fatburger also provides staff with an employee guide, which gives insight not only about the company's milestones for each position, but also what employees need to do to progress and be proficient in the role. "We walk all employees through this guide when we're opening a new location," Newell says. "We make sure everyone is at least certified in one position; From there, it is up to the franchisee's management team to get them certified in the remaining eight positions."
The company's vendors are also key in the company's success, as they play a "big part" in maintaining Fatburger's quality control. "When we select vendors across the world, we look to see if they can match the specifications of what our customers have been getting since the original Fatburger opened in Los Angeles in 1952," Newell says. "For example, if you visit a Fatburger in Dubai, we want to ensure you get the same burger experience as if you were eating at our Beverly Hills location.
"So we're constantly auditing our stores," he adds. "Myself and the other executives are in the restaurants evaluating their front and back-of house operations as well as testing the final product to ensure it meets our standards."
An Authentic Experience
Each Fatburger location offers a one-of-a-kind experience not only with its made-to-order customized food, but also by playing lively music, such as rock 'n' roll, R&B, hip-hop and classic soul, inside its restaurants.
Fatburger also encourages its team members to "stray from the mold" and be themselves. "We do have standards; however, we don't need robotic greeters, for example," Newell explains. "We like conversationalists, and individuals who have personality. So we encourage our people, who have their own personality, to put their spin on it as long as it's still a friendly, energetic welcome."
Fatburger also encourages its team members to get to know its customers by learning their names and orders. "By the time a customer comes in for the third or fourth time, we want our team member to see them coming through the door and start making their order because they know who that patron is," Newell says.
"We don't want customers placing an order and standing off to the side," he adds. "We want our staff to get to know our customers over the long term so they are able to welcome customers, and their families, back into the restaurant each time they visit Fatburger."
Untapped Potential
With approximately 200 locations in 18 countries, Fatburgercontinues to pursue entering new markets and recently opened its first store in Panama . Our goal is to have Fatburger locations in every country in the world, according to Newell, who adds that the selection of an appropriate initial location is critical to the successful launch of the brand.
"It has to be an energetic area with the right flow of traffic to get the right exposure," he explains. "For example, being hidden in a corner won't help us drive traffic to the location. We also look at the communities of potential locations and who that customer is, as we really feel we have burgers for everyone."
Newell notes that the company has multiple styles of venues, instead of the traditional brick-and-mortar locations, to capture every customer's needs. "We learned early on that franchisees entering new markets need to develop and open multiple restaurants as quickly as they reasonable can in order to really develop and benefit from brand awareness," he says. "We've seen success across a multitude of store footprints ( e.g. casinos,malls, street locations, free-standing units, etc.).
Fatburger also has high-end locations with full bars, and international locations that include local fare. "The key with these diverse venues and menus is knowing you can't take that same design and put it in every site," Newell says. "So it's about meeting every customer's need and making them feel like they are a part of our brand."