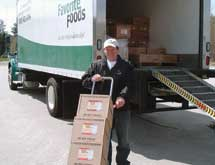 Innovation has been the lifeblood of Favorite Foods, whether it is marketing an association of its restaurant customers to consumers, introducing innovative new products to customers at its annual food show, burning biodiesel in its leased delivery trucks, leasing its warehouse space or overcoming the winter slump by supplying schools.
Located 12 miles from the seaside vacation haven of Portsmouth in Somersworth, N.H., and two miles from Maine, Favorite Foods serves independent restaurateurs and schools within an 80-mile radius "and half of that is ocean," President Chris Barstow points out.
One of the company's innovations is the Favorite Independent Restaurant Association (FIRA). "The premise behind that is we've got about 45 members – which are typically larger, nicer-quality restaurants – and we've branded them together for marketing purposes," Barstow explains. "We've been able to go to our suppliers and say, 'You treat the chains so well – here is a chain of 45 independent restaurants. We want you to treat them equally as well,' and get support from the vendors in terms of allowances for them."
But the real essence of FIRA is to market the independent restaurant to the consumer. "We need to get people into their seats," Barstow emphasizes. "We do group marketing for them. We're about to kick off a big promotion that includes web-based advertising. We've got a database of maybe 22,000 consumers that are going to restaurants, so we have the ability to hit them with an email blast and radio and newspaper advertising that says, 'As you're making your dining decision, please choose one of the following restaurants.'"
Incentives to help consumers make that choice include raffles of $5,000 or tickets to NASCAR events or basketball games. No dues are collected from FIRA members, and it is not a buying group, but prospective members have to receive and maintain favorable ratings from mystery diners. The program is funded primarily by Favorite Foods through the purchases made by the participating restaurants.
Fresh Ideas
Instead of simply shopping for a 25-cent discount on each jug of shortening at Favorite Foods' annual trade show, attendees find innovative new products.
"We turned that upside down three to four years ago and said what the customers really need are ideas and new menu options," Barstow insists. "So rather than have a food trade show, we now do a one-day event called the New Item Marketplace.
"We go to our suppliers and say, 'We're having our new item marketplace – only bring the latest products your company has developed and are about to be on the market.'"
Favorite Foods has more than 100 suppliers, and they bring at least 400 items to each show. The location of this event varies from year to year to accommodate its entire customer base.
"For the most part, the vast majority of them nobody has seen yet," Barstow stresses. Attendees are given scorecards to rate the new products. Based on the results, Favorite Foods will bring in as many as 80 new items.
Beautiful Scenario
When Favorite Foods was founded in 1987, "We literally started from scratch," Barstow remembers. "We had a 5,000 square-foot warehouse."
Favorite leases extra storage space to food manufacturers, some of whom also have product delivered in the company's all-refrigerated truck line.  Trucking costs and the impact on the environment have been lowered by using biodiesel fuel, which allows the engines to operate more efficiently.
Because Favorite Foods serves a vacation-oriented area, business spikes in July through September and then slows in the winter months. "The public school business now represents about 23 percent of our overall business, and not only is it a little more surefire in a difficult economy, but also a great offset to what has always been a seasonal business for us," Barstow notes.
"It has been very good for us in trying to level out the business throughout the year and avoid all the ugly things that come with a seasonal business, like supporting spikes in inventory and receivables, and adding or removing trucks, drivers and other employees."