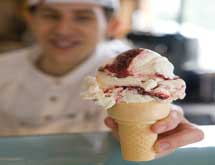 'We all scream for ice cream." How true that is, as everyone knows ice cream's power to bring people together. As owner and president of long-time Oakland, Calif.-based ice cream parlor and restaurant Fentons Creamery, Scott Whidden sees that connection made every single day. He says ice cream is more than a dessert or an occasional indulgence – it's a bridge that spans the gap between childhood and maturity. For example, Whidden recalls a recent day at a Fentons Creamery location when it hosted two separate birthday parties. One of them was for a 90-year-old woman.
"She crossed paths with a one-year-old celebrating her first birthday and her first taste of ice cream," Whidden says, adding that the universal appeal of ice cream is part of what makes Fentons Creamery one of Oakland's most popular destinations. "You've got every need, you've got every kind of celebration between those two intersections, and we're there to help facilitate that."
Fentons Creamery has been an institution in Oakland since 1894, when it was founded by E.S. Fenton. It was his grandson, Melvin, who persuaded E.S. Fenton to produce ice cream, and after Melvin was handed control of the company he developed its most famous ice cream flavors – toasted almond, Swiss milk chocolate and Rocky Road. The first Fentons Creamery restaurant and soda fountain opened in 1922. The company was sold to what would become Foremost-McKesson before Whidden purchased it in 1987.
The Ice Cream Experience
Fentons Creamery is the oldest continuous dairy operation in California, and Whidden says this experience has been one of the main keys to the company's success. "What distinguishes us is drawing upon that longevity, we've been around since the hand-crank days and every day we are reproving ourselves in this field," he says.
Fentons Creamery is working to enhance the experience for its customers even further with a series of new projects. Launching this year will be a recreation of a 1920s-era soda fountain, which will be located directly across the street from the company's flagship Oakland restaurant. Whidden explains that the new location will showcase thousands of first-generation items from the company's extensive collection, including the company's original solid marble soda fountain and an original hand-cranked ice cream blender.
Within the next year or so, Fentons Creamery also hopes to open a new ice cream parlor that incorporates a movie theater. Whidden says the company counts animation studio Pixar among its corporate clients, and wants to use the movie theater/ice cream parlor concept to showcase movie history. He says a Fentons Creamery location was even featured in the background of the Pixar feature "Up."
Old-Fashioned Flavor
In terms of the ice cream itself, Whidden says Fentons Creamery still emphasizes making it the old-fashioned way – batch by batch. Even though the means of production have changed over the years and become more sophisticated, Fentons Creamery still uses fresh cream from local sources, chocolate from local suppliers and fresh strawberries from California, among other authentic ingredients. Whidden says the company understands that the ice cream parlor experience is only part of the equation.
"You still have to come back to the core – great ice cream," he says.
Powerful Partnerships
Ice cream is one thing that can bring everyone together, and Whidden says Fentons Creamery uses that power to benefit the community through a number of partnerships.
Whidden says the company's chartable efforts are spokes that come off the main hub of Fentons Creamery's business, but it considers all of its activities to be important. In that way the company shows that ice cream can do more than bring people together for a birthday party – it can help build a stronger nation. "That's a big part of what we're doing, just trying to encourage patriotic values," he says. "Fentons looks forward to the next 100 years of serving our loyal guests – new and old."