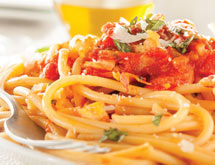 Ferraro Foods Inc. does not view clients and suppliers as mere participants in a business transaction. Instead, the company treats both groups "like part of the family," it says.
The family owned distributor carries multiple products, including pasta, cheeses, tomatoes, flour, beverages, meat, seafood, appetizers, desserts and food containers. "We also import some of the finest specialty food products directly from Italy and Europe," it says.
Ferraro Foods started operations in Greenbrook, N.J., in 1975, with a single garage and truck. "The vision was to become the premier supplier to the Italian pizza trade, selling not only quality products, but premier service," it says.
A decade later, Michael Giammarino took ownership of Ferraro Foods. Giammarino, who grew up in Brooklyn, N.Y., had a passion for the Italian food trade. "When he was presented with the opportunity to own and operate his own company, Michael took this passion and knowledge he had for food and began to grow the business," the company says.
After he moved his family to New Jersey, Giammarino chose a new location for Ferraro Foods in Edison, N.J. "Through hard work, a dedicated team of associates and an emphasis on family values and principles, Ferraro Foods quickly became recognized by the local pizzeria as the most dependable and service-oriented distributor in the marketplace," it says.
Seven years later, Ferraro Foods purchased a facility in Piscataway, N.J., and recently opened a new facility in Mebane, N.C. Today, it has a fleet of more than 100 tractor-trailers "which span the eastern United States," the company says.
The vehicles transport more than 4,000 items for different concepts and restaurants. "Our mission is to consistently be the leading Italian food distributor in the marketplace, delivering quality food products, value and reliable service to the Italian restaurant and pizzeria segment, as well as numerous other concepts," Ferraro Foods says.
Export Experience
Ferraro Foods' services also include consolidation and exportation of products, which it provides to many clients abroad. "Coordinating several manufacturers, along with certifications, can be overwhelming," the company admits.
But Ferraro Foods says it takes care of the required export documentation on behalf of the client, including bills of lading, certificates of origin and insurance declarations. "Our experienced team is successful in exporting to over a dozen countries in three continents and growing," the company says.
Program Pride
Ferraro Foods' chemical program puts clients in touch directly with its supplier partners. "They can help supply and service the most sophisticated dispensing equipment available in the chemical field today, and they can provide 24-hour service," the company says.
One of the keys of this program, Ferraro Foods says, is prompt, professional service. "To assist in maintaining high-quality results and economical-use costs, our chemical supplier will provide regularly scheduled service at no extra charge," it says.
Employee training is important, as well. "To achieve the maximum benefits, as well as improve employee efficiency, a chemical representative will be readily available to conduct personal training sessions, show instructional training videos and provide explanations of any procedure or term in question," Ferraro Foods says.
Blends of Success
Ferraro Foods has a full coffee program with its own Marino brand coffee packets and Colombian blends. "We also carry both regular and decaffeinated espresso pods, imported from Italy," the company says.
"Our supplier can assist [customers] in the installation of high-quality brewing equipment aimed at growing [their] coffee sales, which is the perfect addition to any pizzeria or restaurant," Ferraro Foods adds.
Quality Brands
Ferraro Foods offers many exclusive brands, including its Domenico Vitale product line, which can "satisfy [the client's] need for the highest-quality import specialty items available today," it says. Domenico's products include Italian tomatoes, mushrooms, olive oils, vinegars, meats and frozen pastas.
Another is Country Brand, Ferraro Foods' exclusive house brand for mozzarella and ricotta cheeses. "Country is classified among one of the best in comparison to its competition for its outstanding color, creamy taste and smooth texture," it says.
With its Ferraro brand, the company says it incorporates old-world traditions for the price conscious. "Ferraro offers a comprehensive line of quality paper goods, foodservice chemicals, meats, flour, pizza cheeses and ricotta," it says.
Its Marino brand not only includes coffee, but also pastas, vinegars, peppers, spices, meats, cheeses, dressings and frozen vegetables. "Marino brand products are among some of the most sought-after import specialty and domestic products in the foodservice trade," Ferraro Foods says.
Pros in Service
Ferraro Foods is a member of UniPro Foodservice Inc., a foodservice distribution cooperative based in Atlanta. "Comprising over 650 shareholder companies with over 900 locations, each distributor is independently owned, marketing the products and services provided by UniPro Foodservice," it says.
UniPro says its collective sales volume gives it a buying power that allows members to receive enhanced purchasing opportunities. This, in turn, allows the members to give better pricing and multiple products and services to their customers.
Its member customer base includes independent and multiunit restaurants, healthcare facilities, school foodservice and contract feeders. "We offer training programs and merchandising materials to assist our member sales representatives and their foodservice accounts enhance their sales potential, while assisting our members in increasing their profitability and improve their operations," UniPro states.
"Increased job performance and improvement in work skills can only come through strong management practices and effective training initiatives," it says. "Good management skills and a successful training plan go hand-in-hand in developing your people to grow your company.
"UniPro University offers you affordable training programs that can be custom designed to fit the needs of your individual company," UniPro says, adding that it offers distributor and operator/customer training.