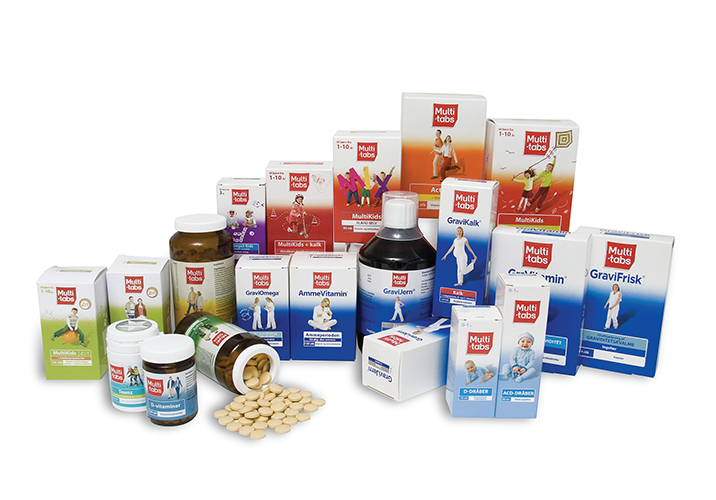 As strong as iron
With performance in 2006 proving to be the best in its history, Ferrosan strengthened its position by acquiring a new plant in 2007
Until 1920, the Danish pharmacist, Niels Jacob Herman Weitzmann had mainly engaged in the coffee business. He ran into difficulties during World War I due to his German-sounding name and decided to grasp the opportunity of exploring the pharmaceutical industry. With anaemia becoming a widespread disease in the years following the war, the invention of the novel, anti-anaemia low-dose iron supplement called Idozan, resulted in the establishment of the Danish-Sweden company called Ferrosan A/S in 1920 with Niels as its front figure. Derived from the Latin language, ferro means iron and san means health, which champions the company's first product, Idozan, which means healthy iron.
Today, with strong market positions and a solid financial performance, Ferrosan is an international health and pharmaceutical company that operates in four business segments, namely consumer health, Nordic Sales Group (NSG), Imedeen and medical devices. Employing about 600 people, Ferrosan is represented in more than 70 countries with some 90 per cent of its DKK835 million annual sales in 2004 (approximately 112 million euros) generated outside Denmark. Ferrosan's organic growth will be driven by a product offering that delivers based on its core beliefs – positive experience, loyalty and trustworthiness. The company strives to ensure end users get a truly positive experience by using its products. This will, in turn, support consumers in getting the full benefit of what the company has to offer. At Ferrosan, these values and core beliefs are a natural and integrated part of its company, and these play a vital role in its success.
On the 10th February 2005, Altor 2003 Fund acquired the majority of shares in the Ferrosan Group, with the previous majority shareholder, Idosan, retaining a significant minority holding. In line with the ambitions expressed at the time of Altor and Idosan's investment, Ferrosan entered into an agreement on the 31st August 2005 to acquire 92.5 per cent of the shares in NSG located in Vesterålen in northern Norway, expanding its activities and allowing it to break into the booming Omega-3 market.
Prior to the acquisition, Ferrosan did not have an Omega-3 product in its portfolio, despite being the leading supplier ofvitamin supplements in several Nordic markets. With Omega-3 fatty acids proving one of the strongest growing ingredients in the supplement market in recent years, CEO Niels de Coninck-Smith agreed that this was an 'astonishing' gap for Ferrosan. The acquisition also gave Ferrosan access to a new business model that derives direct customer sales via subscription. NSG has more than 200,000 subscribers in Norway, Sweden and Finland; and since its launch in 1997, NSG has quickly built up a flexible and efficient business model. With the majority of its sales being generated from Fri Flyt, a brand of Omega-3 supplements, NSG's sales have increased by more than 50 per cent yearly since 2001, and it now has a turnover of approximately NOK200 million (approximately 25.4 million euros).
"Ferrosan has acquired an exciting and profitable company, which has also provided us with new experience on a number of fronts," states Niels. "NSG's business is built on direct sales to consumers, on the basis of finely tuned marketing supported by an advanced and efficient IT system. The model has proved itself highly effective in Norway, Sweden and Finland. We are constantly looking to further expand its success together with NSG's competent staff headed by CEO Svein Erik Nicolaysen."
Another important milestone in Ferrosan's history was marked on the 26th June 2007 when it acquired a plant in the town of Cluj in Romania. The factory, which was owned by Alsifcom SRL (Romania), measures approximately 1500m sq and is equipped with up-to-date machines and facilities for pharmaceutical production, and will be used to manufacture some of Ferrosan's product lines. It will also handle the packaging of products for which the packaging process cannot be automated. Ferrosan will establish a new sales and distribution company which, in collaboration with the factory's former owner, will continue selling the current products along with Ferrosan's products to the Romanian market.
Ferrosan continues to go from strength to strength – it completed the third quarter of 2006 with continued strong growth overall, with the performance by September 2006 proving to be the best in Ferrosan's history. Its consumer health business, representing the original mFerrosan VMS product portfolio, is experiencing accelerating growth primarily fuelled by a strong presence in Eastern Europe. The probiotics business with the Idoforn brand is growing in all areas of the world while the product, Strix is benefiting from strong consumer demands. Voted the most trusted vitamin brand in Finland for the fifth time in a row in the annually conducted Most Trusted Brand Survey by the Reader's Digest in April 2005, Multitabs retains its positive projectory in a more mature market and continues to gain market shares. The year 2006 also saw a general shift in sales towards the core brands of the company.
The Omega-3 business, NSG, has been growing faster than expected with cross-selling of Ferrosan products surpassing expectations. The company's Imedeen business remains mixed with healthy growth in Eastern Europe and continued challenges in overseas distributor markets. As for its medical devices, this business segment continues to grow rapidly as the increased focus on new product development is helping the partnership with Johnson & Johnson to evolve around higher value-adding products.