FFE Transportation Services is investing in technology and a new facility to account for growth.
To support its rapidly growing business, FFE Transportation Services is making investments in technology, equipment and a new facility in Salt Lake City. "We've seen a capacity crunch across all modes of transportation driven by an improving economy, lower unemployment numbers and new government regulations," Vice President of Sales Travis McCain says.
FFE Transportation says it is the largest asset-based, less-than-truckload (LTL) temperature-controlled carrier in North America. "FFE has the largest, most up-to-date fleet in the industry with a network of refrigerated and frozen facilities nationwide," McCain says. "We take great pride in being able to deliver coast to coast on our own equipment without having to rely on outside capacity to assist."
The Dallas-based company's core business is the non-hazardous food-grade material industry. On average, the company handles roughly 360,000 orders and transports 2 million pallets per year. "That's more than a billion pounds of freight per year," McCain adds. FFE Transportation's refrigerated freight shipments and demand for capacity has grown nicely over the past 5 years.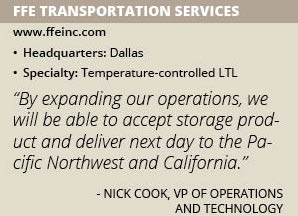 As a leading U.S. carrier, the company has 13 facilities throughout the country that provide cold storage and break bulk services. The company is expanding its operations in Salt Lake City this year.
Its current 18,000-square-foot facility will close and the company will open a new 155,000-square-foot superstructure. It hopes to move into the new location by the end of this year. "By expanding our operations, we will be able to accept storage product and deliver next day to the Pacific Northwest and California," says Nick Cook, vice president of operations and technology. "It offers us the opportunity to attract customers that may not have assets on the West Coast."
Real-Time Visibility
In an industry where temperature control is vital, FFE Transportation has made its mark by utilizing advanced technologies such as real-time satellite load tracking, remote shipment monitoring and a fuel optimization program. Its technology monitors and reports temperatures at every point along the cold chain.
"We utilize the highest levels of technology in each of our trailers," McCain says. The company has a fleet of more than 1,500 refrigerated trailers.
Aside from being able to track the location of its fleet, its new technology has the ability to monitor and control its mobile assets remotely. Monitoring its fleet 24/7, the company can start and stop a trailer electronically, monitor its temperature, check its fuel level and receive monitoring alerts for mechanical disruption or engine failure.
FFE Transportation also invested in an in-house warehouse and bar coding system in 2015. "We have full visibility of where a pallet is located from the time we take possession of it till it delivers to the destination," Cook says.
The company also plans to make investments into software that will make it easier for its customers to track their shipments. "Customers want real-time visibility on shipments so we're working on creating more tools for that," Cook says.
FFE Transportation has partnered with FourKites, a Chicago-based computer software company that helps its clients track freight shipments in real time. "We've got their technology and we're integrating it into our system," Cook adds. "They have an incredible amount of visibility within the system."
Although FFE Transportation's website already gives its customers the ability to track their shipments online, the company wants to add more features like notifications and alerts. It is in the third phase of implementation and hopes to have it fully operational by the end of May.
Focused On Safety
Founded in 1946, FFE Transportation is a subsidiary of Frozen Food Express Services. It dedicates its services to temperature-controlled food commodities such as frozen and refrigerated foods, confectionary and meat, but serves the pharmaceuticals industry as well.
As the transportation industry faces driver shortages, the company prides itself on employing professional drivers trained in safety and security. It owns and operates a Driver Academy in Dallas that features training labs, onsite lodging and a full cafeteria. As a long as a driver agrees to work for the company for at least a year, FFE will pay full tuition costs for the six-week program.
"The academy has been very successful for us," Cook says. "And we're seeing better safety scores." The company's Comprehensive Safety Analysis (CSA) scores, tracked by the U.S. Department of Transportation, have improved by 10 percent during the past three years and are among the top scores in the industry.
In 2016 and 2017, FFE Transportation received the National Safety Platinum Award from the Great West Casualty Company for outstanding achievement in highway safety. "It's an extremely big deal," McCain says. "It's a national safety award program based on your preventable crash results."