FFE Transportation Services has formed a new company to quickly transport time-sensitive and temperature-controlled packages.
As the largest asset-based, less-than-truckload (LTL) temperature-controlled carrier in North America, FFE Transportation has expanded its portfolio by forming a new company this year.
KoolShot Expedited, a subsidiary of Dallas-based FFE Transportation, is a new nationwide service for transporting time-sensitive and temperature-controlled packages same day or next day.
"It's an expedited on-demand, direct-to-consumer delivery service," says Travis McCain, vice president of FFE Transportation. "We're able to offer our customers a true enterprise solution with our newest offering of delivering small packaging and same-day delivery. We serve customers from four pallets down to one box."
Orders can be placed and monitored through KoolShot's website, enabling consumers to track their packages in real time. The company offers a variety of services and a diverse fleet to offer tailored solutions.
Its fleet includes sprinter vans, small and large straight trucks and tractor trailers. In order to maximize efficiency, vehicles are matched to the size of the shipment, allowing the company to deliver shipments using as few trucks as possible without charging for unnecessary space.
KoolShot has been popular with customers wanting to transport pharmaceuticals, flowers, seafood and other time and temperature sensitive products. "Let's say a customer runs out of hamburger patties and they have eight restaurants in Texas," McCain says. "We can nimbly deliver those patties the same day."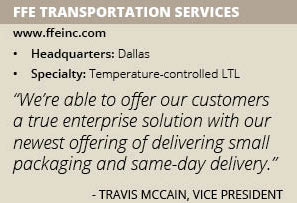 In the future, KoolShot hopes to grow its footprint to include all cargo airports. "Our goal is to be able to service the top 50 cargo airports in the U.S. by the close of 2019," McCain says.
Aside from expanding its transportation portfolio, FFE Transportation views KoolShot as a means of attracting and recruiting new commercial drivers.
Because KoolShot's fleet does not have commercial vehicles, drivers who do not have a CDL license can enter the industry and use it as a ladder to work their way up into the commercial side of the business if they wish. "It can be a new career path," McCain adds.
The Amazon Effect
A leading U.S. carrier, FFE Transportation has 17 facilities throughout the country that provide cold storage and bulk services. "We've added four facilities since 2017 because of the demand for our business and to improve our service product," McCain says. "We're currently looking at several other locations throughout the U.S."
The company opened two new facilities this year, one in Xenia, Ohio. "We are able to offer expanded storage services for not only our U.S. customers but for our Canadian customers as well," McCain says.
As it considers new facilities, FFE Transportation is looking at those that are larger in size and scope and will allow it to offer more storage options for its customers.
"Currently, we offer two million square feet of temperature-controlled warehouse space between all of our 17 facilities," McCain says. "Our average is about 70,000 square feet but any new facilities that we open will likely be in access of 100,000 square feet."
Over the next five years, the company's goal is to add a new service center every year. Much of that is driven by the Amazon Effect, an ongoing evolution and disruption of the retail market, both online and in physical outlets, resulting from increased e-commerce.
As more consumers see online shopping as a way of buying what they need at the best price without having to visit a crowded mall or supermarket, efficiency matters in trucking are now more important than ever.
"The e-commerce effect has been very good for us and we've been able to capitalize on it," McCain says. "With more and more of the freight business moving toward the e-commerce model, smaller orders are driving our growth. The industry went from a traditional truckload going from Point A to Point B to a more regional model. So, as our network continues to grow, it is important to have strategic locations so we can reach a customer's facility within a day or two."
A Growing Fleet
FFE Transportation's core business is the non-hazardous food-grade material industry. On average, the company handles roughly 380,000 orders per year and transports about 21 million pounds of freight per week.
"FFE has the largest, most modern fleet in the industry with a network of refrigerated and frozen facilities nationwide," McCain says. "We take great pride in being able to deliver coast to coast on our own equipment without having to rely on outside capacity to assist." Although a growing fleet can be challenging due to driver shortages in the industry, FFE Transportation has been successful due to its national footprint. "We can hire professional drivers in areas where they wouldn't want to normally drive because we can get them home at night," McCain says.
To further enhance its services, the company is piloting a new In-Cab scanning system this year, which helps transportation companies manage important documents quickly and accurately. It allows drivers to scan and transmit important documents from the cab of their truck and invoice a customer.
"Customers receive real time delivery notification as well as an invoice same day," McCain adds.
Real-Time Visibility
In an industry where temperature control is vital, FFE Transportation has made its mark by utilizing advanced technologies such as real-time satellite load tracking, remote shipment monitoring and a fuel optimization programs. Its technology monitors and reports temperatures at every point along the cold chain.
"We utilize the highest levels of technology in each of our trailers," McCain says, adding that the company has a fleet of more than 1,500 refrigerated trailers. "Our customers have real-time visibility of their freight and temperature data for the life of the shipment. That's extremely valuable information for them."
Aside from being able to track the location of its fleet, FFE Transportation's technology has the ability to monitor and control its mobile assets remotely. Monitoring its fleet 24/7, the company can start and stop a trailer electronically, monitor its temperature, check its fuel level and receive monitoring alerts for mechanical disruption or engine failure.
In 2015, the company invested in an in-house warehouse and bar-coding system that gives it full visibility on where a pallet is located from the time it takes possession of it until it's delivered.
It partnered with FourKites, a Chicago-based computer software company that helps its clients track freight shipments in real time.
FFE Transportation's website gives its customers the ability to track their shipments online and receive notifications and alerts.
Focused on Safety
Founded in 1946, FFE Transportation is a subsidiary of Frozen Food Express Services. It dedicates its services to temperature-controlled food commodities such as frozen and refrigerated foods, confectionery and meat, but serves the pharmaceuticals industry as well.
As the transportation industry faces driver shortages, the company prides itself on employing professional drivers trained in safety and security. It owns and operates a Driver Academy in Dallas that features training labs, on-site lodging and a full cafeteria. As a long as a driver agrees to work for the company for at least a year, FFE will pay full tuition costs for the six-week program.
The academy has been very successful for the company and it is also seeing better safety scores.
Its Comprehensive Safety Analysis (CSA) scores, tracked by the U.S. Department of Transportation, have improved by 10 percent during the past three years and are among the top scores in the industry.
In 2016, 2017 and 2018, FFE Transportation received the National Safety Platinum Award from the Great West Casualty Company for outstanding achievement in highway safety. "It's a high honor," McCain says. "It's a national safety award program based on your preventable crash results and overall safety."
According to the company's website, its mission is to empower its team to embrace personal development, technology and diversity to provide the very best service in the industry and a return on investment for its ownership.
"Proper handling of our customers' products and safety to the motoring public will always be top priorities at Frozen Food Express," the company's website states.