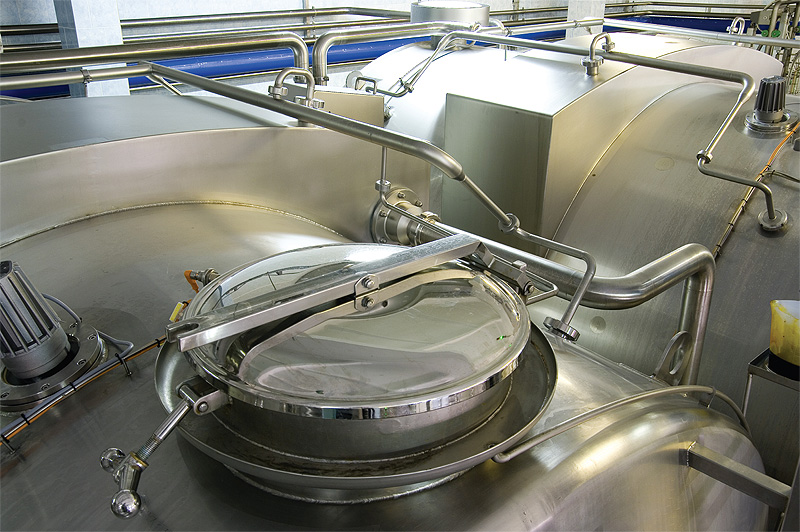 Total hygiene
FINKTEC is one of the largest privately managed manufacturers and service providers of cleaning and disinfecting equipment in Germany. Its mission is to supply food companies with comprehensive hygiene solutions, and the organisation has a partnership approach, which means that it can support its customers efficiently in the implementation of their targets. This working method means that together with its salesmen and applications engineering department it is permanently in contact with customers.
It also means that FINK's own in-house expertise is supplemented through co-operation partners that operate in areas besides its key competences. In this way, FINK can create a complete service package (in particular service/engineering packages) as a one-stop-shop.
FINK also offers training courses for its customers, in order to allow them to concentrate on their core areas, while FINK takes care of its hygiene requirements. These courses are co-ordinated to satisfy the individual needs of each customer, and include hygiene and personnel training according to DIN 10514, periodical legal updates and classes looking at the theory and practical applications of FINK cleaning and disinfecting products.
Using the company's 40 years of experience in resolving cleaning problems in the food and beverage industry, FINK's team of salesmen and application engineers can monitor and optimise the cleaning process to ensure the fulfilment of all hygiene and cleaning tasks of customers. FINK highly values the application-orientated approach to consultancy, and can also guarantee an efficient logistical process with its own fleet of delivery vehicles on hand.
This fleet of vehicles also constitutes a vital part of a pioneering recycling system that FINK has introduced, which involves the collection of canisters, barrels and containers for re-use. This system arose as a part of FINK's quality and environmental policy, which is a fundamental component of its business philosophy and an indispensable factor of its future growth. This means that the company prioritises both its customers' quality requirements and the ecological demands of the environment, and to this end, works constantly on improving its products and cleaning processes. The company is also certified to ISO 9001, in order to reassure clients that its processes are world-class.
FINK's total focus on the food and beverage industry covers a wide range of business areas, including: beer and beverage; milk; wine and juice production; meat, fish, delicatessen, poultry; bread and pastries; facility services; gastronomy, canteen kitchen and house brewery, dairy farming, direct marketing and technical equipment.
In beer and beverage FINK provides customers with professional advice on every aspect of process chemistry, and supplies them with individually designed engineering services and solutions for all aspects of the brewery and beverage industry. This includes bottle washing machines, filter cleaning, conveyor lubricants, pasteurisers, recooling and water conditioning.
In addition, FINK's solutions for the milk industry cover:
Milk processing
Cheese and curd cheese
Conveyor lubricants
Cleaning of vehicles
Indeed, FINK's offering to the milk industry is very comprehensive and the company considers itself a specialist for dairy products. FINK can provide its customers with a hygiene concept that is matched to the entire milk extraction process.
This is completed with a co-ordinated range of udder hygiene tissue, hygiene systems and commodities:
Cleaning and disinfecting agents for all milk equipment, automatic milking systems and cooling systems (DLG tested)
Milking parlour and barn hygiene
Udder hygiene products (BVL approved DIP- agents)
Cattle shed cleaning and disinfecting
Breeding hygiene
Solid food products create a range of different challenges for FINK's customers – for bread and 38pastries manufacturers for example, FINK provides special cleaning and disinfection concepts along with an extensive range of packaging and commodities including operational cleaning and continuous cleaning units, and outlets.
The requirements placed on cleaning and disinfection for the field of facility management are causing an increase in demand for specialised products. FINK provides a specifically developed product line that meets the high demands placed on quality, effectiveness and economical use. The range includes:
Deep cleaners
Cleaners for polymer sealing
Carpet and upholstery cleaner
Multi-purpose detergent
Personnel hygiene and changing room products
The hygiene requirements of large kitchens, canteens, hotels and local breweries mean that end-users are demanding increasingly powerful products. FINK provides its customers with specific cleaning and disinfection concepts that address the stringent regulations to which they have to adhere, as well ensuring a value-for-money, efficient and reliable product. The areas covered include kitchen hygiene, commercial rinsing machines, surface disinfection and special detergents for house breweries.
To ensure that the products supplied by FINK offer the utmost in efficiency and cost effectiveness, exact dosing is an elementary prerequisite. This technology not only prevents unnecessary waste and supports the economic viability of the cleaning and disinfecting measures but it also makes the products easier to use and assures customers they are using exactly the correct amount of product.
In collaboration with its co-operation partners, FINK provides total packages that meet the high demands placed on dosing and process safety. This application technology is supported by regularly scheduled service agreements, where the system is mapped, parameters are monitored, the plant is maintained or repaired as required and test runs are performed to assess the machinery and identify any issues that may be present.
FINK is today the largest supplier in Germany, and to continue to surpass the expectations of its clients, the company moved into new premises in 2009, which created 10,000m2 of storage capacity to enable further growth. Throughout its development, the company's overriding ambition has been to support
its clients with individual advice and outstanding quality products. FINKTEC is confident that it has the most suitable hygiene solution to whatever its clients may need.