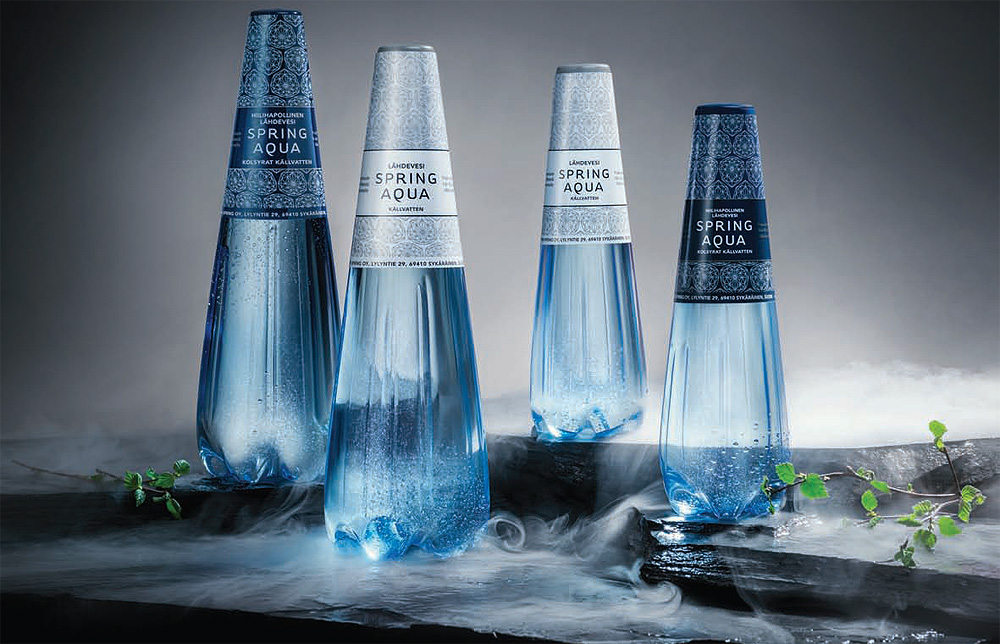 A refreshing choice
By focusing on high quality products and eye-catching designs, Finn Spring Oy has achieved rapid growth in Finland and prestigious awards for its spring water based beverages
Founded in 1991 in the middle of the cleanest environment in Central Ostrobothnia, Finland, Finn Spring Oy has grown over the years to become Finland's largest spring water manufacturer
thanks to the entrepreneurial spirit of its founders and their decision to source and sell fresh spring water from the clear natural spring of Multila. "We are a family-owned company that was founded by Mr Hannu Ali-Haapala and Ms Virpi Ali-Haapala, who found out they had the world's cleanest water where they were living. The two began bottling the water on a small scale, however over the years production and demand has grown. Despite this success, the company is still 100 per cent family owned, with the two entrepreneurs still running the company and two of their children working at Finn Spring Oy too alongside 76 other personnel," begins Goran Weber, Commercial Director at Finn Spring Oy.
Benefiting from UNESCO studied fresh water that is proven to be the best quality in the world, Finn Spring Oy is able to provide customers both in Finland and across the globe with a luxury that is not only great tasting but affordable too. To meet the needs of a wider range of customers, the company has developed a strong portfolio that is comprised of Spring Waters, sweet flavoured carbonated Spring Waters and Spring Aqua Premium. Spring waters are suitable for everyone, contain no allergenic ingredients and are purely fresh and natural. Spring Aqua, meanwhile, is packed in a totally new design that exudes luxury and style, making it perfect for catering and restaurants but also for consumers looking for premium products for everyday use.
Award winners
Because of its stunning appearance and the level of quality provided to customers, Spring Aqua's 0.33 litre bottle was the winner in the international Pentawards 2015 Gold Award design competition, which is exclusively devoted to packaging design in all of its forms. Further accolades were provided to Finn Spring in 2017 at the German Design Awards for its Spring Aqua Premium 0.75 litre bottle. Both bottles are tear drop shaped, with a classic style that exudes modern elegance and pure, natural freshness. As a further confirmation of the taste of the water, Spring Aqua has received the Superior Taste Award from the International Taste and Quality Institute in Brussels in both 2016 and 2017.
Ongoing investment
The final part of the portfolio, Spring flavoured carbonated waters are made of real spring water and flavoured gently with berries or fruits that strengthen the great natural taste of Spring water products. "The Spring flavoured carbonated waters segment of the business is growing in the Finnish market currently; however we don't export this product range as we use Finnish bottles," says Goran.
He says: "Our main customers are the Finnish grocery trade; here we sell under our own brand Spring or our premium brand Spring Aqua; we are also a private label manufacturer for the grocery trade. By operating in this way we are the biggest producer of water products in Finland. In 2011 we made the strategic decision to acquire a small local bottler in Sweden to ensure our
representation in the Swedish market. Since progressing into this market, we have grown through using the same strategy of delivering our own brand and private label products to the grocery trade as well as other manufacturers. Additionally, Finn Spring exports water for which our main markets are Germany, China, the Emirates and South Korea. Although export is not a huge activity for us at present it continues to grow and we are interested in increasing international business over the coming years."
With a facility in Finland and one in Sweden, the company decided to increase capacity further in 2015 with a new production factory in its homeland. This investment is a key part of an ongoing investment programme that is being undertaken at Finn Spring in line with the company's owners' aims of delivering optimum production that is environmentally friendly, ultra-modern and efficient. "Investments have been heavy when it comes to Finn Spring having the latest technology to ensure the production of efficient and environmentally friendly products while also adhering to the most stringent food safety regulations. Finn Springs is also certified according to FSSC 22 000, which puts demand on how things are produced with regards to food safety.
"We have also invested a lot to decrease CO2 emissions while also invested to ensure we use the most environmentally friendly caps on the bottles to take down energy consumption. Moreover, we use solar panels at our facilities, so there is a lot of investment going on to ensure that even if we are much smaller than major blue chip companies, we are at least on the same level when it comes to capacity and technical performance."
As a company committed to improvements in all areas, further investments are certain over the coming years, not only in terms of machinery and equipment, but also with regards to capacity. "We want to be the biggest water producer in the Nordics, which means we need to increase our exporting activities and also expand our capacity in both Finland and Sweden. In order to grow we will look at Nordic markets as well as opportunities further afield to deliver our premium bottle, premium taste products to new customers on an international scale," Goran concludes.