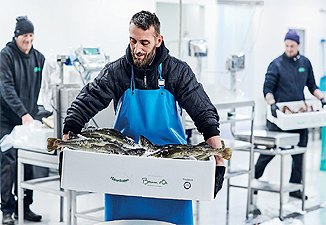 First cod harvest
Norwegian aquaculture innovator, Norcod, is on a fast track towards delivering fresh farmed cod to retailers, restaurants, and consumers around the world.
---
The first planned sample harvest and processing has recently been carried out, and samples of fresh cod distributed across Europe and the US. In Denmark, samples were also sent to pro restaurant chefs. Feedback has been very positive.
The planned sampling initiative forms part of the run-up to Norcod's first projected sales in summer 2021. "Sending real samples from the production is a big step for us and an exciting part of our route to achieving our business goals and delivering value for our shareholders. We have come a long way and I was very excited to hear our customers' comments on what we believe is a fantastic product with a great future. As well as being great tasting, our cod is responsibly produced and we hope it will become a new healthy source of protein for consumers not only in Europe but around the world," says Norcod CEO Christian Riber.
"We are very grateful to the restaurants and chefs who have taken time to test the product in spite of the very difficult situation for the hospitality industry due to Covid-19 lockdowns," he added.
www.norcod.no