First Fruits Business Ministry produces TriFit Weight Loss Water to provide a healthy weight loss solution for consumers.
First Fruits Business Ministry got its start in 2002 when Founder and CEO Roger Catarino and his wife, Linnie Catarino, set out to create a business that produced products to help people in some way. With Catarino's 40-year background in The Beverage Industry, the company's specialty became functional beverages that it bottles in Summit Beverage's state-of-the-art 102,000-square-foot bottling facility in Marion, Va.
The facility features one high-speed line with plans to add a second line if demand merits. Per day, Summit can bottle, about 240,000 hot- and cold-fill glass and plastic bottles, ranging from 8 oz. to 32 oz. sizes.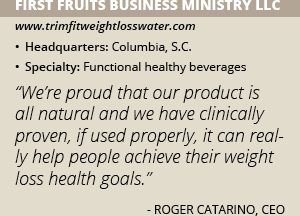 "'First Fruits' is a term that comes from scripture, and because of that, the first 10 percent of any profit my wife and I make from our percentage ownership in our LLC goes to different ministries and charities," Catarino explains. "We're probably most proud of this fact. We wanted to set something up that could help people and perpetuate this help long-term."
Catarino joined the industry in 1971 working for Coca-Cola, Anheuser-Busch and later Pepsi. He then started his own bottled water company in the 1990s called Grayson Mountain Water. After that, he opened First Fruits Beverage Company, a contract packing company, in 2008. His whole family is involved in First Fruits: his wife is CFO; his son, Roger Jr., is vice president and handles sales and marketing; his daughter, Courtnay, designed the company's website; and his other daughter, Casey, has assisted with technology areas.
"It's a family affair, plus we work with numerous other professionals, who assist in sales, marketing, production, formulation and distribution," Catarino says. "Being in business for ourselves, and with other LLC members, it allows us to make timely decisions and put them into action very quickly. This helps keeps the business fun and exciting."
In addition, First Fruits works with a variety of contractors that Catarino knows from past work experiences. He's remained friends with many salespeople, consultants, chemists and food scientists.
All Natural
With its mission in mind to provide functional beverages that are healthy for consumers, First Fruits developed a proprietary formula with a patented ingredient in a beverage called TrimFit Weight Loss Water. About four years ago, Catarino's friend was working with the University of Minnesota on a patent: patent #6,899,892 "Methods of Reducing Body Fat."
"We always want to promote and be a part of healthy beverages," Catarino says. "What we had was an active ingredient that we had to formulate into a tasty product."
First Fruits purchased the patent from the university and, with the assistance of food scientists, transformed the patent into a flavorful product. The beverage also includes Nutrifusion, an ingredient consisting of a blend of 12 all-natural fruits and vegetables.
"The healthiest vitamins and minerals that you can obtain for your body come from whole foods, not from synthetic vitamins," Catarino explains. "Nutrifusion acts like you have a blender in your kitchen and blended all these ingredients together. They take this process to a granule level and put it in our product to give you healthy vitamins and minerals."
Catarino says 64 percent of the U.S. population, based on BMI, is either overweight or clinically obese and the trend isn't getting better. "We felt we had an incredible niche, we wanted to help people because obesity is the No. 1 health pandemic around the world, because it can lead to heart disease, strokes, high cholesterol and more," Catarino says. "That was the main purpose of us wanting to push forward."
People who are overweight or obese have an elevated leptin level, causing hormones to be out of balance. Another hormone, adiponectin, regulates metabolism, glucose and fatty acid oxidation. When people try to starve themselves to lose weight, that hormone will only hold onto the stored fat and build up even more. Catarino says the company's active ingredient lowers the leptin to a natural level so people end up eating less because they feel satisfied sooner, but are still eating rather than starving themselves. And by lowering the leptin level, the adiponectin will regulate the hormones and release stored fat, also assisting in the weight loss process.
"It's all natural in the way it works," Catarino notes. "You have to make a hormonal change first because the most difficult thing to do is release and burn fat."
Trial and Success
A flavored bottled water that not only provides consumers with necessary vitamins but also assists in weight loss sounds like a dream come true. So, how can it be? First Fruits did its research to ensure its patent actually worked. The company conducted three clinical double-blind studies. The end-results proved the efficacy of the patent.
In the first study, an eight-week double-blind trial, the participants who took the active ingredient versus the placebo lost 21 pounds, 17 of which was body fat. The results excited the company, Catarino says.
In the second trial, First Fruits had three groups: a placebo group, a group taking 1,200 mgs of the active ingredient and the third group taking 800 mg of the ingredient. Catarino says that 10 different health categories were favorably affected by the active ingredient. And the third trial yielded similar results – about 20 pounds lost in an eight-week period using the patented ingredient.
"We really believe that we have something special," Catarino says. "The product itself and the active ingredient itself we believe is something that can help a lot of people become healthier. We're proud that our product is all natural can have a positive effect on people's lives."
In addition to losing weight, the active ingredient helps build lean muscle. Catarino has found that a lot of body builders use the product because it gives them vitamins as they train. Shannon Petralito, who won Miss Figure Universe in 2014, is a spokesperson for TrimFit and works various tradeshows with First Fruits to promote it.
TrimFit is sold in the Northeast through a distributor called HLA that serves 2,000 convenience stores, as well as the Corner Pantry convenience stores in the Southeast. It is sold nationwide through Groupon and Amazon. The product has also been approved by Walmart Mexico to be featured and tested in 100 stores. "We started with Mexico because it has the highest obesity rate in the world," Catarino explains. "The senior buyer for Walmart Mexico came by our booth at a TRADE show and that started a long process of getting that together. Now we're ready to go."
Additionally, First Fruits recently partnered with SlimFast, WHO wants to be an exclusive licensee for the active ingredient. "They're excited about the product, but more excited about using and buying the active ingredient to use in their existing product line, as well as their new products," Catarino says. "We have a really safe and healthy product, and we're very excited about the opportunity with SlimFast. They're a worldwide company."
Catarino says First Fruits is not currently a huge company by any means, but believes it has something special with TrimFit and future products the company and its partners can create with its active ingredient. "You can use the active ingredient in cereals, health bars, shakes, anything," he says. "My wife and I use it on top of our oatmeal or cereal and mix it in. It's very healthy for you and at the same time, it has the ability to help people."