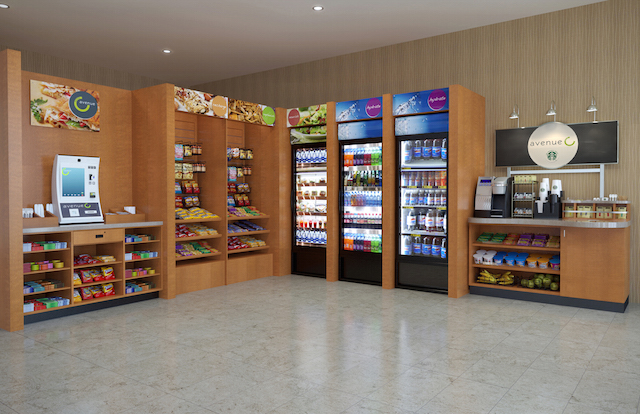 Five Star Food Service focuses on meeting the food and beverage needs of its customers while becoming more efficient in its daily operations.
Five Star Food Service hangs its hat on being customer service-oriented because it can't sell product that is not in its vending machine or Avenue C micro-markets. "We want to make sure that when your associates want a bottled beverage, that bottled beverage is there to buy," Corporate Fleet Manager Grayson Wood says. "It's how our operation functions that sets us apart from companies. Customers for life are never given, always earned."
The Chattanooga, Tenn.-based company was founded in 1993 as an acquisition company with 26 branches in eight states. In 2008, Five Star Food Service became a franchise of Canteen, the largest vending services company in the United States with more than 200 company and franchise locations servicing 48 states.
Since then, Five Star Food Service has grown into one of the largest full-line vending, micro-market, office coffee and foodservice providers in the country. The company has a dominating presence across the Southeast, including in Tennessee, Georgia and Alabama. "We work hard and pride ourselves on providing our customers with the food and refreshment solutions that meet their exact needs while delivering their employees and guests a delicious, satisfying experience," the company says.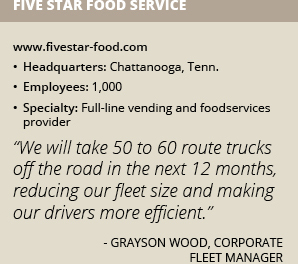 The company's initial conversations with potential customers help it pinpoint the pain points and develop solutions. To build long-term partnerships with its clients, communication and being a good corporate citizen with its business partners are key. "For example, we have a couple facilities that put nothing into the landfill and we participate along with them to make sure we are providing only products that can be recycled or consumed," Wood explains.
Fleet Enhancements
Five Star Food Service has always been focused on reducing the amount of fuel consumed by its fleet. In 2008, the company used Chevy HHR crossover vehicles and switched from a diesel to gasoline fleet to reduce emissions and its carbon footprint. "In the last seven months, we have been taking another look at our maintenance vehicles and started to use the Nissan NV200s for better fuel economy," Wood says.
"The HHR is not made anymore, so we are looking at three to four different types of vehicles as possible replacements for our market managers, maintenance supervisors and drivers," he continues. "We will be switching out the HHRs with better fuel economy vehicles over the next 18 to 36 months."
In addition to upgrading its vehicles, Five Star Food Service is changing its picking and loading process to help improve its fuel efficiency. A list of products that need to be restocked is downloaded from each machine and trucks are preloaded accordingly. "Only what they need will be on the trucks, and we have invested heavily in the process to do that," Wood says. "We will take 50 to 60 route trucks off the road in the next 12 months, reducing our fleet size and making our drivers more efficient."
Five Star Food Service will reduce its 321 routes down to around 270. The company has also become more efficient by equipping its fleet with GPS systems so dispatchers know where every trucks is supposed to be and at what time the customers are supposed to be serviced. "If the driver hasn't been there, we can see where he is and find out why he hasn't been there," Wood says.
By December, Five Star Food Service will have installed electronic logging devices (ELD) in its entire fleet, as required by the U.S. Department of Transportation. However, due to a short-haul exemption, only one-third of Five Star's fleet will be required to begin logging by the December 2017 enforcement date set by the DOTs new ELD rule.
Avenue C
Five Star Food Service's micro-markets are upscale convenience stores placed in office buildings, manufacturing plants or any enclosed work environment. The company stocks the markets with fresh salads, fruits and sandwiches, and consumers scan the items at a self-service kiosk to pay. "It looks better than vending machines and triples the product variety we can have in there," Director of Marketing C.J. Recher says.
With traditional vending machines, the company can offer only 45 products, but with a micro-market it can expand that to 300 products. The self-service kiosk does not jam and consumers don't have to wait in line. "It creates a workplace destination," Wood says. "It brings folks in rather than this dark empty space one thinks of with vending. It's certainly more aesthetically pleasing and the micro-markets have driven our focus to be more of a retail-focused type of company."
The company hit 534 micro-market locations in August and adds about 100 new locations each year. "We don't see this slowing down too much," Wood notes. "The demand is there and human resources is seeing their employees look for that. Vending will always have a spot, but we position this as more of an employee benefit than anything else. That's the way HR views it and helps with employee retention."
Moving forward, micro-markets will continue to be a major focus and significant growth engine for the company. "We are bound to the Southeast as a Canteen franchise, but there are plenty of opportunities to grow," Wood says. "Nashville is booming and we do well in that space. Tennessee is investing heavily in new companies and we want to be there when they make the initial investment. We have been successful with several companies coming into the Tennessee area."