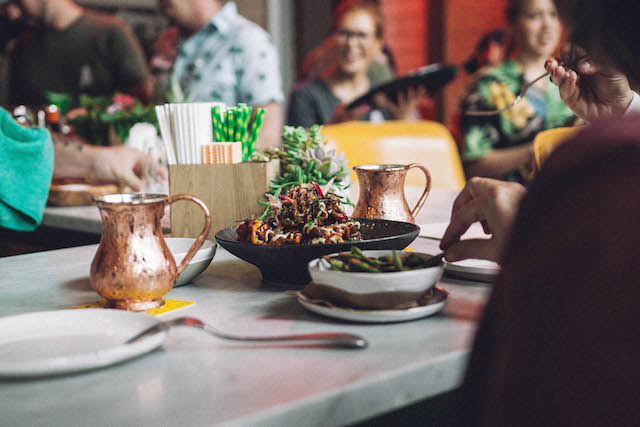 Flagship Restaurant Group
Flagship Restaurant Group brings a tremendous passion for food to the heartland with innovative dining concepts that deliver one-of-a-kind experiences.
Flagship Restaurant Group was co-founded by five self-proclaimed "foodies gone wild" who have developed creative, adventurous and memorable dining concepts because they believe dining out should be fun. "We are a concept company made up of passionate restaurateurs committed to delivering innovative food and revolutionary, fun and energetic dining experiences," says Tony Gentile, co-owner and corporate executive chef.
After graduating with his degree in culinary arts from Johnson & Wales University in Miami, Gentile moved to Texas for the University of Houston's hotel and restaurant management program to learn the business side of the industry. Gentile and Anthony Hitchcock, CEO of Flagship Restaurant Group, met while working together at Eatzi's, a popular grab-and-go market and bakery in Houston. They both graduated from the University of Houston with degrees in hotel and restaurant management.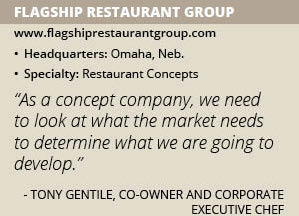 Hitchcock's cousin, Nick Hogan, co-owner and COO of Flagship Restaurant Group, was determined to bring a revolutionary, exciting and energetic dining experience to his hometown. Something the Omaha, Neb., restaurant scene was lacking at the time. Hogan reached out to Hitchcock and asked him to manage a new sushi concept he was working on in Omaha.
"Anthony flew to Omaha and committed to the project," Gentile remembers. "He later recruited me to create the menu and manage the back-of-house operations for the new sushi restaurant."
In 2002, Flagship Restaurant Group was born when Gentile and Hitchcock converged with Hogan, Tom Allisma and Tom Buder to create Blue Sushi Sake Grill, a new sushi concept in northwest Omaha. Flagship Restaurant Group has been on a roll ever since, operating six restaurant concepts in eight states including Texas, Colorado, Nebraska, Illinois, Indiana, Kentucky, Kansas and its newest location in Ohio, opening early 2019.
Unique Concepts
"Blue Sushi Sake Grill unites creative ingredients with energetic vibes, premium cold sake with happy moments to give you a fresh and fun new way to experience sushi," the company describes.
Blue Sushi Sake Grill's menus are continuously evolving to keep up with industry trends. The menu was developed in a way to encourage diners to share and explore their favorites in new and unexpected ways while fulfilling the needs of sushi experts and newcomers, alike. The menu offers a diverse range of traditional and creative maki, shashimi and nigiri, as well as creative takes on Asian-inspired starters, soups, salads and entrées.
After opening three Blue Sushi Sake Grill locations in Omaha, the concept expanded out of state in 2010 into Fort Worth, Texas.
Two years after Blue Sushi Sake Grill took off, Flagship Restaurant Group opened its second concept, Roja Mexican Grill, a Tex-Mex restaurant and margarita bar. "It made sense for Anthony and me because where we grew up, if you went into a Mexican restaurant it was Tex-Mex," Gentile says. "Roja was an easy one for us, but was challenging to get off the ground because everyone's idea of Mexican food is different, especially in the Midwest."
After retooling and re-engineering the menu, Roja Mexican Grill was created based on Tex-Mex basics, which are influenced by the border-style flavors of Texas and Mexico. "We're especially proud of our homemade flour tortillas, refried beans, chile con carne, fajitas and cheese and onion enchiladas, to name a few," Gentile says. "Our vibrant atmosphere is true to our namesake, which imparts a deep sense of fiery hot energy to complement our Tex-Mex cuisine."
In 2012, Flagship Restaurant Group's third concept, Blatt Beer & Table, opened in downtown Omaha near the TD Ameritrade Park. The idea behind this concept was to become a hub for those who appreciate craft beer and curated pub food. "This was when the surge of craft beer started to take off," Gentile remembers. "Craft beer and elevated pub food – no one was doing it in Omaha."
Blatt Beer & Table has a warm and inviting atmosphere rooted in local history that strives to bring people together. The restaurant features one-of-a-kind craft beer that guests can take home in a "crowler," Blatt's recyclable, portable 32-ounce can, and creative pub food that can hold its own around the table.
With a strong background in seafood and Cajun cuisine, Gentile says Plank Seafood & Provisions was the fourth concept to emerge in 2013. "I knew our supply chain was in line to get fresh seafood into the Midwest just as quick as places on the coasts, and there weren't a lot of seafood places in Omaha. It made sense. As a company, we're constantly evaluating what a market needs before implementing new concepts or developments," Gentile says.
Plank is a coastally-inspired oyster bar and seafood grill in Omaha that remains faithful to the tradition of fresh seafood, high-quality ingredients and a made-from-scratch mentality. The company enlists the help of inspired chefs, a wood fire grill and a smoker to bring coastal flavors to the heartland.
In addition to its four full-service concepts, Flagship Restaurant Group partnered with General Growth Properties to open Nebraska's first food hall, a master-lease project called Flagship Commons. Flagship Commons includes eight unique and locally-owned concepts: Aromas Coffeehouse, Amsterdam Falafel & Kabob, Blatt Beer & Table, Yum Roll by Blue Sushi Sake Grill, Clever Greens, Juan Taco, Yoshi Ya Ramen and Weirdough Pizza Co.
Expanding into New Territory
Flagship Restaurant Group prides itself on looking for opportunities to fill the market gap when it makes smart business sense. In its latest endeavor to do so, the company launched Anthem in late September. "Anthem is a unique story and goes against the grain with some of our thinking," Gentile says. "It's located on Rainey Street in Austin, which is comparable to Bourbon Street in New Orleans. It's in a historical bubble where old homes were renovated. Anthem is located on the corner of the block, near newer construction."
The new concept took two years to develop and underwent several revisions. "I woke up one day and my mind was spinning about Asian Gastropub with Tex-Mex involved," Gentile says. "I thought about taking the existing restaurants we have and somehow making them cohesive. That was the first round. Later adding tiki and exciting cocktail ideas to give it a Polynesian twist."
Anthem opened to the public September 24 as "a Tex-Asian pub that honors American comfort food with lip-smacking Asian and Latin flavors. We feature 40 craft beers and lick-your-plate-clean options for every appetite."
"We wanted to create a more unique experience focusing on layers and textures of the food while maintaining our high standards of service and presentation," Gentile says. "We put a lot of time and thought into the china and glassware that uniquely complements each dish and cocktail. It creates dimension throughout the restaurant and makes it more visually appealing. It's something you want to photograph and share with friends. The goal was to create an experience for all."
Moving forward, Flagship Restaurant Group plans to grow at a rate of two to three locations a year while continuing to target prime real estate opportunities that are specific to the brand, which will allow it to deliver exciting new concepts that fits a market need.