Plated adventure
Flagship Restaurant Group possesses just as much passion for the adventure of a unique dining experience as it does for incredible food. This is why the group is determined to introduce an innovative menu of flavor fusions into the energetic spaces it creates
A band of foodies came together in Omaha, Nebraska nearly 20 years ago to create a collection of dining experiences that range from full-service to fast-casual. Back in 2002, Nebraska natives Nick Hogan and Tom Allisma, and Texas natives Anthony Hitchcock and Tony Gentile teamed up to create a fresh take on sushi, Blue Sushi Sake Grill. Since then, the business has grown from strength-to-strength. Now, Flagship Restaurant Group's restaurants offer tastes from a selection of cultures, and Tony, Chief Culinary Officer and Owner of the company, discusses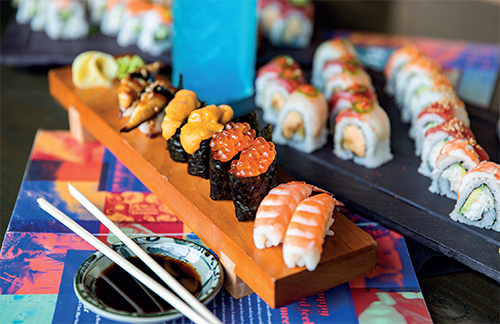 with us how the group continues to stay successful and push innovation across its brands. "To put it simply, we just enjoy food, which is exactly how we have determined to expand our concepts to cover a variety of cuisines. Our main concept is Blue Sushi Sake Grill, which offers a fresh take on the sushi experience for both newcomers and traditionalists, and just opened its 17th restaurant in Lincoln Park, Chicago to add to its 20-year history. We own and operate all of those restaurants, spanning across nine different states. We also have several other concepts that are currently being brought to life, including Plank Seafood, an oyster bar that offers craft beer and unique seafood dishes. Then there's Roja, our Tex-Mex restaurant, and Flagship Commons, the food hall we opened in Omaha that houses several different eateries inside," he says. With dishes both familiar and foreign, Flagship is unafraid to introduce its customers to flavors from around the world.
Summing up the portfolio, Tony shares with us that the group has some exciting new developments in the pipeline. For example, Memoir, a unique take on the beloved 'American Grill' and an ode to Flagship's 20th year anniversary, and a Mediterranean concept, both set to debut in downtown Omaha. The group is also set to make its first entrance into the Phoenix, Arizona market with a development housing three concepts. "We will be opening Ghost Donkey, a fun, experience-driven bar that will offer a huge mezcal list, a distilled alcoholic beverage made from any type of maguey, and nachos," he says. "Then," Tony continues, "we have Palma, a breezy, carefree and energetic atmosphere that will feature loads of cocktails and an Asian-fusion menu to accompany them, and finally Châm Pang Lanes, a fun space to enjoy champagne, fried chicken, and duckpin bowling. In 2023, we plan to introduce an open-fire cooking concept that we're working on named Pyro, also set to debut in Phoenix."
Responsible sourcing
Despite hosting a range of concepts this expansive, Flagship is passionate about sourcing its proteins and fish responsibly in order to contribute to and encourage sustainable farming, which Tony believes is what sets the business apart. The company has partnered with many initiatives and businesses that are equally as determined to source ingredients sustainably. "We've teamed up with the Monterey Bay Aquarium, which we feel is a fantastic business that focuses on seafood sustainability.
Through that partnership, they lead and guide us to make sure we, and our partners, are sourcing seafood responsibly. With 16 sushi bars, you can imagine how much seafood we go through, so we want to make sure the components of our dishes have little to no impact on the environment. We are also acutely focused on animal welfare. This is why we investigate where our chicken and beef are farmed to ensure that the conditions in which the animals are raised are to the highest, safest and most humane standards. The interesting aspect to making this possible is that everyone in this business believes wholeheartedly in the initiatives and values we support, and I think that gives you a great idea as to some of the goals and the sort of changes we're rooting for in the food industry," Tony expresses, adding that the company's website dedicated to outlining their program, MyConsciousEarth.com, lays out a blueprint for what the group has accomplished thus far and what it hopes to accomplish regarding responsible sourcing moving forward.
"When it comes to sustainability, what we try to do is leverage our power to make positive changes within our company, and industry. Some of our most valued partnerships, Sysco, True World Foods, JFC, Kingfish Zeeland, Acme Fish Company, and American Unagi allow us to accomplish that," he adds.
Attention to detail
Moving forward, the business is set to embrace a new shift that is geared towards the customer experience. "A few years back, our big focus was food, food, food! That bold mentality is what allowed us to continue to grow. Having said that, I feel that we are now turning our full attention to our customers' experience. In doing so, we are looking at the restaurants on several levels: the comfort of our seating, the lighting, music – at the end of the day there is a psychology behind it. Customers may not be able to pinpoint exactly what it is, but they know cohesively they had a great experience. Maybe the service was great, the temperature was comfortable, the lighting wasn't distracting, the menus were printed in an easy-to-read manner. Whatever it may be, they are crucial to the overall experience. So, it's the little things that we are refining to ensure that visiting any one of our restaurants is a memorable moment and enjoyable time for each of our diners."
It's particularly encouraging to hear how seriously the company considers the smaller details, and it seems that this strategy is also feeding the business's ambition to scale up. "We are starting to get some regional and national attention and I think once you've reached that level, bigger opportunities begin to present themselves, which is how we are able to grow. We're now at the point where we've become quite granular when it comes to our operations, allowing us to have an R&D team, operations team and all of these puzzle pieces fitting together, allowing us to level up. Additionally, we also have a prolific marketing and PR team that have helped grow the publicity of the brand over the years. Tying in with this, we have taken on some real estate deals that I feel have helped catapult us," he expresses.
Brand potential
With these measures in place, there is no limit to the potential that rests in Flagship's future, and no end to the creativity that lies within its team. "I have to share that we have three or four new concepts that we are yet develop, but the good news is we have taken what we learned through Blue's growth over the past 20 years, so we know what works and what doesn't. I think we are looking to open five new Blue's next year, and then the other projects that I've mentioned could potentially kick-off in 2022 or 2023; it's just a matter of putting our heads down and getting through these new concepts," he says.
Drawing our discussion to a close, the bottom line is that Tony is incredibly excited about the endless possibilities of his business, and with this excitement, looking forward to developing each of the brands into their full potential. "First and foremost, the main idea is to get some of these brands to Blue's level. We are hoping to open somewhere between six and ten restaurants a year for the next ten years. My partner and our CEO, Nick Hogan, has also been looking into owning the real estate deals we have acquired, rather than renting. I feel that once these components begin to come together, this business will thrive, and I'm incredibly proud to be part of this journey," he concludes.
www.flagshiprestaurantgroup.com