FlyBuy Technologies Inc. has launched a new app that offers restaurants a vertical drive-thru.
It's a 21st-century drive-thru. Inspired by Uber, a new mobile ordering platform is making it possible for restaurants to offer their customers perfectly-timed curbside pickup.
Seattle, Wash.-based FlyBuy Technologies Inc. launched an app that allows its users to place an order from a participating retailer and pick it up curbside – an appealing idea for those who want to avoid the hassle of searching for parking and waiting in line.
"Parking is a big problem everywhere you go," FlyBuy CEO Wil Merritt says. "Thirty percent of cars driving around a city are looking for parking. We've found that 64 percent of consumers gave up a trip to a restaurant or retailer in the last year because they couldn't find parking. We're helping to alleviate that problem."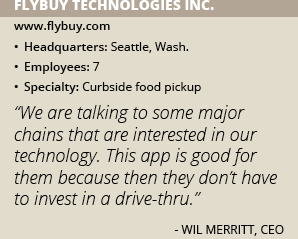 By coordinating curbside pickup between buyers and sellers through its app, the company is making brick-and-mortar businesses more accessible to consumers. Though the concept can work for virtually any retailer that has a need for pickup, the majority of current users are restaurants. More than 50 restaurants and chains are participating in the United States.
"Restaurants have really been embracing this," Merritt says. "But we are fine-tuning it so we can accommodate different types of businesses. We are working with some grocery store companies for grocery pickup and we have tested it with other retailers like florists, dry cleaners and auto parts delivery."
Flying By
Here's how it works: Consumers download the FlyBuy app onto their mobile device for free. Once they open it, they can search for a list of participating retailers in their area, place their order and pay through the app. Using real-time predictive GPS data, the app notifies the retailer when the customer is en route and arriving, allowing for a quick step out to the curb as the customer arrives.
"We are talking to some major chains that are interested in our technology," Merritt says. "This app is good for them because then they don't have to invest in a drive-thru. We also work with independent coffee shops, giving them a chance to compete with Starbucks because we're giving them a virtual drive-thru."
The retailer is charged 10 percent of the customer's total bill for the service. Delivery services provided by companies like Ubereats and Grubhub typically charge between 15 percent and 30 percent. The app targets busy customers who don't want to leave their car to pick up food.
"It's really appealing for families, especially busy moms. They are our biggest fans because they usually have kids and pets in the car," Merritt says, adding that FlyBuy is also popular with high-tech millennials and people who work out of their cars.
Uber Inspired
Founded in 2014, FlyBuy was inspired by the widely popular Uber. As Uber allows travelers to track their ride through an app, FlyBuy allows retailers to track their customers' whereabouts, making for a smooth transfer of goods. Will Rademaker, Chapin Henry and Bryan Terrell founded the company after thinking that consumers should be able to buy something from a store without having to park their vehicle and pay for parking. FlyBuy raised roughly $1.3 million and signed up its first customers in 2015.
"Where Uber exists, people understand FlyBuy right away," Merritt says. "Where it doesn't, we have to educate people through marketing."
FlyBuy is among a group of startups that utilize technology to help get food, grocery items and other products into the hands of consumers in the most efficient way possible. However, FlyBuy is unique because it eliminates the need for getting out of a car to pick up goods from retailers without a drive-thru.
In the near future, the company plans to integrate its app with the POS systems used by restaurants. It will make the process even more seamless because the consumer's order immediately will be seen by the restaurant's kitchen staff. Currently, restaurant staff must alert the kitchen manually. In addition, the POS system will automatically update the restaurant's menu within the app.
In 2017, Google chose FlyBuy to participate in its Entrepreneurs mentorship program for start-up companies. "We're really excited," Merritt says. "Google is giving us six months of free concentration to design our technology and apps. Google will be assisting us on how to develop our technology further."