Having established a number of restaurants in Albuquerque, Flying Star Cafe is looking to build a presence as a food service supplier.
Since it opened its first location in Albuquerque in 1987, Flying Star Cafe has become one of the city's favorite restaurants. Each of the company's six locations features handmade bakery desserts, fresh roasted coffee, and serves homemade breakfast, lunch and dinner all day. Providing a variety of choices that can allow customers to indulge or eat smart has helped Flying Star cement itself as local staple.
"We started out as a small café in an old neighborhood on Route 66 in Albuquerque, feeling that the area needed a low key place focused on coffee, desert and light food," CEO Jean Bernstein says. "People wanted clean ingredients and food choices they couldn't find anywhere else in town. Albuquerque was kind of a meat-and-potatoes town, and we wanted to offer more unique choices."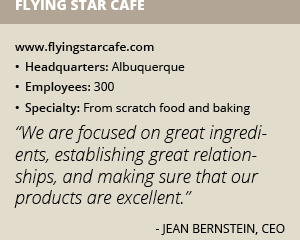 Know the Customer
After about seven years of operations, Flying Star opened its second location and added more locations prior to the 2008 recession. The company has continuously evolved its menu by seeking feedback from customers and trying out various seasonal specials to see what resonated.
"We know we must have certain items on the menu," Bernstein says. "There has to be green chile on the menu in New Mexico. Huevos rancheros, burritos and burgers are required. But now, so is quinoa, tofu and eclairs. But we also do a lot of travelling to see what is out there and help keep our menu interesting."
Helping the company to collect feedback from customers is its Aloha point of sale system, which it uses to analyze sales data. Flying Star also gathers data from customers through email and social media, and it keeps a watchful eye on what people are ordering and finishing.
"We are always looking for ways we can make sure that products are made to customers' satisfaction and that people really like what we offer," Bernstein says. "We have a customer loyalty program that can give points to customers for purchases, and it also allows them to let us know immediately if they really liked something. We are always looking at what people are sharing on Instagram, Facebook and Twitter "
A big part of Flying Star's operation is its bakery, which allows it to incorporate special breads and savory items as part of its menu. The company's in-house creativity and capabilities allow it to put together an enticing menu, as does staying abreast of the latest trends through industry publications and visits to other parts of the country.
"This is a conservative market that loves its downhome favorites, but we can blend our bakery capabilities into our experiments," Bernstein says. "Soups and specials guide us on what people are looking for.
One of the trends that Flying Star has seen is less indulgent eating. More customers are consciously choosing lighter and healthier options. In response, the company has provided more options and the ability for customers to customize their orders.
"I love to see what people do with our classic ranch breakfast, which is two eggs your way, toast, home fries and a choice of meat," Bernstein says. "People are doing things like getting salad instead of toast. We use hormone free and natural meats, but we may see items like brown rice, fruit, or something else swapped in. Customers are taking our menu and customizing it into something that works for them. Our customers ask questions about our food items, and they want to know where they come from. We provide counter service and have educated our staff on what is in our food and where it comes from so we can meet customer preferences, including allergy or health preferences."
New Directions
One of the challenges for Flying Star is its market. Bernstein says Albuquerque's population has shrunk and that the market has still not recovered from the recession. Indeed, New Mexico's economy is one of the most difficult in America, and that makes growth challenging for Flying Star.
"We've seen a lot of cutbacks and lost jobs in the area," Bernstein says. "Customers are concerned about money because jobs have left the state and because of the lack of growth and the downturn in the market. We've had to be conservative about our own investments, but our large baking and food production facility has helped us to start to establish a baking market."
Rather than look to expand the number of restaurant locations in the Flying Star portfolio, the company is focusing on building its baking business. The company has been working on making inroads with partners such as hotels and retailers, getting its certifications and establishing distribution partnerships to help the company build a business as a food service supplier for companies looking for quality products.
"We've developed some distribution relationships that will help us grow throughout the region," Bernstein says. "That is a long-term investment, and we believe our investment needs to focus beyond the city and the state."
Flying Star feels that its ability to create quality products will help it offer that quality to others that want quality products without having to make it themselves. Although the company is still early in this endeavor and is making sure it has the right operating procedures, staff and facilities in place, Flying Star is confident that this will be the right route to growth.
"The focus is on developing our food service program in what is kind of a beta test stage and making sure we have the right plans in place," Bernstein says. "Quality will be the key to everything. We are focused on great ingredients, establishing great relationships, and making sure that our products are excellent so they can the needs of today's consumers."