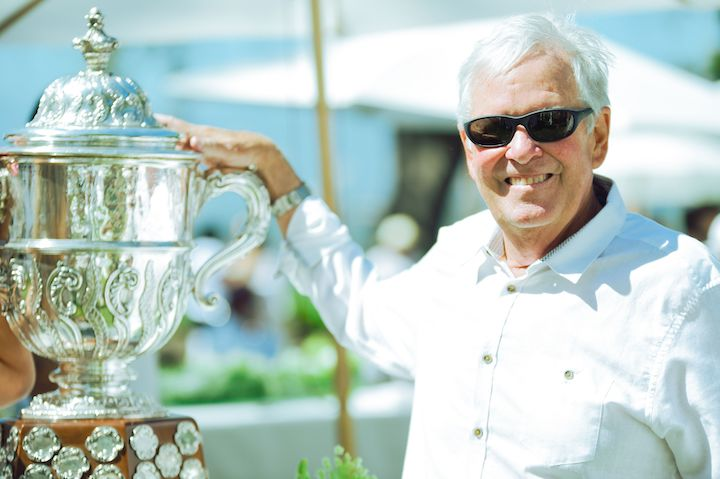 Foley Family Wines enjoys a record-breaking year and prepares for future growth.
With sales expected to reach almost 2 million cases of wine this year, Foley Family Wines is enjoying a rapid growth rate that marks a record-breaking year for the prosperous Santa Rosa, Calif.-based winemaker.
In 2010, the company averaged roughly 500,000 cases per year, selling primarily its value brand Sebastiani. "That's a 400 percent growth in the past 9 years," CEO Bill Foley says. "We're very proud of all our brands."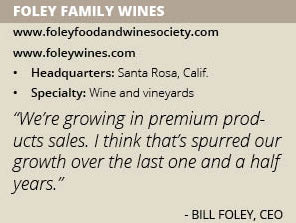 Foley Family Wines owns 16 wineries in California, two in Oregon, one in Washington and five in New Zealand. "And I'm looking to buy another in California," Foley adds. "We made a lot of acquisitions over the years and been very diligent about fixing up the properties and improving their wine process."
Some of Foley's well-known brands include Chalk Hill, Lancaster, Four Graces, Sebastiani and Kuleto. What started with one 25-acre winery in Santa Rita Hills, Calif., in 1997 has blossomed into a vineyards empire spanning 4,000 acres.
Overall, the company is growing at roughly 25 percent per year as far as the number of cases sold are concerned. But it's growing by 35 percent when it comes to revenue.
"We're growing in premium products sales," Foley says, adding that Lancaster, Four Graces and Chalk Hill are selling especially well. "I think that's spurred our growth over the last one and half years."
Food and Wine Society
Aside from its vineyard empire, the Foley family owns
Relais & Chateaux resorts, private club golf communities, ski lodges and the Vegas Golden Knights professional ice hockey team. To help tie all of its businesses together, the family created the Foley Food & Wine Society.
 "It's the way we have tried to cross market all of our wineries, hotels and entertainment venues," Foley says. "As of now, we're up to about 120,000 members."
Founded by Vintner Bill Foley, the Foley Food & Wine Society is dedicated to uniting three of life's biggest passions: world-class wines, exquisite food and amazing experiences.
Society members enjoy access to a portfolio of Foley's highly-acclaimed wines, as well as invites to exclusive events and culinary experiences. Members also benefit from the society's loyalty program, which allows them to earn and redeem points for purchases of exceptional wine, exclusive events and wine tasting experiences.
With locations throughout the United States, New Zealand, Italy, France, Argentina and Chile, the Foley Food & Wine Society thinks of itself as "the world's leading luxury lifestyle community, providing members with a gateway to a variety of culinary, travel and entertainment experiences."
Foley Family Wines has developed a new APP for its customers, which is currently in a test phase in select cities. For example, when a bottle of its wine is purchased at a participating retail store, customers can scan their receipt through the app to earn points.
"Points earned in the Foley Food and Wine Society can be utilized to attend wine making and culinary events, pay for shipping and receive discounts at hotels, resorts and restaurants," Foley says. "I feel that it's fairly innovative and different from what a lot of other companies are doing. We think this can get us to a million members in our food and wine and society."   
So far, the app was tested at a grocery store chain in North Carolina and is now rolling out at another chain in Texas. "Then we will take the information we gleaned and make the app more user-friendly," Foley adds. "If we do this properly, we'll be in every liquor and grocery store chain. But first we have to demonstrate that we can drive traffic to their store."
A Diverse Offering
Foley Family Wines has an incredibly unique and diverse portfolio of wineries. Each has its own individual identity, style and distinctive personality.
From the heritage of Sebastiani in Sonoma County to the luxurious grandeur of Chalk Hill and the contemporary architecture that surrounds the cult wines of Merus, Foley Family Wines spans the spectrum of variety.
"For example, Chalk Hill is known for its limited production of chardonnay," Foley says. "Roth Estate is known for the Alexander Valley cabernet sauvignon. Our goal is to make the very best wine we can for the target sales price. Our wines range from a high of $300 to as low as $12 bottle."
A Family Affair
Foley Family Wines was established by Bill Foley in 1997 with the acquisition of Lincourt Vineyards in California's Santa Ynez Valley. Since then, Foley Family Wines has grown to become a top producer, marketer and distributor of highly-acclaimed, handmade wines from some of the world's greatest vineyards.
A number of Foley family members work for the company. This includes Foley's daughter, Courtney Foley, who is the director of winemaking. His son, Rob Foley, is the company's chief enterprise officer. Foley's wife, Carol, is involved as well, doing a variety of design and decoration work in tasting rooms. "We're 100 percent family owned business," Foley says, proudly.
The company distributes mainly in the United States, Australia and New Zealand to grocery stores/restaurants through a network of distributors.