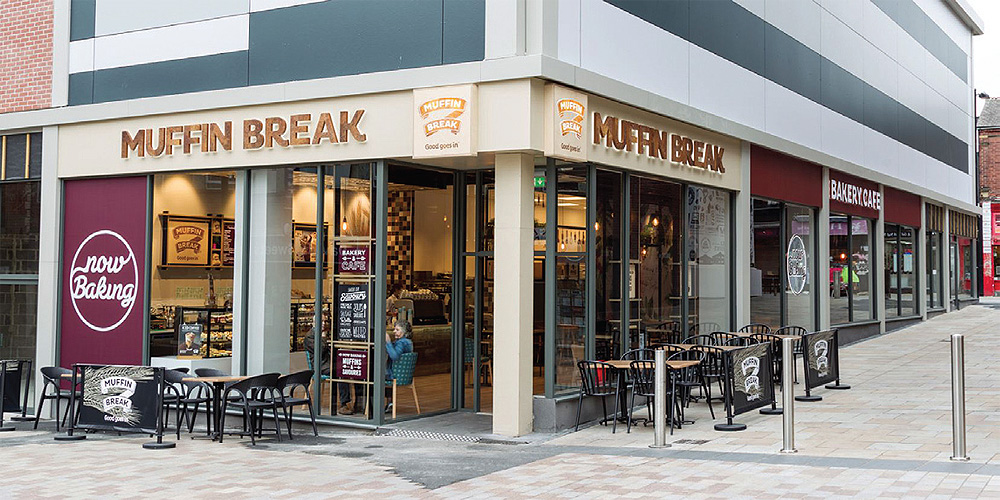 Foodco UK LLP – Muffin Break and Jamaica Blue
Brand supremacy
Owner of two established high street brands – Muffin Break and Jamaica Blue – Foodco is pursuing a well-managed growth strategy that involves identifying its next wave of dedicated franchisees
Founded in Australia in 1989, Foodco is today recognised as a leading global franchise organisation. Operating two well-known brands – Muffin Break, with a combination of freshly baked products and a unique blend of espresso coffee, and Jamaica Blue, a contemporary café experience, Foodco now operates through nearly 600 locations across seven countries.
"The first franchised Muffin Break bakery café in the UK opened its doors in Derby in November 2001, and the system has since grown into a network of 64 café/bakeries spanning the country, from Aberdeen to Eastbourne, and across to Cardiff, primarily in shopping-centre locations with major landlord partners such as Land Securities, Hammerson and Intu. Jamaica Blue, meanwhile, opened its first location in Cambridge in December 2016, and now has five fast-casual cafés in shopping centres and one hospital location," begins Mike Arbuckle, Foodco UK's MD.
Muffin Break's growth can be, in part at least, credited to its strong USP of only serving a wide range of bakery products, which are hand-made daily on the premises. In addition, it has come to be known for the quality of its coffee products. On the other hand, Jamaica Blue has developed a fast-paced concept with plated meals, strong breakfast trade, a growing brunch offering, great coffee and, in some locations, alcohol options. These are further complemented by a variety from the grill, vegan-friendly choices, and a strong sweet and savoury cabinet selection.
"One of the things we are particularly proud of here at Foodco UK is the business infrastructure that we have developed over the years," Mike continues. "We have a national operations team, with managers having a store ratio of eleven-to-one under their responsibility. This not only ensures standards are met, but that store visits are more frequent and issues are promptly dealt with. Supporting this is an in-house marketing unit delivering national campaigns, point of sale collateral, and local store marketing initiatives, with the whole operation kept on track by accurate financial systems and analysis delivered by our finance department. All of this is run by an executive team of four."
Customer connection
In 2018, Foodco saw same store sales growth across its Muffin Break sites of 3.2 per cent and opened ten new stores, while Jamaica Blue recorded a 3.4 per cent growth in same store sales and
opened two new locations. Nevertheless, Mike and the rest of the management team are firm believers in keeping the organisation's, and its respective brand's, feet on the ground. "At Foodco, we do our best not to confuse sales with profit," he states. "Once our location is agreed we will always look at the sum of rent rates and service costs, and then apply this KPI to our model. If it is outside the acceptable ratio, we walk away. We know what can and can't be done, what is realistic and what will or won't work, and this has helped us to create a carefully controlled store growth programme, managed by a very experienced development manager who is responsible for delivery of our sites within our own criteria.
"Our growth has come as a result of partnerships with franchisees who trust us and our brands, and it is these men and women who represent the core strength of Foodco. Under a franchise system, as opposed say to a chain store network, our franchisees can impose their own personality at store level. This connection with the customers is fundamental to the success of our cafes, so we interview franchisee prospects at length, ask them how they plan to operate the store and try to make a determination of whether we think they can make a success of things. While we don't claim to always get it right, we do have a particularly strong gut feeling that we rely upon when it comes to franchisee selection, and this is backed by the support needed to provide the best possible base upon which to grow."
Pipeline of growth
Going forward, Mike wants to enhance the brand values of Muffin Break and Jamaica Blue by telling their stories through sharper messaging, while at the same time constantly evolving the design of the various sites. He is also excited about an upcoming concession agreement between Jamaica Blue and Next, which will open at Junction 9 in Wednesbury in April 2019. "Next approached us after visiting our Rushden Lakes store and we are looking forward to seeing if this is a concept we want to move forward with in partnership with major retailers. What we can say for certain already, however, is that the professionalism of the Next people has taught us about the value of effective systems and structures," he enthuses.
Foodco UK's growth plan for Muffin Break is to open a further ten stores by Christmas 2019, while the expectation is for around three-to-six new Jamaica Blue sites to appear this calendar year. "We are keen to seek good franchisee investment to secure our pipeline of growth, and we see several opportunities in a countercyclical way for us to take advantage of," Mike reveals. "Our business plan is to continue to open new stores with those franchisees who meet our expectations as we head towards our medium-term target to be trading from 100 stores within the next three-to-four years."