Foodland embraces the 'grocerant' concept at its newest flagship location where it delivers the ultimate shopping and dining experience.
Understanding customers and meeting their demands are key for a retailer and no company is more consumer-focused than Foodland, Hawaii's largest grocery retailer and the only locally owned supermarket with stores statewide. The company's newest flagship market, Foodland Farms at Ala Moana Center in Honolulu, is celebrating its one-year anniversary of welcoming customers to a boldly reimagined food-shopping and dining experience featuring more variety of the go-to foods and dishes Hawaii residents love.
Maurice J. "Sully" Sullivan founded Foodland in 1948 with a vision to be a family-run, community-focused grocer that put the customer first. His vision is still alive today in all 33 locations that strive to deliver an outstanding and innovative shopping experience. "What sets Foodland apart in our market is that we really understand Hawaii and what our local customers want," Corporate Chef Keoni Chang says. "We have a melting pot of ethnicities here, and we work hard to serve our community well."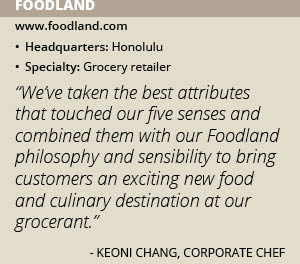 Chang is a classically trained chef from The Culinary Institute of America. He worked in iconic restaurants from West Virginia to Las Vegas for a decade before making his way back to Hawaii and beginning his career at Foodland 13 years ago. "I remember thinking, 'What is Foodland doing looking for a chef?'" he says. "I met with Jenai Wall, chairman and CEO, about her vision. She was looking to improve the quality of perishable offerings across the company and had a keen sense of the changing preferences of the grocery shopper. She knew that we needed to address the higher demands in quality, variety and selection."
Born and raised in Hawaii, Chang already understood the local culture and cuisine, so he accepted the offer to help move Foodland into the future. "What interested me is that Jenai is a visionary and dynamic person, and I liked what she was trying to do," he remembers. "Also, Foodland is locally owned with a presence on all the main Hawaiian islands, and the largest supermarket in Hawaii. Having come from high-end hotels and restaurants, I thought it would be an opportunity to have a greater impact on a larger percentage of the population and improve their eating experiences."
Rise of 'Grocerants'
Just as Chang became Foodland's corporate chef, the supermarket industry reached an inflection point when it realized the consumer was starting to change. "It was the heyday of the Food Network and Iron Chef, and a greater focus on food and culinary culture started to happen," Chang says. "I think consumers' awareness of food and food quality started changing at that time. It was at that point when we said, 'I don't think it's going to be good enough to have fried chicken and frozen mac and cheese anymore.'"
Consumers began demanding better-quality prepared foods, Chang says. "The other factor was that lifestyles continued to change. Customers continued to get pressed for time and pushed for more convenience. However, they demanded quality in addition to convenience. Customers wanted food that was just as good as a sit down restaurant without the time investment," he adds. "We started tracking this movement and saw very coordinated efforts from retailers addressing what we see as this consumer evolution."
"Grocerants" is the marriage of the grocery store and restaurant and in the purest form it's a restaurant in a grocery store. "That's one way to look at it and there are people doing that," Chang says. "Grocerant is the emergence and presence of restaurant-quality food in a grocery store environment."
The 47,395-square-foot Foodland Farms at Ala Moana Center offers an assemblage of made-to-order, prepared and take-home-and-cook foods, as well as everything shoppers expect from a full-service restaurant. An innovative floor plan combines multiple food and beverage stations, including a skewer station, hot food bar, poke island, coffee kiosk, a wine bar and quick-serve venues featuring freshly made pizza and sandwiches. "The grocerant concept marries the restaurant into the grocery industry and takes many forms," Chang adds.
Total Rewards
As a grocerant, Foodland Farms is now a destination because it's a point of differentiation among other grocery stores in the area. "One of the biggest roots of consumerists is millennials," Chang notes. "The millennial is looking for authenticity. They want an authentic experience at the store or the authentic execution of the food they are eating. With this store we are focusing on the food and the group is stirred because they are connecting to the authentic execution of the dishes we are creating."
Every dish at Foodland Farms is authentically made with high-quality ingredients. Millennials are also focused on healthy eating, which is reflected in the food offerings at the store. "Our food offerings will satisfy someone who is concerned with what they put in their body," Chang adds.
In addition to the consumer benefit of grocerants, it is also a financial benefit to Foodland. "People are attracted to great quality food and the speed in which they can get it. Our deli sales are significantly higher and profit margins are better," Chang says.
Foodland employs a culinary team led by Chang as well as in-store chef de cuisine Bryan Nagai and pastry chef Rick Chang. "We are trained culinarians working with products from scratch. Because we are able to add a lot of value to the products we sell, we are able to enhance margins and grow sales. People are willing to spend more to get a better quality product," Keoni Chang explains. "That said, there is still a breaking point for them, so we work hard to manage our costs and make sure what they are getting is a great product for a great price."
Inspired Creations
"The Foodland team traveled around the world to research and see first-hand how the grocery experience is evolving to meet today's customer," Chang says. "We've taken the best attributes that touched our five senses and combined them with our Foodland philosophy and sensibility to bring customers an exciting new food and culinary destination at our grocerant."
Foodland's culinary team generates new ideas by drawing inspiration everywhere, from visiting and dining at local restaurants to traveling abroad. "There is always some evolution to our items, which is driven by the team in the store," Chang says. "We also make dishes based on seasonality, n ad item the company is featuring, or we may use something another department ordered too much of. Say our produce department has a ton of local tomatoes or watercress, they will get with the chef and specials are derived from that."
Because Foodland has a developed relationship in the community, Chang says customers know their shopping and taste preferences are taken into account. "We know the flavors they really like and enjoy," he adds. "While we create dishes that appeal to those tastes, we have also built trust with them over time. So when we introduce a new flavor or trend, they are ready and willing for us to take them on this journey."
Featured Stations
Foodland Farms' grill features a variety of grilled meats and vegetable skewers with sauces and sides of choice. A French-style rotisserie features all manner of roasted meats by the pound, including turkey drumsticks and Puerto Rican roast pork. The hot food bar features more than 30 local comfort foods and new creations with Hawaiian flare, such as furikake mac-and-cheese with Spam.
The large, central poke island features poke, new poke creations such as truffle ahi poke, poke rolls and bowls, sushi and musubi. The store's meat and seafood counters offer locally raised beef and prime cuts; freshly caught fish and scallops, oysters and marinated seafood; and take-home-and-grill burgers, marinated meats, meatballs and house-made sausages.
HI Steaks counter in Foodland Farms features popular steak plates with sauces such as chimichurri, kimchi and barbecue lilikoi. The store features an in-house smoker that uses a blend of kiwi and guava woods to serve fresh, house-smoked pipikaula, pork spareribs and chicken thighs ready to go.
Foodland Farms' bakery offers fresh mix-and-match donuts daily, tarts and tartlets, pastries, chef-baked cookies and house-made local fruit parfaits. The juice bar features fresh fruit and vegetable juice blends, smoothies, spa waters and agua fresca, as well as a half-dozen kombucha taps.
As for beverages, The Coffee Bean & Tea Leaf features handcrafted coffee drinks, ice-blended beverages and new grab-and-go food items. Foodland's largest outlet of R. Field Wine Company's gourmet food, wine, spirits, cigars, charcuterie and cheeses will be anchored by The Bar, a wine-by-the-glass and craft beer bar complete with a food menu that features cheese, meat boards and antipasti.
"People can come and do their grocery shopping and then sit down and relax and have a glass of wine at our bar in the center of the store," Chang says. "We have a sommelier who always looks for amazing value so the wine list is always changing and revolves around the wine that he finds."
Foodie Education
When people stop by The Bar, Chang says education is an organic process as customers often ask servers about the wine. Servers understand winemaking methodology, regions and varietals that make good wine, so people can learn from them. "It becomes a relationship," he adds. "We are just scratching the surface on education and how it can work in the store."
Foodland Farms' goal is to change people's perception of grocery stores and their reason for coming. "We wanted people to come to Foodland not because of the drudgery of replenishing their pantry, but to experience the food in an exciting and different way," Chang says.
The staff at Foodland Farms is trained to understand the products they are selling so they are able have conversations with guests. "It's not uncommon for someone to have a conversation with the chef," Chang notes. "For example, they are interested in dragon fruit but aren't sure how to prepare it, they'll ask our chef for ideas. For Thanksgiving last year, one of our shoppers didn't' know how to put a dinner together. Our staff grabbed all the ingredients needed and explained the process."
Foodland Farms sees three different kinds of shoppers in its stores: those looking for fully prepared, ready-to-eat food; customers who buy prepped product that they can cook at home; and those who want to make everything themselves from scratch. "We meet our customers at whatever point they're at," Chang says.
Getting the Word Out
Foodland Farms is only a year old, which means some residents are still "meaning to get over there," but their interest has been piqued. "The store has started to develop its own momentum and that momentum is driven by people who have gone to the store and are passing the word on to friends and family about how great it is," Chang explains.
The company sees Foodland Farms attracting new customers and retaining old ones. "We're attracting new customers because we have a new product selection that they couldn't get from us before. We're retaining our existing customers because they're still getting what they like, but also discovering things we didn't offer them in the past," Chang says.
Now that Foodland Farms is established, the company will begin to launch hybrid versions of the grocerant in its existing locations. It has not yet announced when those changes will begin. "We're always looking to deliver a high quality experience for our customers," Chang says.
Moving forward, the company plans to continue to offer healthier and higher-quality products while enticing shoppers with innovative choices. "How do we continue to serve the immediate consumption customer?" Chang asks.
"The customer is looking to buy something to eat right away, and we want to provide food for them that looks good and tastes great," he continues. "We want to deliver food that will not just quell your hunger, but provide emotional satisfaction or some kind of happiness because you thoroughly enjoyed the item and it was amazingly delicious."