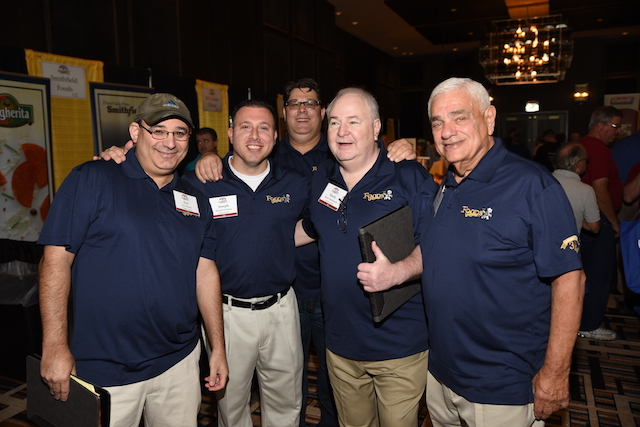 Foods Galore, Inc. competes against the industry's major players with a focus on service, value and family.
Foods Galore, Inc. was founded in early the 1980s when a few independent distributors, who were selling food off the back of their trucks, decided to come together and warehouse their operations. These founders – Stanley Polekoff, Morton Waxler, Kenneth Sigman, and later Howard Buzgon – set the foundation for what has been annual double-digit growth ever since.
Foods Galore is now the largest family owned and operated independent broadline food distributor in the Mid-Atlantic region, and competes strongly against the large corporate foodservice operations and big-box stores. It is now in its second generation of family operation with some of the children of the founders in management positions, and continues to maintain the service focus that has been in place from the start.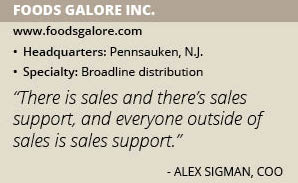 "Ownership here has to be very hands-on – all of the owners got their start in the warehouse and driving trucks," says COO Alex Sigman, who is Kenneth's son. "I started in the business driving a truck, and have occasionally hopped on a truck to help out, or go see customers, because that is part of really staying in touch with the core business we've built. That is one of the biggest differences between us and our competition – we understand what our customers need, we understand what they want, we understand the competitiveness of the market; and we're always looking to bring them value. We go above and beyond to serve our customers, even if it eats into our profits a little. We want to be one step ahead of our competitors."
Service is key to Foods Galore's continuing strength, so it has structured its business to ensure it doesn't falter in this area. The company serves the entire Mid-Atlantic region with a fleet of 26 trucks, while employing 18 salespeople and four representatives dedicated strictly to customer service. It also has a four-person marketing and purchasing team that remains in constant contact with operators and manufacturers. Additionally, Foods Galore is a member of the Legacy Food Service Alliance buying group, giving the company the buying power of the national corporate distributors. This keeps the company's focus on service and value.
"When we bring in new people, we look at some of the good things the big companies do and try to train our employees to be a hybrid; teaching them how we've grown up doing things as well," Sigman says. "We want the structure and ability to do what the big Wall Street guys do by getting the proper products to the right customers when they want them in good condition. But we also want to do what we do – service above and beyond, and give our customers a fun and enjoyable experience through a normally monotonous and frustrating business routine; all at much more competitive prices.
"We also push consultative sales because we want to assist our customers in making good profitable business decisions rather than just be order takers," he continues. "Many competitors are pushing online ordering and are taking the human element out of the service side of their businesses, but we are focused on hiring experts in their fields because they need to be able to help the customers and understand their needs. We are a service business. There is sales and there's sales support, and everyone outside of sales is sales support. Our whole structure is built around service."
Old-Fashioned Ethics
Foods Galore understands technology is key to the strength of its business, but instead of using tech to replace people, the company wants systems that enhance its abilities and level of service. The company has a new warehouse management system and is in the process of implementing a new ERP system for better analytics. It also is enhancing its sales training with a new vice president of sales on the team. Foods Galore has a few new dual-compartment trucks, a re-racked warehouse, and new technology for its coolers to better ensure the quality of its products. Sigman notes the company embraces systems and products that will help it improve.
"We've grown over the past five years into a true broadline distributor," he says. "Before we were geared toward specialty, but we're always looking for products to improve our offering. We can supply white tablecloth, mid-size family dining, retailers, delicatessens and chain businesses as well. There is not any category that we haven't covered. In this market there's really only three or four other distributors in the region that are 'true broadline', and they are the big guys."
The fact, however, that Foods Galore continues to grow and improve in spite of the industry's major players encourages it to maintain its focus on its service and value foundation. "We really have a strong emphasis on family here, and that complements what we're trying to achieve with our customers," Sigman says. "There are still three owners and each owner has a child in the business, and we take care of this company as if we started it. We are old fashioned in our work ethics, and that is a key piece of our success. No one here is a prima donna – it's all about the customers!"