With aseptic packaging instead of cans and bottles, a future that would require little garbage-stack­ing robots like the ones in the computer-animated movie "Wall-E" might not be necessary. "We have got to get out of glass and cans for lifecycle reasons, logistical reasons and nutritional reasons," President Roger Hoffman insists. "Everything is going that way and we're seeing more and more aseptically packaged food whether in a box, pouch or food service package. The economic and the nutritional advantages make this inevitable."
But more important than even environmental considerations are the preservative aspects of aseptic packaging. Hoffman asserts that aseptic packaging is superior to the can. "It tastes better," he maintains. "From a nutritional standpoint, when you retort a can, there is a tendency to cook a lot of nutrition out of the food during the time spent boiling. Whereas in aseptic, the food spends only a few seconds exposed to higher temperatures."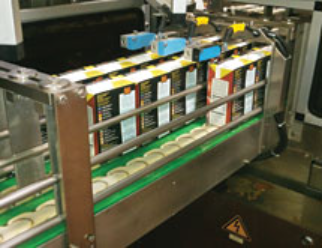 Aseptic packaging does not require fitting a round can in a square box. Hoffman calculates that about 30 percent more product – 1,620 32-ounce aseptic packages of chicken broth – can be shipped in a truckload compared with only 1,100 round, 32-ounce cans.
Food Pantries
The long shelf life of aseptic-packaged products is being utilized in a special project at FoodSwing. The company is packaging the seconds and thirds of produce that are never sold to consumers. Instead, the produce that consumers tend to pass over in stores is spread over fields or donated to food banks, where frequently it spoils before it can be used.
Because FoodSwing's single, 225,000-square-foot processing facility based in Cambridge, Md., can package fresh fruits and vegetables in liquid form, at harvest time the seconds and thirds of produce such as potatoes, tomatoes, garlic and onions are processed into harvest soups or sauces, packaged aseptically and sent to the food banks, where they can be used for months. This creates percentage yields from farmers' fields in the high 90s instead of the 20s.
"A commissary in Montana that didn't have a lot of access to fresh produce is now able to get a truckload of pasta sauce it can use throughout the year that has come through this program," Hoffman maintains. "It takes advantage of our state-of-the-art, up-stream processing, uses our shelf-stable processing and brings terrific product back into the distribution stream at a very low cost."
Those costs are only for ingredients, logistics, packaging and manufacturing. The program was being beta-tested in 2010 in preparation for a national rollout in 2011 in which 10 million pounds of produce will be processed over a 10-week period.
Stand-up Soup
FoodSwing's capability to handle thick liquids sets it apart from competitors. Hoffman thinks portions of the company's product lines have many different competitors. "With the gamut of services we can offer, it would be very hard to reproduce what we do," he challenges. The company processes liquids – from broths and stocks – to thick soups, such as black bean or heavy creamy soups, salsas, pie fillings, gravies and pasta sauces. These include Bolognese, Alfredo, béchamel and hollandaise sauces. The aseptic packaging method allows such products to be processed without use of any preservatives.
"We make chicken broth on the same set of equipment we make pumpkin puree and fruit smoothies," Hoffman maintains. "You're not going to find a one-stop shop anywhere else." FoodSwing does not own its own brands but processes products strictly for private label, other brand owners, major retail food chains, commercial foodservice suppliers and quick-serve restaurant chains with hundreds of locations that want consistency in their pasta sauces and gravies.
"It's a better program to use us versus allowing the local guy to make it himself, and a 2-liter box is infinitely better than a No. 10 can," Hoffman asserts. "A No. 10 can takes up an enormous amount of space, has to be cleaned and crushed, and it's got jagged edges. With a box, you squeeze it out, mash and toss the box. If you're in a school or a prison, you don't want cans because they become weapons. Prisons and schools are very happy to be rid of No. 10 cans. That end of the market is moving very quickly to adopt the larger format boxes. They're easy to handle, store and dispose of."
FoodSwing also offers product development services. "You can come and co-develop something with us," Hoffman remarks. "We really have positioned ourselves to be a full-service aseptic shop."
International Distribution
Establishing a full-service processing facility like FoodSwing's requires substantial investment. "We have a few guys who have the courage to start up something and get in the game," Hoffman remarks. "It's a very expensive game." FoodSwing has spent in excess of $22 million automating a stainless steel fortress of cookers, tanks, dicers, pureeing machines, blending, liquefying and milling equipment – all just to prepare for the aseptic processing and filling operation.
Because of the expense, setting up additional facilities requires careful consideration. "We happen to be in a terrific zone – we can get anywhere," Hoffman stresses. "We're shipping around the world. Right now, we've got six containers of chicken broth leaving for Asia. We can deliver anywhere on the East Coast in a day, and the intermodal freight train lanes leaving the area allow us to easily ship anywhere in North America."
He concedes that additional facilities would be helpful. "There will come a time when the volumes will reach the point where it makes sense to open a West Coast facility, and we can see that down the road." His current facility runs three shifts five to seven days a week but is not at its physical capacity.