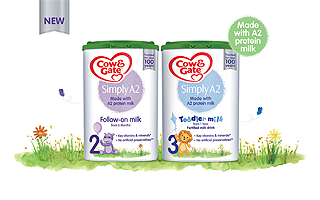 The powder format comes in 800g Eazypack and covers all three stages of baby feeding, from birth to toddlerhood.
Sarah Cumming, UK Consumer Marketing Director for Danone Specialised Nutrition commented: "We continuously listen to parents, innovating to meet their needs and lifestyle choices, while offering our best nutrition for their little ones. Interest in A2 protein milk has been rapidly growing around the world in recent years; it's a trend that is transforming the entire dairy industry and has most recently been shaking up the formula milk market globally, with seven A2 protein formula milks launched in the last six months worldwide.
"Inspired by nature and our knowledge of breastmilk, we're proud to be the first to bring this innovation, which has been simply made for little tummies with milk sourced from cows that naturally produce A2 protein milk, to major UK retailers. It is a clear opportunity for retailers to cater to consumer interest and tap into a global trend."
The new Cow & Gate Simply A2 range made with A2 protein milk has been made to Danone's highest quality standards, with the Follow-On Milk and Toddler Milk containing key vitamins and minerals, and no artificial preservatives.
The range will be available nationwide starting with First Infant Milk and Follow-On Milk launching in Boots from March 1st, 2021. This will be followed by the launch of the full range in other major retailers including Tesco, Morrisons and Sainsbury's in April 2021, and Asda in July 2021.
www.cgbabyclub.co.uk/products/milks/simply-a2-milk.html