Fountainhead Foodservice Group
Fountainhead Foodservice Group enters its 12th year in operation and attributes its success to long-term relationships and attention to detail.
Fountainhead Foodservice Group is foodservice equipment contractor that describes itself as a boutique design house that with just a building, menu and budget can transform a space into a client's dream dining facility. President, owner and founder Jim Whiffen says, "We are entering our 12th year and it's been a great ride. I still love what I do."
A 40-plus-year veteran of the industry, Whiffen founded the Burlington, Mass.-based company in 2007 to provide foodservice equipment contracting, design and layout services, space and furniture planning, project management, installation and custom millwork design and fabrication. He previously worked for US Foodservice, but when its parent company, Royal Ahold, left the equipment and design business, Whiffen started his own firm and took many clients with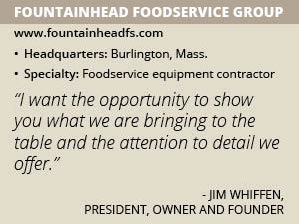 him, including Compass Group North America and other prominent foodservice operators.
Today, a majority of Fountainhead's work consists of collegiate and corporate dining venues, including the University of Miami and Raytheon Corp. The company's client list is broad, both in terms of geography and the different types of foodservice venues. "2019 is setting up to be a wonderful year with a great level of booked business," Whiffen attests. "We have commitments from key customers and a couple brands that are new customers. Sixty to 70 percent of what we have is folks we have relationships with already like Rebecca's Café, but I'm also meeting with a new chain that's a smaller company but that helps build synergies."
In an industry ripe with consolidation and eroding profit margins, service and attention to detail is what Whiffen says separates a company from the competition. "We itemize every quote so the customer can see exactly how we got to the number," Whiffen says. "We lost a project about a year ago to a competitor who gave a lump sum bid and is in the same buying group, but their estimate was $1 million where mine was almost $1.2 million. The general contractor couldn't find where the difference in cost was, but later discovered they forgot the glass display doors for the 'Grab 'n Go' walk-in and a beverage counter, along with all the equipment in it and on it. This competitor shot himself in the foot, but the job is gone. I want the opportunity to show you what we are bringing to the table and the attention to detail we offer. I don't want to be the lowest bidder."
Solid Foundation
Fountainhead built its foundation on developing valuable relationships with its vendors and manufacturers. "My dad, who spent his career in purchasing for Honeywell always said, 'Your vendors are your partners,'" Whiffen says. "That has been a bellweather in the way we do business and go to market."
The company is a member of PRIDE, a national foodservice equipment buying group, that helps it get the best value in procuring with strength in numbers as well as reinforces vendor relationships. Fountainhead partners with Continental Refrigerator, Champion Industries, Versa-Gard and Hobart, to name a few. "Those are my partners and I want to stay close to them," Whiffen notes. "Whether I'm working on a collegiate dining venue, corporate facility or a mom-and-pop pizza place, I want to get the best value for those folks and that means buying better."
Fountainhead has about 10 weeks to renovate a collegiate venue before incoming freshman arrive on campus. "We are heading into our 16th summer with Compass Group and we have never missed serving a meal," Whiffen says.
"We can't wait for field conditions or walls to be built. We sit down with the general contractors and live with 'hold to' measurements because we can't wait or otherwise we would never make the date," Whiffen explains. "All our vendors understand that you can't dip your toes in. We are going in head first."
Fountainhead chooses those vendors who also pay close attention to detail. "We had 10 walk-in boxes in the new student center at Auburn University 10 years ago and my vendor fell down – they shipped the boxes, but forgot the glass Grab 'n Go display doors and the compressors," Whiffen remembers. "A different vendor is now getting hundreds of thousands of dollars' worth of my business every summer. We understand things happen and it is an imperfect world, but we need the best partners."
On the other side of the coin, Fountainhead relied on Gaylord Ventilation to deliver a large production hood for the Towson University kitchen and it was a week late. "That's the one we needed the most because it had so many pieces underneath, but they had gone to double shifts, worked weekends and figured out the logistics of getting the truck driven from the Northwest to the university," Whiffen remembers. "They turned a bad situation into a good one and earned the right to stay at the table."
Moving forward, Fountainhead will continue to prioritize its vendor and manufacturer relationships as they are one of the keys to the company's ongoing success.