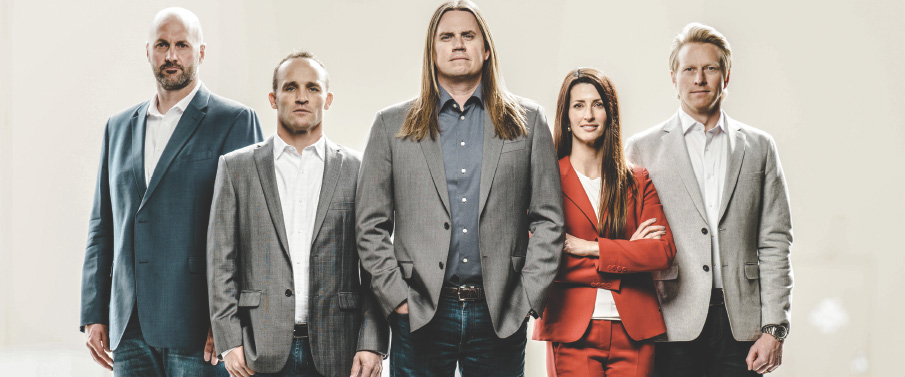 Rocket-powered brands
Employing the best professionals in every aspect of restaurant management, Four Foods Group has grown remarkably to become one of the most sought-after partners in the industry
Competence is perhaps the single most important requirement for one to succeed in any walk of life. Surrounding yourself with skilled people who are experts in their field and work as a perfectly-
oiled machine guarantees progress. This and the presence of a strong leadership figure to chart the course and ensure that everyone is pulling in the same direction, constitute the vital ingredients to concoct rapid business growth. Such path has been followed by Four Foods Group in the last ten years, which have seen the US restaurant management and investment company amplify its operated units from one in 2008 to an astonishing 155 at the end of 2018.
"Unlike many other companies of our kind, we have a large team of some 75 back-office staff, whose unrivalled expertise in fields like tax, insurance, financial planning, and maintenance, is one of the chief reasons behind our growth," Josh Boshard, COO of Four Foods Group, praises the company's workforce. "On top of that, the energy and attitude of our leader, Andrew Smith, is truly contagious. No one walks in the room the way he does, his presence is commanding. Andrew makes everyone feel part of the big picture. He believes in everyone's ability, allowing people to be confident in what they are doing.
"It is a tough environment we are operating in, but our staff makes a difference with their in-depth understanding of all of the industry's intricacies. In fact, when we started the business, we had seen a gap in the market and our idea was to take away most of the issues a restaurant manager deals with on a daily basis, and handle them in-house for them, instead," Josh explains.
One of a kind experience
As already mentioned, the disruptive business model set up by Four Foods Group has met with grandiose success, which resulted in the company becoming a national platform that now runs 155 restaurants. These are spread across six brands, the earliest of which was Kneaders Bakery & Café. "Known for its artisan breads, sandwiches, and handmade pastries, the brand is unique in the retail element each store can offer, where festive décor, and holiday gift baskets can be delivered to clients' homes. Furthermore, the option customers have to place their order online, as well as our drive-thru service, really sets Kneaders apart from the competition," Josh discusses.
"By the end of the year, we will also open our eighth R&R Barbeque fast casual restaurant. After we entered into a partnership with nine-time Grand Championship winners, Rod and Roger
Livingston two years ago, we have got the chance to create a one of a kind BBQ experience.
"Then, we have the Mo' Bettahs, which is an authentic Hawaiian restaurant. Our partners are the Mack brothers – born and bred in Hawaii, whose aim is to replicate the taste and feel of Hawaii from their childhood with the dishes they serve. We use only the finest ingredients and everything is cooked fresh. Every day, there are queues at the door and that is because of the quality of the food. What is more, we offer really hearty portions, which completely satisfy our guests."
Four Foods Group also operates The Swig brand with 20 locations, a drive-by drink shop that started in 2010 (and was acquired by the group in late 2017) and has since expanded into multiple states, becoming thousands of people's go-to place for drinks and sweets.
Nearly half of the restaurants run by Four Foods Group (71) represent the Little Caesars carryout-only pizza chain. "We purchased a block of 48 Little Caesars locations and we have grown that number in the last year and a half. The Ilitch family who created the business as a franchisor, is amazing to work with. They really care about their franchisees, which gives us a significant advantage, because many other franchisors do not understand the importance of assisting their franchisees properly," Josh reasons.
"Little Caesars has now introduced a game-changing online ordering tool called the Pizza Portal. It allows you to place an order, walk into a store, type in a three-digit code, and pull out a custom pizza in seconds. No one else is doing that and we are excited to see how the service will affect the industry," he adds.
Ready for growth
Sustained success has been repeatedly recognised by the outside world, as Four Foods Group found a place on the Inc5000 for the seventh year in a row. In addition, the company was named the third fastest-growing restaurant business in the US by Franchise Times. "We have established a national presence, as we own restaurants in ten states, which means that we have the freedom to pick only those markets where we really want to be, when it comes to our expansion plans," Josh remarks. "We are confident that our diverse brands present us with a wide range of opportunities to continue growing. There is also a huge potential for us to acquire new brands in the future, but we want to stay true to our core beliefs, when this happens. What we are good at, is taking an existing restaurant that has buzz on the street and a line at the door. Thence, we can apply the Four Foods Group process systems and harness our talent to help it expand rapidly.
"Our future looks bright and in 2019, we just need to add fuel to the rocket. It is amazing to hear so many people asking us to take our brands to different places around the country. There will be nothing in our way to inhibit our long-term growth, as long as we have our systems in place and our talent ready," he concludes.