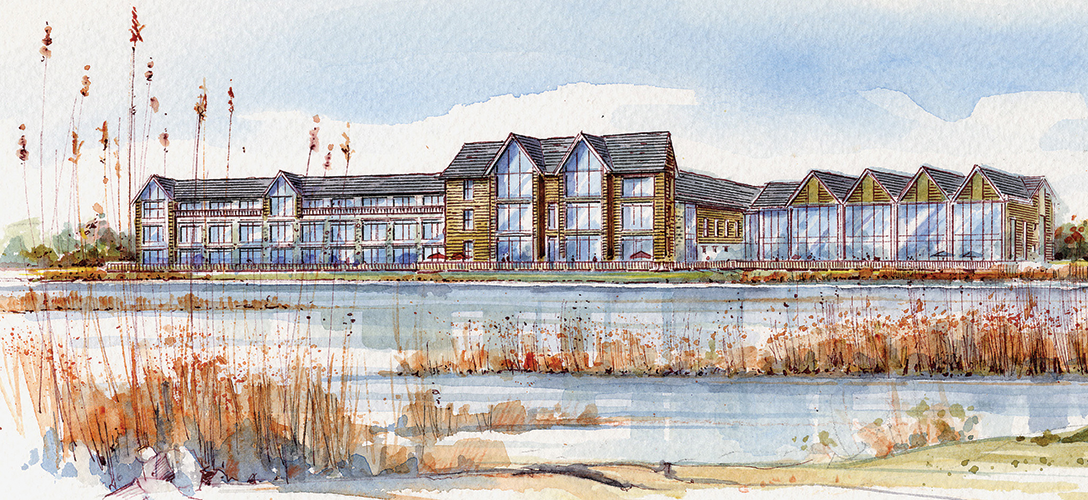 Very accommodating
Four Pillars Hotels is focusing its energy on its seventh addition, whilst also ensuring its core beliefs are upheld
The Cotswold Water Park, Britain's largest water park of 133 lakes, will now boast Four Pillars' newest addition to its portfolio. The new 222-bedroom hotel has conference and banqueting facilities for up to 800 people and is geared up to meet the needs of business travellers as well as major conferences and events. Built on a 45-acre site, the hotel will maximise its lakeside views through huge glass walls and verandas for al fresco dining.
The Cotswold Water Park Four Pillars Hotel will be a conference venue with a unique flavour, as it will boast, not only a health spa, leisure club and gastro-pub, but sitting comfortably in The Cotswold Water Park which hosts a wealth of outdoor activities in an outstanding setting, this new hotel will also make any corporate event or team building activity extra special.
"Phase II, which we hope to start next year, will also include the construction of 29 two and three-bedroom luxury apartments, with more planned. These will be sold to private individuals via a scheme, which enables the owner to lease the apartment back to the hotel. These apartments could be let out as short stays, holiday destinations, relocation or they could also be redesigned to be used as hotel bedrooms. This will give the apartment owners the chance to get into the buy-to-let market minus the hassle and worry, and yet use it themselves for up to 90 days a year," states Charles Holmes, the chief executive and co-owner of Four Pillars Hotels.
With £31 million already injected into Phase I, Four Pillars will ensure that ultra modern design will be incorporated throughout the hotel by using natural materials, including large expanses of wooden flooring, huge glass walls and terraces to maximise and blend with the lakeside views. The investment also aims to maximise the tranquil lakeside location by setting the mood with a 10,000 square foot health spa and leisure club that will form a retreat centre offering treatments including massage, Rasul mud therapy, spray tanning, manicures and pedicures. Spa-goers will also be able to treat themselves to experience showers, which can be set to stimulate different rainforest environments, or even try out invigorating bucket showers. Facilities in the spa include a large pool with mood enhancing lighting and hydrotherapy jets, a flotation room, relaxation room, herbal sauna, crystal steam room and a gym.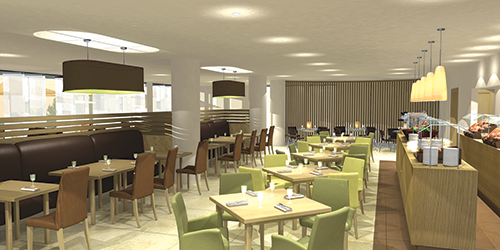 When it comes to the food offering, Charles is familiar with what customers expect as he has over 37 years' experience in the hotel industry behind him: "The mantra is quality and value; we are getting back to doing simple things well. The problem is where business customers are concerned, hotels often feel they have to offer gimmicks and it's usually because they don't get the simple things right. If a customer wants dinner served in 25 minutes – that is precisely what we'll do. They operate in a 'now' culture. The most important thing for them is that we do the simplest things well and quickly with minimum fuss.
"We are keen to see British food served in our hotels. Why? Because there is nothing wrong with great British food. Since the 1980s, everyone has become obsessed with modern cuisines, complicating everything and honestly, you never know whether to eat it or hang it on the wall as a piece of art! What's wrong with delivering liver and bacon, fish-cakes, steak and chips? They are probably the best meals in the world. All our customers want is simple food served quickly and consistently, offering great value for money. The secret is to buy the best ingredient, not the cheapest, and ensure that these great raw materials go through as simple a production process as possible so the chances of ruining them are minimised and we can pass on that quality to our customers.
"We are not going into fine dinning because I am a great believer that hoteliers basically don't understand how to run a restaurant and restaurateurs don't understand how to run conferences and bedrooms – it is a different mindset altogether. I am a firm advocate that we should do what we can and do it very well, which is offer good quality, straightforward food with very affordable pricing."
He adds: "We are, of course, quietly confident of the success of The Cotswold Water Park Four Pillars Hotel because we wouldn't be building if we weren't. The hotel is not even completed and we already have quite a lot of business pre-booked – which says a lot – and it is also proving to be a very popular wedding destination because the hotel quite literally sits on the edge of the water. There are lot of romantic couples who see themselves getting married and retreating for the night in such a beautiful location, as we also have two lovely honeymoon suites overlooking the 26-acre lake."
Four Pillars Hotels has an everexpanding portfolio as it constantly seeks new opportunities to increase its presence in strategic locations throughout the country. Charles gives an insight into the company's expansion plans: "Hotel number seven, South Oxfordshire Four Pillars Hotel, is going to be a 150-bedroom four-star hotel located at Harwell – between Oxford and Newbury – which is the headquarters of the UKAEA (United Kingdom Atomic Energy Authority). We will also have conference facilities for up to 300, a 160-seater restaurant and a gastro pub of 12,000 square feet. We are planning to invest approximately £17 million in this hotel."
Charles continues: "We have major plans for hotels number eight and nine and continuous additions to the portfolio but we, of course, haven't forgotten our current hotels. We've got a rolling programme for refurbishment and I don't think it will ever finish – like the Forth Bridge; you get to one end, you've got to start all over again. We've been slowly upgrading bedrooms, and have also refurbished our restaurant at Oxford Spires Hotel, which was closed for ten weeks. The new restaurant is unrecognisable, as we have fitted a fantastic new buffet; it is now air-conditioned and has gone from boring and traditional, in terms of design, to being very modern and trendy. The feedback we received from our customers and staff has been fantastic – our staff ,have risen to the challenge of the new restaurant and have also got a spring in their step, not forgetting that the new look is also achieving the level of business we had hoped it would."
Four Pillars aims to not only do what is best for its customers, but also what is best for its workforce and this commitment was awarded when it was recognised as one of the best places to work in the UK in a major national award. The group, which has a head office is based in Witney, has beaten some of the most respected names in the industry to achieve this prestigious honour. The awards were in conjunction with the Caterer and Hotelkeeper magazines and accredited by the British Hospitality Association and Best Practice Forum. Four Pillars ,Hotels was commended in its category, second only to Four Seasons Hotels and the awards have been specifically designed to promote recruitment best practice in the UK hospitality sector. Four Pillars is passionate in its belief that happy staff results in happy customers, which is summed up in the company's ,vision – 'to build the scope and reputation of Four Pillars Hotels by creating environments where guests and staff feel at home.' The company has also been Investors in People accredited since 1996 and runs a Mentoring Scheme as well as a Buddy Scheme for all new members of staff to help them find their feet in the first few weeks in their new job. "This year we started a new programme – Situational Leadership training – where key people from the business are picked. We've had young people who are very career minded on this personal development training and, I am delighted to say, have all come through with flying colours. We've been able to help them to realise that Four Pillars is a growing company and that they can grow their career with us. Our staff can literally come in on the lowest rung of the ladder and finish on the highest but only if they want to, or have the desire and hunger to climb up,"