Four Sisters Inns has been providing its guests with memorable experiences that include delicious, fresly prepared food for the past 40 years.
Four Sisters Inns has a rich history of providing distinctive, beautiful accommodations at a great value. The Post family moved to Monterey, Calif., in 1976 and opened a few rooms in their home, the Green Gables Inn.
Shelley Post, president since 1995, and owner of the company, recalls helping out her family in the early days when she was a teenager. She welcomed guests and helped cook breakfast, establishing a casual, yet warm and hospitable environment for guests. Forty years later, Four Sisters Inns is now a management company with 16 properties located in some of the best destinations in California.
"There are many lovely properties in the areas in which we operate, however we provide a unique combination of fabulous amenities and great value that sets us apart," Post says.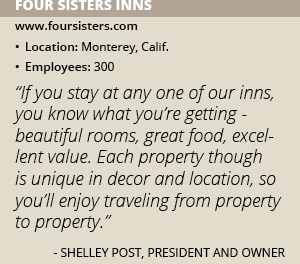 The complimentary food and beverage offerings that set Four Sisters Inns apart include a freshly cooked breakfast daily, homemade cookies at check in, coffee and tea available throughout the day and wine and hors d'oeuvres in the evening. Most of the inns also offer guests complimentary use of bicycles and at our seaside locations, boogie boards, beach chairs and beach umbrellas so guests don't have to worry about traveling with beach amenities.
"We have a philosophy of including as many things as possible in the room rates, so you don't receive a bill with lots of add-ons," Post says. "Our guests love to travel between the inns, each with its own unique flavor, while also providing consistent amenities."
The inns partner with local wineries, restaurants and walking tours to offer guests special packages that provide great value and encourage them to explore the local area. "We try to have experiences we can suggest to guests that are outside the ordinary," Post explains. "Most of us work at a pretty frenetic pace, and when we arrive at our getaway spot, need some concierge assistance tailored to what we're looking for. I encourage our staff to really listen to what guests are seeking. Some want a high-end winery experience or others want something simpler. Either way, guests can feel assured they're sent to a great place that meets their expectations."
Four Sisters Inns also offers a loyalty program to its valued guests. The Frequent Sleeper program allows guests to collect points and turn them into complimentary nights at any location. Many guests visit often, to celebrate anniversaries, birthdays or other special occasions, and even have their favorite room at their favorite inn.
"We always make sure they feel welcomed back and appreciated at a personal level," Post says. "Many book their return stay when they're departing. We want to make sure they stay in a room full of memories for them. That ties into our motto: 'We're in the business of making memories.'"
Welcoming Environment
A major reason guests return time and again is the staff. Post says the employees provide that welcoming atmosphere to guests because they feel appreciated and have a connection with their fellow employees and upper management. "We're visible and all working together to solve challenges that arise," she adds.
Four Sisters Inns produces an annual newsletter highlighting exciting things happening at the various inns. Additionally, the internal quarterly employee newsletter always highlights several standout employees. "I give the employees a call and let them know and personally congratulate them," Post says. "Working in a hotel can be busy and stressful and I want to make sure staff feel valued and appreciated."
After 40 years in business, Four Sisters Inns has a few secret projects in the works. Post admits the anniversary got away from her in the enjoyable hustle and bustle of operating the properties. "I'm proud of this little company we've taken from one to where we are today," she says. "There are many memories with every property that joins us. Each has a history. As you move past that phase of opening, and work with the staff in order to provide guests with a truly wonderful experience – that's what we focus on every day."
Take the Kitchen Home
President and owner Shelley Post found that guests visiting the Four Sisters Inns properties would often ask for recipes of the meals they enjoyed during their stays. Post's first cookbook that she shared with guests consisted of hole-punched index cards held together with a ribbon.
Now, The Kitchen at Four Sisters Inn is in its seventh edition. This hardbound and full-color version includes more than 100 recipes divided into six categories: Breakfast Sweets, Breakfast Dishes, Cookies, Tea Time Sweets, Tea Time Savories and a new section, Happy Hour. "It's a fun little cookbook and we sell them in all the inns," Post says.