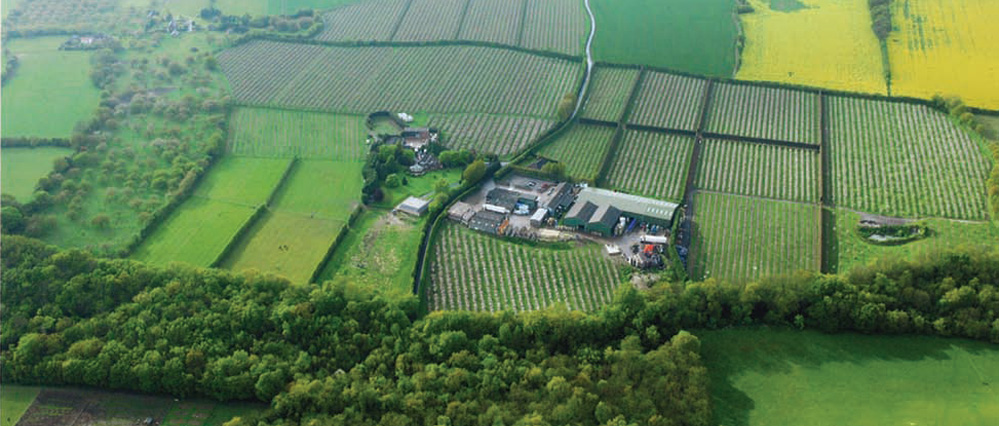 'Fruiticional' expertise
Being passionate about doing beautiful things with fruit makes Fourayes the world's only Fruiticians as well as the largest UK Bramley apple grower, fruit processor and commercial jam manufacturer for bakeries
Fourayes has come a long way since 1953, when Managing Director Phil Acock's grandfather purchased the farm at Bicknor, Kent. Since then, the company has overcome challenges by
maintaining the entrepreneurial vision of John Acock, Phil's father, and combining this with innovation and investment. "Looking at how the farm has developed over the years, one of the early innovations in the history of Fourayes was in the latter part of the 1950s when revenue streams were particularly tight. My father constantly looked for ways of improving the income. He went to auction and brought 12 Daimler ambulances, using them to set up a business delivering washed potatoes; these potatoes, which would otherwise be covered in mud, were then sold throughout the south east of England," says Phil Acock, Managing Director and Chairman of English Apples and Pears, the central body for the top fruit industry in England.
Further innovative developments followed, with Fourayes being the first to peel Bramley apples through the utilisation of a pioneering semiautomatic machine for paring, coring, slicing and processing. Today the company has progressed from the Pease system, and instead uses the Atlas Pacific; known as the best of its kind across the globe, the Atlas Pacific enables Fourayes to peel and core approximately 700 Bramley apples per minute. Additionally, this machinery also has a separate mechanism that uniquely removes the septum from the core.
In the 1990s Phil took over from his father as Managing Director; it was during this decade that the company also developed the Ascorbic Dip, which prevents apples from going brown without the use of preservatives. Now the industry standard, this dip is still used by Fourayes and is the preferred method during processing. "Since developing this dip our fresh diced and sliced shelf life has increased from a life of P+3 days kept chilled to P+7 days. This makes a huge difference to our customers in terms of flexibility and reducing waste within the supply chain. This sort of innovation, and the longevity of how long this dip has been around, demonstrates the strength of what we do here at Fourayes," says Phil.
With processing now the core part of the business, the company has a number of lines to serve its customers; including the production of fresh diced and sliced Bramley apples for dessert and bakery manufacturers. As a by-product of this, the company manufactures Bramley apple puree; it also manufactures fruit fillings, chilled fresh fillings and hot processed fillings as well as mincemeat, with English Bramley apple the largest ingredient. Over the last five years, the company has also gone from not producing any jam to becoming the biggest Kentish strawberry jam manufacturer. "This development is the result of a great deal of innovation and investment but also from the ability to have Kentish strawberries available all year round," says Phil. "We had to develop and invest in an aseptic puree plant that meant we could take fresh strawberries from our local growers during the season in May through to October. The great thing is that the fresh strawberries are processed within 48 hours of being picked and that puree is then used to make strawberry jam throughout the year."
Thinking about the diversification of food available from Fourayes Farm, Phil continues: "We are the only company in the UK to produce this range of products; most of our apple processor competitors make apple products and most jam competitors only make jam. With our portfolio we can offer a one-stop-shop for many fruit based ingredients that no other company can. This is important as the food industry is focused on cost reduction and the fewer suppliers you have to deal with the better, particularly when you have trusted suppliers," says Phil. "We've even created a unique product that allows fresh English Bramley apple to be used in places where spoilage and moisture migration had traditionally been an issue, such as scones, muffins, fruit breads and bagels. We call it Utterly Fruity and we've recently added mixed peel products to the range that taste fresh and amazing."
Five year plan
Alongside innovation, Fourayes has also strengthened its position in the market through expansion, growingthe farm from 50 acres to 100 acres, while also investing in the streamlining of farming operations. "Today we specialise in growing Bramley apples for long-term storage, for which we have won numerous awards at the National Fruit Show. The Bramley apples that we grow go into storage in September and are then used or peeled around June, July or August. Combined with fresh and short-stored fruit, that means all-year-round availability of greattasting English Bramley apple. Our forward-thinking approach to business has continued, with the latest planting technique involving a highly intensive system comprising some 1330 trees per acre; this is in comparison to the typical standard orchard of about 330 trees to the acre," comments Phil. "Although this is massively expensive to set up, the aim is to produce 40 per cent to 50 per cent higher yields for the same footprint of farm land."
Despite being a relatively small company, Fourayes benefits from the expertise of its carefully recruited senior management team as well as its solid reputation as a company with a high quality product range and transparent and short supply chain. Moving forward, the company sees opportunities to expand its aseptic puree range, which currently includes home grown fruit such as apple, plum, apricot, blackberry and blackcurrant, into markets such as dairy and beverage. "We would like to offer our fruit purees made from English fruit as an alternative to imported purees as virtually all fruit puree in this country that goes into smoothies or the dairy industry is currently imported," says Phil.
"Meanwhile, looking further ahead, we have developed a fixed five year plan with the very clear goal of hitting £20 million by 2020. We think this is a perfectly achievable target as we have invested in plant, machinery and facilities to enable us to achieve that level of volume," he concludes.